Violin Tabs and Guitar Tabs
June Apple
Violin tabs and guitar tabs for June Apple, a fun Appalachian bluegrass fiddle piece. Your students will enjoy this free sheet music for violin and guitar! 

This energetic little piece has a catchy tune and is fun on both guitar and fiddle. Listen to June Apple on banjo first, where the melody can be heard pretty clearly: 

Here are the guitar and fiddle tabs: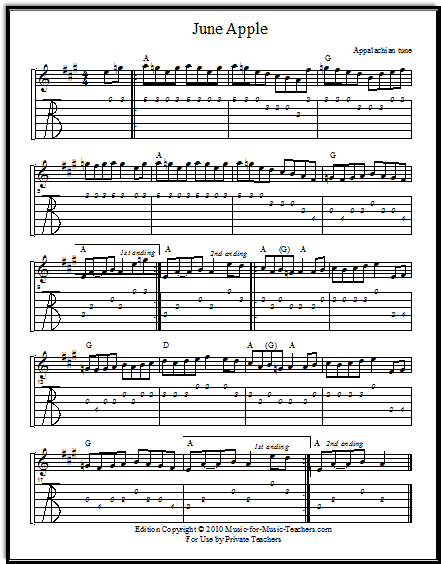 Download guitar and violin tabs for June Apple free violin sheet music 

For beginner guitar players, the melody will be much easier to play if they place their left hand up on the second fret and keep it there: for example, notes on fret 3 will be played by finger 2, and notes on fret 4 will be played by finger 3. The left hand will not have to shift position but can remain at the second fret.
A tricky problem for fiddle players is deciding when to slur groups of 2 notes together with up-bows, so that strong beats (the downbeats, beat 1) can be played with down-bows. That's where you, the teacher, come in. Usually the 2-notes-on-an-up-bow feel most natural coming after the quarter notes in June Apple, but fiddlers can have differences of opinion! Brian Wicklund, in his terrific book and CD set, The American Fiddle Method Volume 2, notates June Apple with slurs, up-bows and down-bows. Very helpful.
The Guitar Picker's Fakebook, and its companion book, The Fiddler's Fakebook, are huge books with over 240 old-time melodies, including June Apple. Like most folk songs, versions differ from area to area, and the Fakebook does have a different version of June Apple.
Here is a fun video of some impromptu jamming -- show your violin students how this old-timer holds his bow! 
---
---
Get word of the latest sheet music at Music for Music Teachers?  Sign up for "Take Note!"
Comments
Do you have a funny story about this music, or does it remind you of something you'd like to share with other readers? Do you have a question? I'd love to hear it!

Please note that all comments are moderated, and will not appear until I have approved them. Also, IF YOU ARE ASKING FOR MUSIC THAT IS NOT IN THE PUBLIC DOMAIN, YOUR REQUEST WILL BE IGNORED. That's pretty much any music written in the last 75 years...