Taps Trumpet Music
For Piano Players
Taps trumpet music for piano, free sheet music - and now lead sheets as well, in five keys!. The piano version is an easy but full-sounding arrangement of this military melody, also known as the taps bugle song or Day is Done.
Here is a moving version of Taps from Cold Case, the final episode (go here to find the sheet music, by clicking on "Sheet Music" then searching alphabetically for Taps):
While the taps trumpet music is traditionally played by a trumpet or bugle, I was asked by a reader for a piano-only version that could be played in church to honor our veterans. I hope this easy piano arrangement will be satisfactory. Because of the left hand chords with rhythm, it can potentially sound more martial than restful. Play it slowly and quietly, though, and the inherent dignity of the melody will still be felt.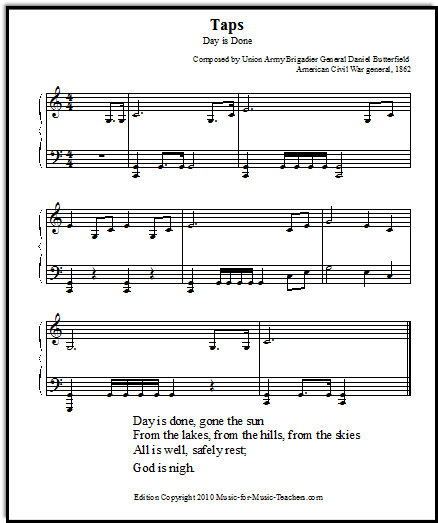 Download Taps Bugle Music for Piano in Key of A

Download Music for Piano in Key of Bb

Download Taps Trumpet Music for Piano in Key of C

Download Printable Sheet Music in Key of D

Bugle Music for Piano in Key of Eb

Printable Piano Music in Key of F

Taps Sheet Music for Piano in Key of G

Wikipedia has a very good page about the origin of Taps, plus the Taps sheet music for trumpet written in the key of C, an octave higher than I have it here for piano players. 
Here is the new lead sheet, in 5 keys: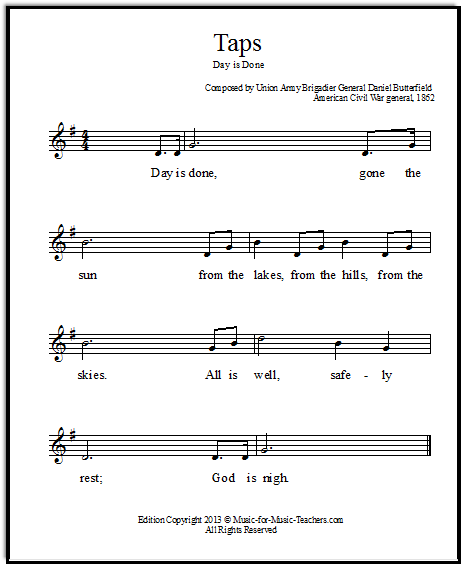 Download Taps lead sheet in key of G
Download Taps lead sheet in key of A
Download Taps lead sheet in key of Bb
Download Taps lead sheet in key of C
You may notice I haven't placed any chords on the lead sheets.  That's because this melody is a true trumpet or cornet melody, and the notes form a chord that does not change.  Whenever I teach this melody to students, I talk to them about the natural bugle, and how, in the "olden days," before there were valves or buttons to open up the different lengths of tubing, the bugle-like instruments were stuck with just a handful of notes, spaced apart, like a major chord.
There are also more Taps lyrics at Wikipedia.
But here is a very informative video about the history of taps:
This music means a lot to military families. When my father, a former Marine who fought in Korea, died several years ago, a young military trumpet player was flown in to play Taps at his graveside service, courtesy of the U.S. military. We really appreciated that gesture, and will never forget those moments.

---
---
See what's new at Music-for-Music-Teachers.  Use the sign-up form below to receive "Take Note":
Comments
Music has such power to move the heart... do you have a story or a question about this music?
What Other Visitors Have Said
Click below to see contributions from other visitors to this page...

Writer of the Lyrics to "Taps"

Here's what H.L.Trim, writer of the lyrics of Taps, looked like, and here's a photo of Taps the music.
Taps Works Well as Guitar Tabs Not rated yet
If you know how to turn a leadsheet into a guitar tab, this is a great song for a beginner like me to add to my songbook. Thanks! Dana: I agree Michael …