Keyboard Music Notes
Pizza Please
Keyboard music notes for beginning piano music readers "Pizza Please" (formerly known as "Hot Cross Buns"!)  This familiar song uses just 3 different notes, and easy-to-count half notes for the start of the melody.

What I like about this piece are the easy notes, the easy counting, and the silly words.  The phrase "Pep-per-o-ni, cheese, an-cho-vie!" encourages hurrying along the quarter notes.
Download keyboard music notes "Pizza Please"

Download Pizza Please for piano with AlphaNotes

When I count this song aloud with students, I say,
"One - two, one - two, one - two - three - four.  
One - two, one - two, one - two - three - four.  
One, one, one, one,
One, one, one, one,
One - two, one - two, one - two - three - four."
The arrangement below has just a few made-easy notes: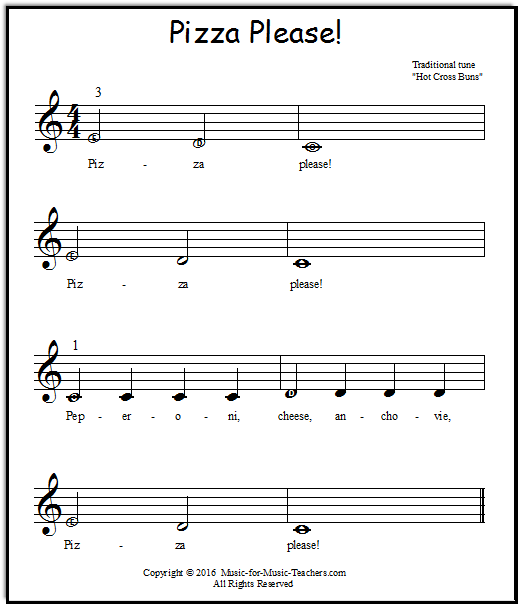 Download Pizza Please with helper notes
I've also written this little song for left hand, using the important notes B ("Baby note B"), A, and G: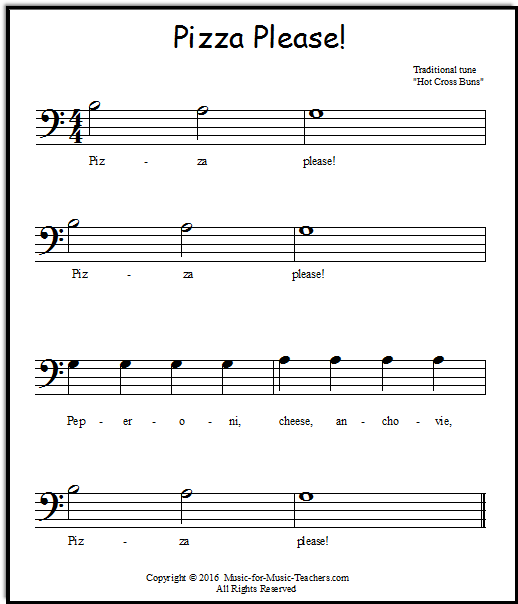 Download Left hand arrangement of made-easy notes song "Pizza Please"
Here are two more versions for the left hand: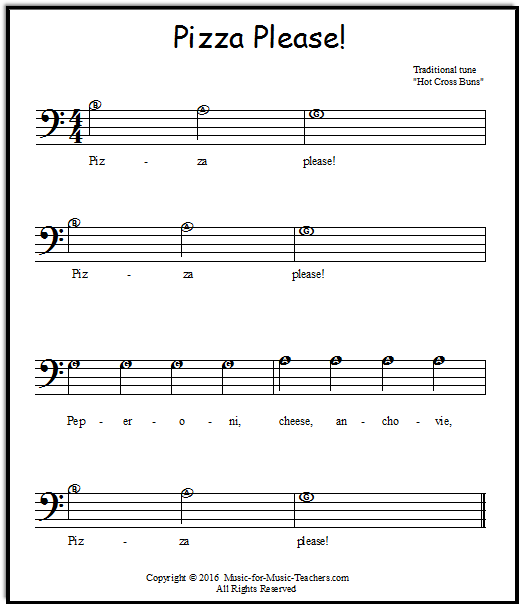 Download Alphanotes arrangement of Pizza Please

Download helper version of Pizza Please

Why do I call "B" the Baby note?  Well, when my students and I draw the grand staff on my big white board, we focus on the notes around Middle C.  Under Middle C is B, which is "resting" on the top of the staff, as it is a baby, and not very strong.  And D above Middle C stands for the Daddy note - so STRONG that he can hold up the whole "ladder" - that is, the staff - on his head.  Then we draw little faces inside the B and D.
As memory aids, these goofy names have worked well for me!
---
A perfect read aloud storybook
for little boys or girls. 
The Adventures of Tonsta highlight the travels of a very young boy with a good heart, who goes about helping folk in trouble.  
With a red cap on his head and a sack of tools slung over his shoulder, Tonsta seems to meet people in distress wherever he goes.
Lots of trolls in this book - including one who gives him a Christmas gift!
---
---
Sign up for "Take Note!" to see what's new every month.
Search Music-for-Music-Teachers: