Piano Scales Sheet Music
Shaping the Hand for Basic Piano Chords
Piano scales sheet music - now for BOTH HANDS - will help beginners get the right hand shape for scales and for open 5ths.  

Sometimes their little fingers just can't seem to lay down on the keys!  
For those little guys whose hands won't behave, download this page with four sets of free scales, with "helper" notes.

I devised this first, repetitious series of scales for a particular student whose fingers did not want to conform to the 5-fingers-on-5-keys shape.  

Because he is such a new beginner, I opted to use music note "drawings" - piano music with letters.  (Having those easy-to-read notes removes one large hurdle for young readers.)
Scroll down the page for the free downloadable PDF links: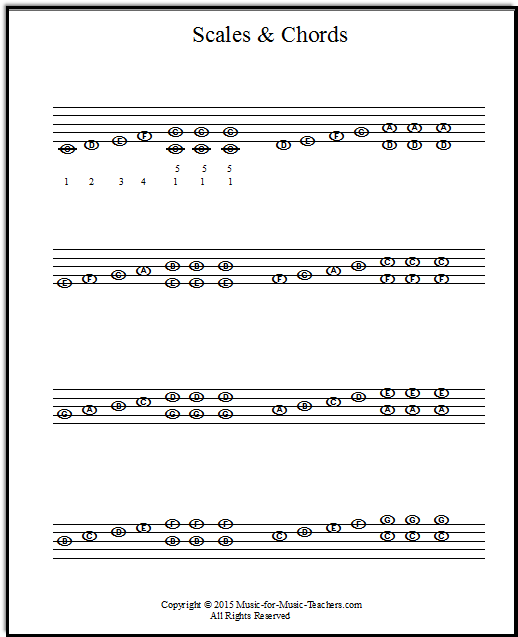 Please scroll down the page for the download links.
Since my student could already identify the keys on the piano keyboard, he "went right to town" when I gave him this five finger exercise with the made-easy notes.  

As easy as this piano scales sheet music is to read, however, it's not foolproof.  Somehow he, and another young student, failed to notice the fingering!  Don't take ANYTHING for granted with beginners.

Once a student has gotten that rising scales pattern figured out and solidified (that takes a couple weeks of memory-jogging and pointing at the music - new students seem to be allergic to the printed page), ask them how it would go if the left hand did it!  
When that goes well, have them try it hands together.

This sheet of piano scales and chords solved my student's meandering fingers.  
The pattern in this note reading worksheet allows the student to gain the desired note span with their fingers, then linger there for a few extra beats as they strike the open fifths.  

Open fifths are what my students start with when learning basic piano chords.  Much easier to press than triads.  But not so easy to find, initially, when the hand is not used to the chord shape.  

This little page of finger exercises solved that problem.
Next, here are the piano lesson scales I move my students onto as soon as they can do them: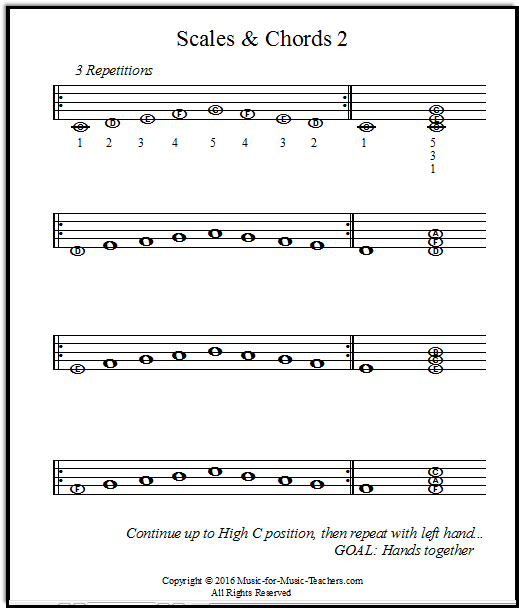 Please scroll down the page for the download links.
Before I wrote these piano scales out, I relied upon finger numbers written on their weekly lesson sheets.  With little guys, that just doesn't cut it like a picture.  This helps moms and dads, too.

Little fingers will struggle with the full triads in the second scale series.  
If it proves to be too frustrating, I'll let them continue to play open chords for a while.  But they need to see and understand the layout of the 3-note chords, because soon they will be using them in broken chords (Greensleeves, a very beautiful song that beginners can play).

Now, by popular demand (at least 2 of you!), here are the same scales for bass clef.  Unlike the treble clef scales, I did put the clef symbol on the staffs:

Scales and chords set 1: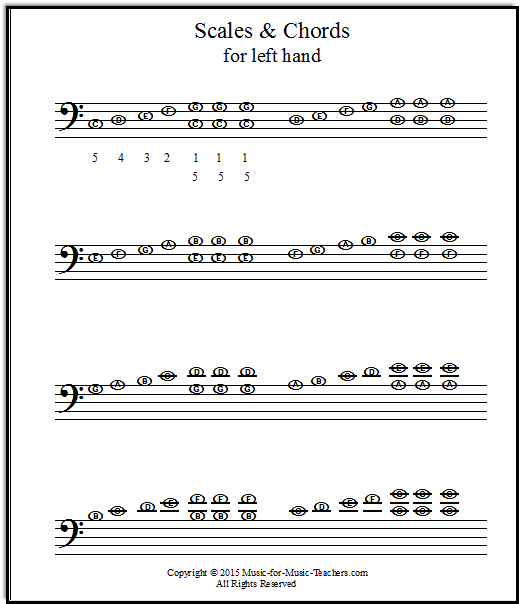 Scales and chords set 2: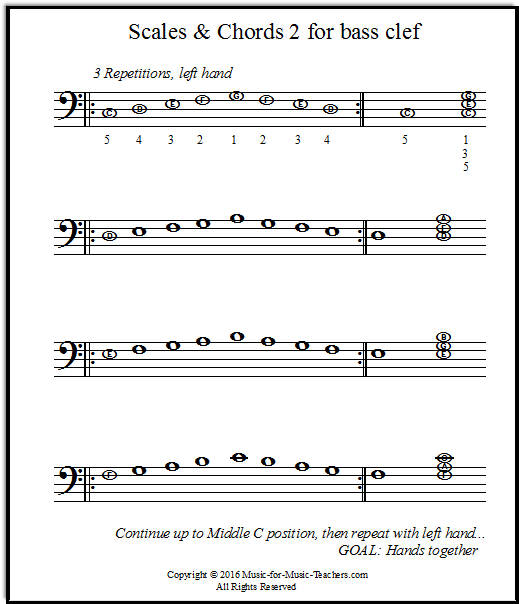 What comes after these music scales?  MORE pentascales, but now without a diagram.  
Instead, it's time for them to learn "the Secret Formula" for major pentascales, which we will be spending LOTS of time with.  "Tonic, whole, whole, half, whole..."  over and over!
Scales & Chords for the beginner:
Download piano scales sheet music for beginner piano students
Scales & Chords 2, after the first set can be done WELL hands together:
Download piano scales printable and free for your beginners!
The same scales in the bass clef:
Download beginner piano scales printable for the left hand!
Scales & Chords 2 for bass clef:
Download harder set of piano lesson scales for the left hand
Check out a fancy version of the Pachelbel Canon that even elementary students can play!

Music for Music Teachers has other great free resources for teachers!  Take a look:


12 Major Scales and Chords for Piano 
12 Minor Scales and Chords for Piano
Basic Piano Chords & Scales - with lettered notes for beginners
Best Piano Books!  In my opinion & experience
Louie Louie  I, IV, V Chords - a fun way to cement the relationships of the 3 main chords in students' minds and fingers, too!
Note-Naming Worksheets - music with note names to help
Note-Reading Worksheets - charts with the notes placed on single staffs & the grand staff, with & without letters in the notes!
Piano Chord Chart for Major and Minor Chords 
Piano Keyboard Diagrams - pdfs to print out
Piano Scales for New Beginners, with letters in the notes
Staff Paper pdfs - many kinds & clefs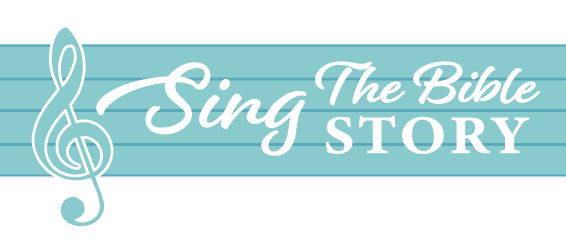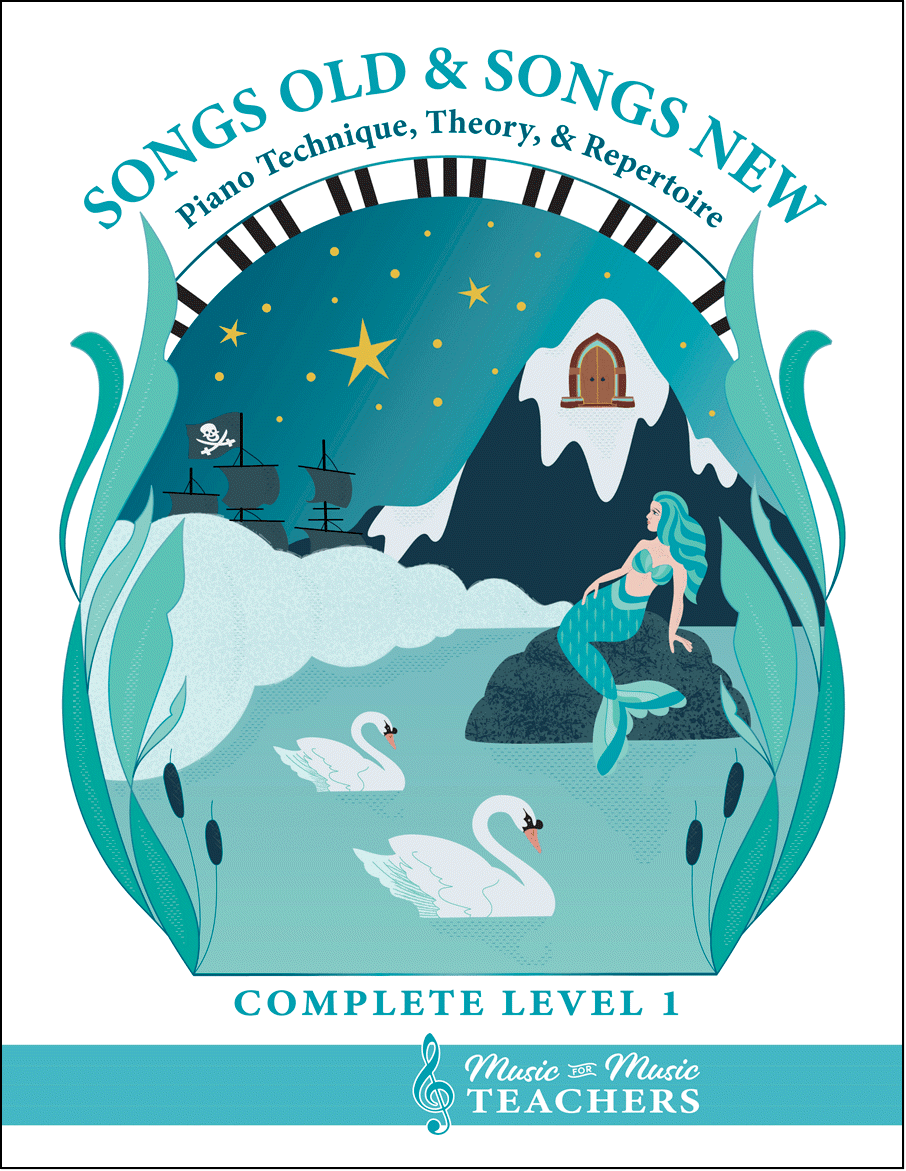 All the first-year material I give my beginner students. 
Piano keyboard sheets, scales, chords, note-reading exercises, and over 256 pages of music!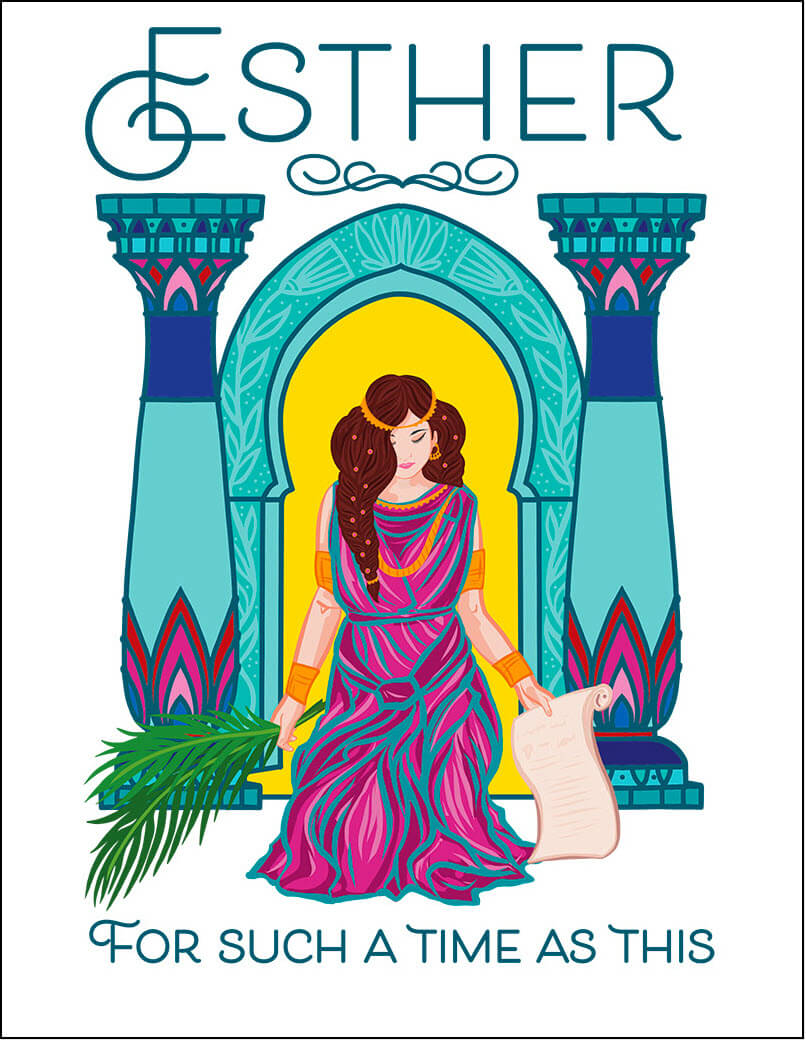 This beautiful song book for piano & voice "Esther, For Such a Time as This",  available as a digital download, tells the riveting story of the time when  Jews in ancient Persia faced a foe named Haman, and how a  brave young queen risked her life to save her people.
A good choice for a singing story-teller, an operatic group, a short theater production, or a class of children!
This book is also available from Amazon as a paperback.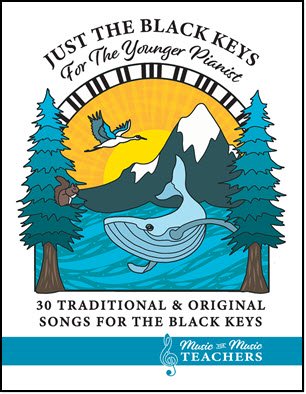 This book is available as a digital download  from this site.  Visit this page to see some free examples from the book.
It is also available from Amazon as a paperback!
This is the perfect easy start for little pianists.
And when they start reading white-key notes on the staff, this is a fun easy resource to say each week, "Choose a new black-key song at home this week and figure it out to show me next lesson!"  They will be spending more time at the piano.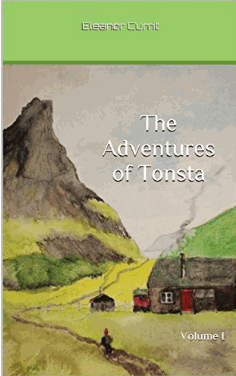 A perfect read aloud storybook
for little boys or girls. 
The Adventures of Tonsta highlight the travels of a very young boy with a good heart, who goes about helping folk in trouble.  
With a red cap on his head and a sack of tools slung over his shoulder, Tonsta seems to meet people in distress wherever he goes.
Lots of trolls in this book - including one who gives him a Christmas gift!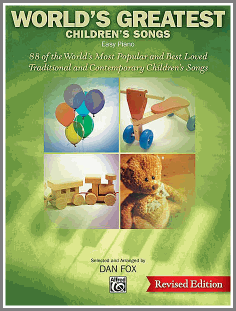 Kim in Washington:
My son is hooked...I've been introducing piano to my son on and off for a year or so, but he's not had much interest. Then I gave him "Monsters Everywhere". He loved playing it with the organ sound on our piano. He memorized it that week and I'm printing off the other Halloween songs to keep him going. I love the detailed instructions on teaching since he is my first student! Thanks so much.
Dana:
That is so neat that your son has experienced the magic and mystery of music through this little song. That is so exciting to me! Thanks for writing, Kim!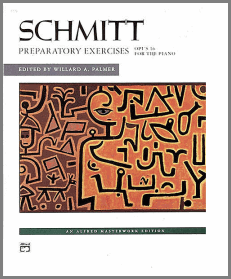 Debbie, Nashville, TN:
I have been looking for a very, very long time for a website like this! WOW! I have been teaching for over 20 years and it's nice to have a resource such as this!
Sign up for "Take Note!" to see what's new every month.
Comments: Do you have a story or a question about music teaching? Share it!
Please note that all comments are moderated, and will not appear until I have approved them. Also, IF YOU ARE ASKING FOR MUSIC THAT IS NOT IN THE PUBLIC DOMAIN, YOUR REQUEST WILL BE IGNORED. That's pretty much any music written in the last 75 years...

About the Author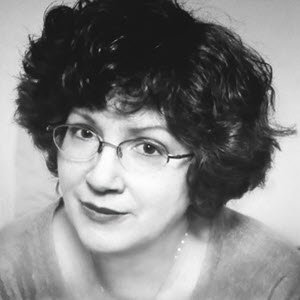 Hi, I'm Dana!  (Say that like "Anna".)  I'm the owner of Music-for-Music-Teachers.com, and a newer site, SingTheBibleStory.com.
Like some of you, I've been playing the piano since early childhood, and have added a few other instruments along the way, plus an interest in arranging and composing music.
You can find out more about me and the reason for this website at my About Me page.