Wabash Cannonball
Beginner Guitar Song
Wabash Cannonball is fun to sing and play for beginner guitar players! It has a driving rhythm that is irresistable. This printable free kids sheet music comes with guitar tabs, chords, standard notation,and the lyrics to Wabash Cannonball.
Here's a really fun video of The Duttons performing The Wabash Cannonball:
Lately I've been using the chords of this beginner guitar song to teach my students how to use the Travis picking pattern in a song. (See this great book, The Art of Contemporary Travis Picking: How to Play the Alternating Bass Fingerpicking Style (Bk & CD) , to learn more about this very popular fingerpicking style.) It's easy to put a walking bass going from the G chord up to the C chord.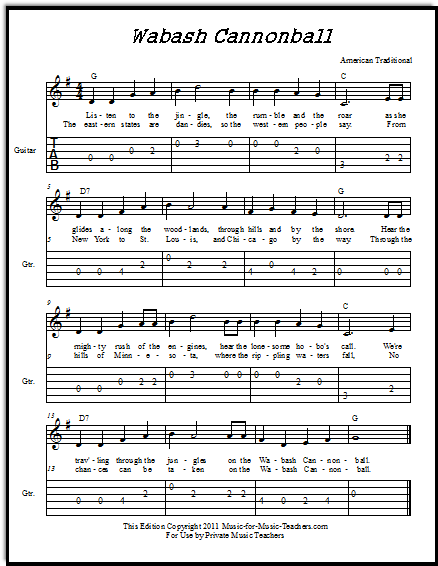 Download beginner guitar song Wabash Cannonball for guitar 

Because this melody uses "f#" (f sharp, the 4th fret on the D string), you may think your students will tend to use incorrect fingering.  Beginners do not like to use the pinky finger!
But hunt through the melody, and you will see that if your student shifts up to second position (placing fingers up one fret from the nut), then they will be able to play this melody with just the first 3 fingers.
This is an important concept to understand... and it is what they will WANT to do in any case (most beginning guitar players have one favorite finger that they would like to use for EVERY note!).  So talk about what is happening.  
I would probably teach this piece BY ROTE, phrase by phrase, then haul out the sheet music and encourage your student to make their way through the tabs, relating their memorized rote playing to the easy guitar tabs.
Hope you enjoy this free kids sheet music!
---
---
Get word of the latest sheet music at Music for Music Teachers?  Sign up for "Take Note!"