Army Theme Song
The Caissons Go Rolling Along
Army theme song "The Caissons Go Rolling Along" free lead sheets for all instruments. The army song sheet music is offered with lyrics in 7 different keys! 
Here is The Caissons Go Rolling Along in seven keys, plus an extra version for the key of A (one arrangement is high, and the other low):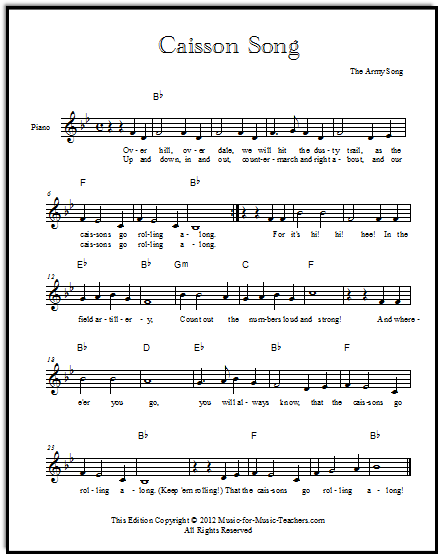 Download the Army theme song in the key of A, low
Download the song in the key of A, high 
Download the Caisson Song in the key of Bb
U.S. Army song in the key of D
The Caissons Go Rolling Along in F 
The U.S. army song has been around for a long time, and the song lyrics have changed a bit with the times. The Caisson Song lyrics I have on my free sheetmusic are the words I remember from when I was a girl; but notice that there are lots more verses in this rousing rendition of the army theme song below: 
I have had good luck using this song as a piano lead sheet, asking students to add simple left hand chords using root chords and inversions. (See examples of this down at the bottom of my page Lead Sheets.) I'm betting some of your boy students would like it, too! 
See all the free patriotic songs on my site!


...and if you can't find it here, you might be able to find a (for-sale) version in the "Patriotic" category at Musicnotes:
Here is another video of the Army theme song, also very well sung by a group of well-matched men's voices. Here, they call the song "The Army Goes Rolling Along": 
---
---
Get word of the latest sheet music at Music for Music Teachers?  Sign up for "Take Note!"