Giant Guitar Chord Charts
I love these giant guitar chords. Use these big and free printable guitar chord charts to help kids really understand how to make guitar song chords.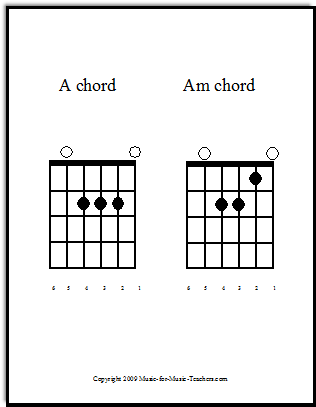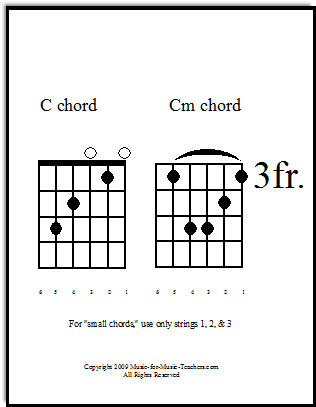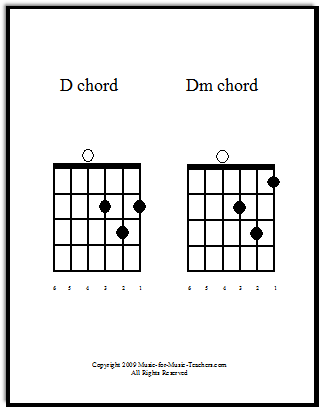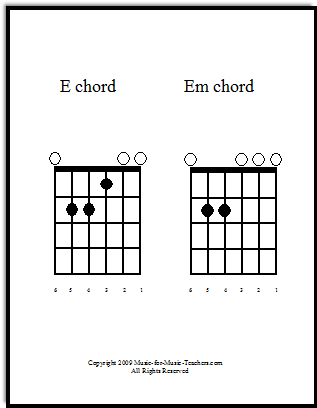 No more hunting through the back pages of guitar books -- I just print these basic chords out for all my new guitar students, punch holes in them, and arrange them alphabetically in the back of their binder. From there, we can pull them out to place opposite a song with a tricky new chord. 

I write on these sheets with a contrasting pen or pencil, marking in the correct finger numbers on the frets, and circling the appropriate strings when students are still playing "little chords." If a sheet gets too messy, I just print out another! 
I have written "For small chords, use strings 1, 2, & 3" on all the sheets below.  Especially for very young beginners, these big-handed chords are discouraging, and it's nice to start with small, easy chords. (I should have placed these words onto the B & Bm chord chart, too, but I didn't.)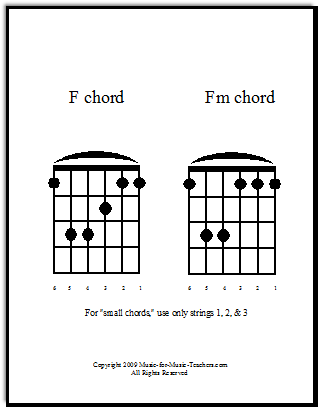 Here are my two favorite chords for beginners: "Baby" C and G7 (though I usually call them "little," not "baby!")  
"What?!" I hear you saying.  "These are BIG chords!"  Yes, but leave some strings out for your beginning guitar players:
Using only finger 1 for both of these chords, and strumming only strings 1, 2, and 3, a beginner can get an acceptable sound for a great many songs.  I like to "lean" finger one back onto string 1 when switching from little C to little G7:

Download big easy beginner chords for guitar C & G7 chords 
D7 does not seem to be a very hard chord even for beginners, and it just so happens that finger 3 can slide down very nicely from fret 2 to fret 3, and make a "baby" G chord (by strumming only strings 1, 2, and 3):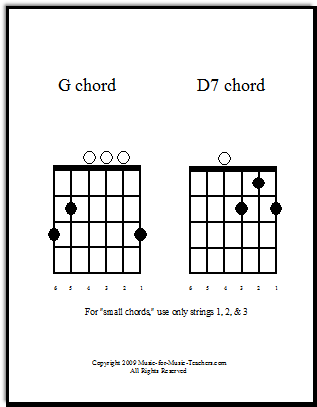 I know you'll find these free printable big guitar chord pages useful in your music teaching! 
---
A perfect read aloud storybook
for little boys or girls. 
The Adventures of Tonsta highlight the travels of a very young boy with a good heart, who goes about helping folk in trouble.  
With a red cap on his head and a sack of tools slung over his shoulder, Tonsta seems to meet people in distress wherever he goes.
Lots of trolls in this book.
---
---
Comments
Do you have a funny story about this music, or does it remind you of something you'd like to share with other readers? Do you have a question? I'd love to hear it!

Please note that all comments are moderated, and will not appear until I have approved them. Also, IF YOU ARE ASKING FOR MUSIC THAT IS NOT IN THE PUBLIC DOMAIN, YOUR REQUEST WILL BE IGNORED. That's pretty much any music written in the last 75 years...
What Other Visitors Have Said
Click below to see contributions from other visitors to this page...

Sign up for "Take Note!" to see what's new every month.
Search Music-for-Music-Teachers: