Carol of the Bells Guitar Tab
Carol of the Bells guitar tab, for your student who is beginning to stretch their abilities with classical or finger-style guitar playing.  These tabs are LEGIBLE!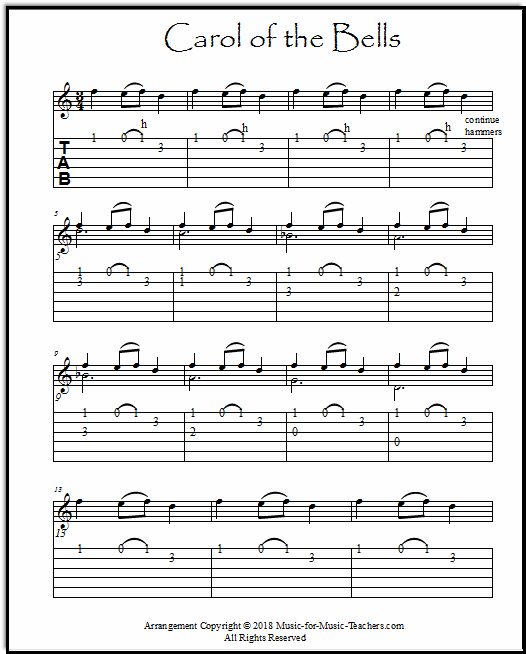 What do I mean, "legible?"  Well, when one of my guitar students wanted Carol of the Bells, I first went looking online.  What I found was:
Music that was too hard,
Music that was too boring, and
Music that was only readable with a MAGNIFYING LENS!
So I decided to come up with my own arrangement.  Voilà!
Here is a closeup of page one: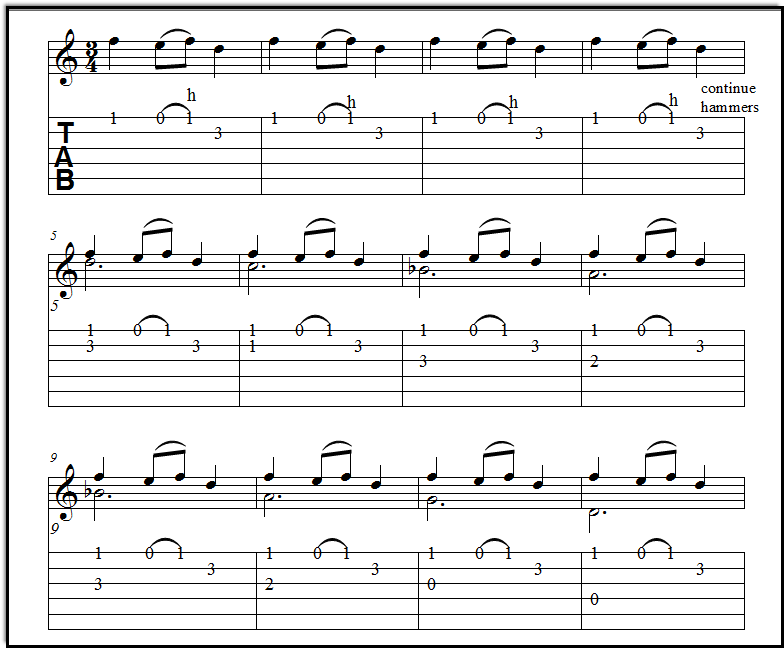 Please scroll down the page for the link to the guitar tab.
Notice that the main theme, which is repeated over and over until the end of the song, uses a hammer-on.  You don't HAVE to do this... but it helps the notes flow more nicely.
And your student will be excited to do this!  So give it a try.
I also suggest, for fingering the recurring "D" on string two (the 3rd fret) that you have your student try using finger 4, the "pinky."  
That will leave them more fingers with which to press down those other notes.  (This suggestion is for you teachers who, like me, are teaching guitar as a second instrument!)
Page two: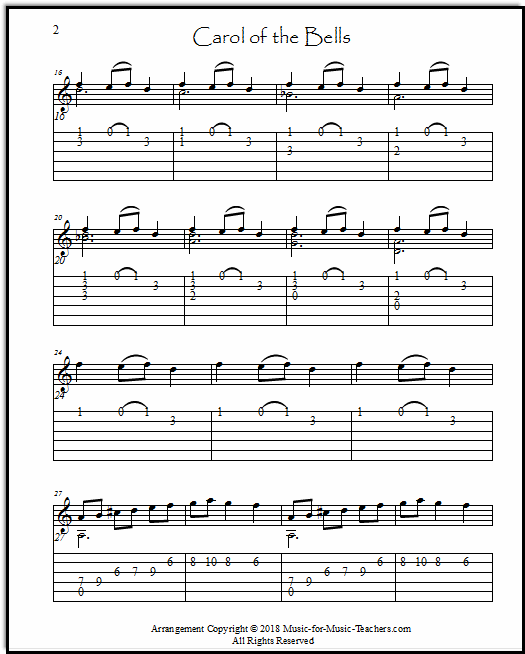 You should have seen my student's eyes pop when he noticed the last line of page two, with frets "7 - 9, 6 - 7-9, 6 - 8 - 10 - 8, 6"!  This was all new to him.
My fault.  I haven't yet prepared him with scales beyond the most elementary.  But now he will see that scales have a PURPOSE...
Here is a closeup: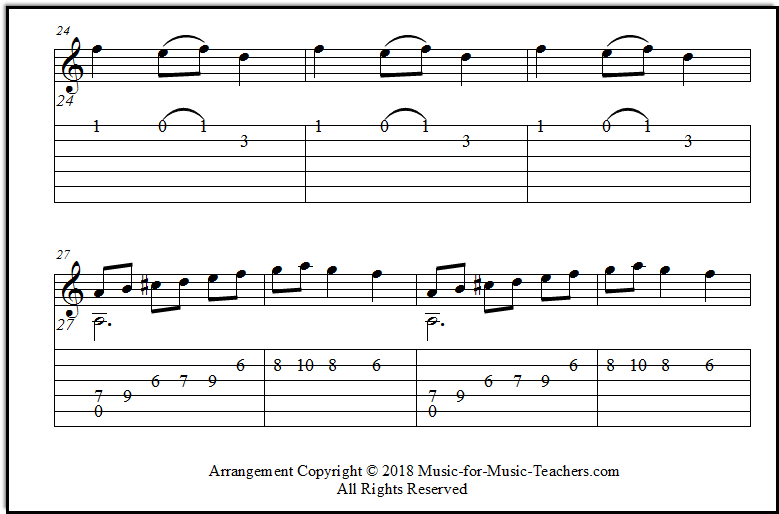 This arrangement is modeled after the greatly truncated version I give my piano students.  Though it is much shorter than the original, it has the flavor, and has been very satisfying for them.  I hope this guitar arrangement will prove to be like that!
First is the main theme, repeated with added notes, then on to the "Merry, merry, merry, merry Christmas!" section at the bottom of page two, above, and then back to the main theme again, on page three: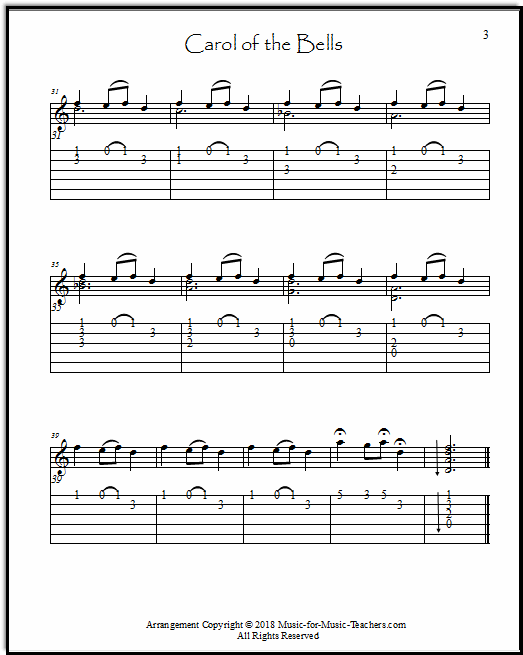 Notice the "down" arrow indication on the last note cluster (that group of notes is just a Dm chord).  
I like to stroke the strings backwards, from string one to string four, firmly, bringing my finger to a hard stop on the A string (which will not sound).
Here is a closeup of the last page: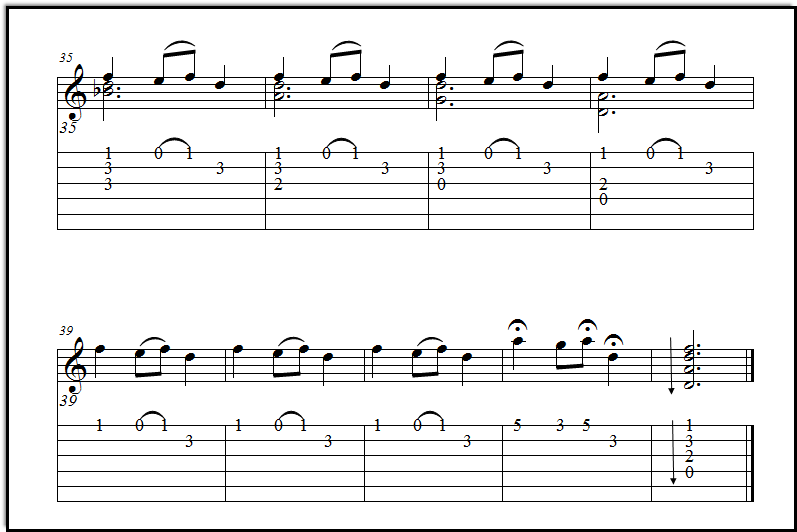 This song will be easy to memorize!  But not so easy to play, unless your student has been using a classical method.  
If classical guitar music has not been your focus, then this piece will likely be rather difficult!

However, I find (as you other teachers surely do) that the challenge posed by a DESIRABLE piece with new kinds of difficulties tends to encourage a "growth spurt" in my students, where they will struggle for a bit, then come out on top of a new plateau.
---
The guitar tab link:
Download Carol of the Bells guitar tab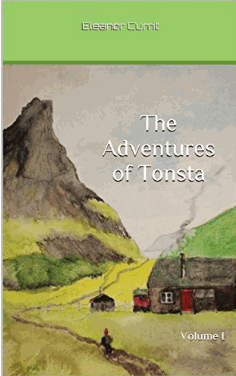 A perfect read aloud storybook
for little boys or girls. 
The Adventures of Tonsta highlight the travels of a very young boy with a good heart, who goes about helping folk in trouble.  
With a red cap on his head and a sack of tools slung over his shoulder, Tonsta seems to meet people in distress wherever he goes.
Lots of trolls in this book - including one who gives him a Christmas gift!
Sign up for "Take Note!" to see what's new every month.
Comments
Do you have a story or a question about teaching guitar? Do you think it is a hard instrument for beginners, or easy? What have been your challenges?
Please note that all comments are moderated, and will not appear until I have approved them. Also, IF YOU ARE ASKING FOR MUSIC THAT IS NOT IN THE PUBLIC DOMAIN, YOUR REQUEST WILL BE IGNORED. That's pretty much any music written in the last 75 years...

About the Author


Hi, I'm Dana!  (Say that like "Anna".)  I'm the owner of Music-for-Music-Teachers.com.

Like some of you, I've been playing the piano since early childhood, and added a few other instruments along the way, plus an interest in arranging and composing music.

You can find out more about me and the reason for this website at my About Me page.