Free Printable Violin Music
Musical Priest
Free printable violin music Musical Priest is a catchy tune and fun to play.  It is especially useful for fiddle players just starting to add ornaments to their playing.  Musical Priest is offered here in two arrangements: a simple version with large notes and no ornaments, and a smaller musical font arrangement that shows where to add turns to the melody.
This is a lively tune.  Here is a video from the website of Duncan Cameron, with a close-up lesson: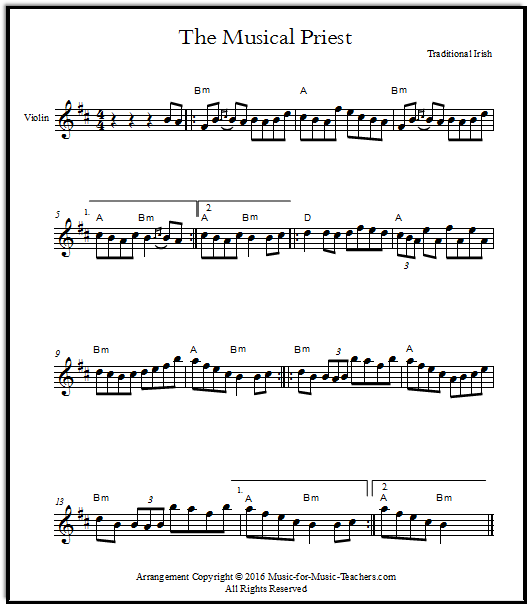 Download free fiddle sheet music "Musical Priest"
For beginner violin players, it is easier to first master the melody, and then add in the ornaments in lines 1 and 2.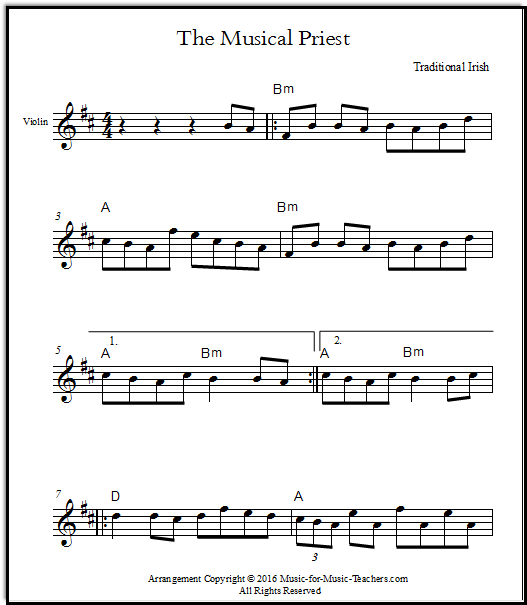 Download Fiddle tab for Irish reel Musical Priest, beginner arrangement
My two versions are almost the same as Duncan Cameron's, but is closer to the arrangement found in The Fiddler's Fakebook.
Try this reel with a swing rhythm (LONG-short, LONG-short, LONG-short, LONG-short, etc.).  It has a very different feeling!
Sign up for "Take Note!" to see what's new every month.