Classical Guitar Sheet Music
"Allegro", by Mauro Giuliani
From Giuliani's Opus 50 "Le Papillon" (The Butterfly), this "Allegro" is fairly easy for any beginning guitar student who can play the chords Am, Dm, and E, and also fingerpick.
Below is the original music (but set with 8th notes, not 16ths), and also a worksheet with empty tablature to challenge newer note-readers.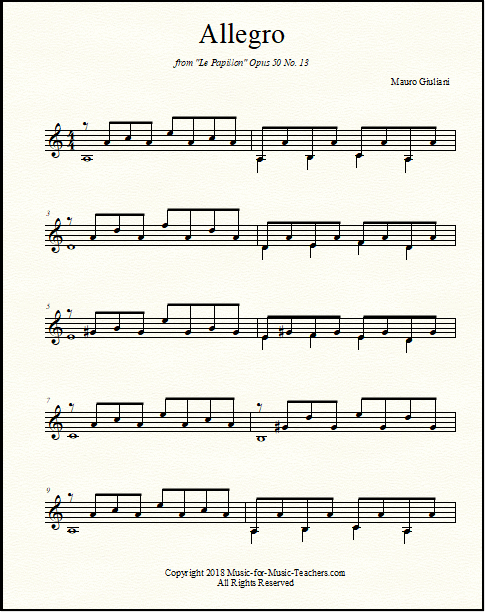 The guitarist in the video above is playing an arrangement of this piece by Aaron Shearer from his Classic Guitar Technique Vol 1. 
I like it very much, but the arrangement is actually longer than the piece Giuliani wrote - at least as far as I can determine from looking at a transcription of Le Papillon found on IMSLP, a source for free classical music in the public domain.
Here is page 2: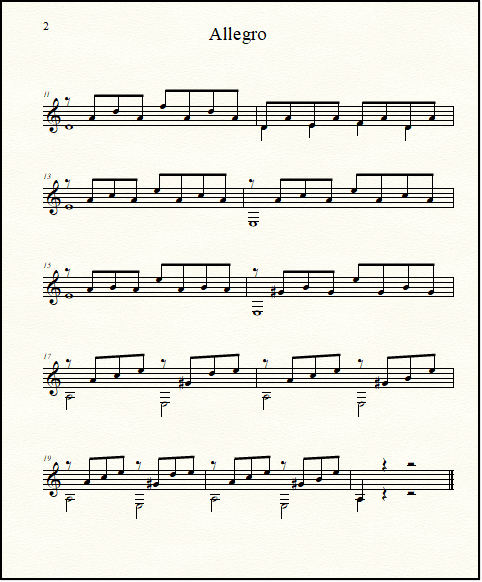 This piece is VERY PRETTY, with a melody that may be familiar to many adults, though likely not to your students. 
It has quite a bit of repetition in the right hand finger pattern, making that technique easy to conquer - but somehow I found this piece a challenge to memorize correctly. 
Download "Allegro" from Le Papillon by Giuliani
Here is the "worksheet" to go with the guitar piece... I'd probably print BOTH up because this one may look like a mess when your student is done with it!
Page 1 looks like this: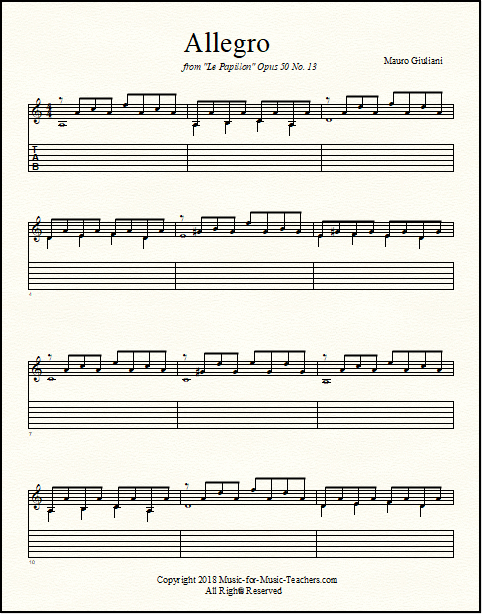 Download worksheet for Allegro with blank tablature

Here is a fellow to whose site & Youtube channel I plan to return:

Sign up for "Take Note!" to see what's new every month.