Snake Charmer
for Beginner Piano
You may recognize the Snake Charmer from your school days.
Sometimes it's called "Harem Dance." The minor melody is mysterious and scary-sounding...one reason kids love this song! 
Because this piece is such great music, but I didn't like the dumb words I remembered singing as a kid, I invented new words for the melody that seem to go with its title...
I find that my students enjoy songs more, and learn them faster, if they have compelling words or a story!  I think words help them travel in their imaginations when they are making music.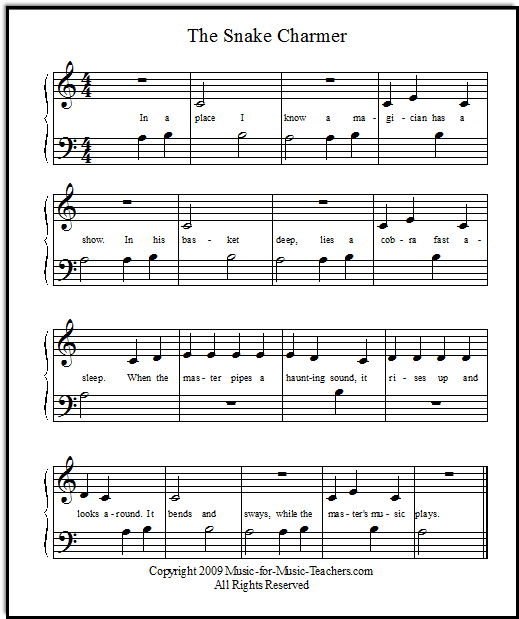 Please scroll down the page for the download links.
What makes Snake Charmer different from similar pieces set around Middle C are the "skips" or intervals of thirds.  
For beginners, these take concentration to spot.  Sometimes, I give in and put fingering on the notes the first time the skip pattern occurs.
Before they attempt this piece, I like to know that my students can easily read all the lines in Snakes Go for a Walk (also called Crickets Go Hopping), a page of short little exercises that test kids' ability to spot skips in a line of step-wise moving notes.

A harder version of Snake Charmer (a very popular piece in my studio for beginners) puts the melody all in the right hand in the key of Dm, and uses a plain open chord for the left hand.   

Your students might enjoy this short video of an actual snake charmer, playing his flute in the ordinary way.  Look at this fellow handle a real live snake! This is not the tune "Snake Charmer," but this is the story that the song tells: 

---
The link for the piano sheet music:
Free easy sheet music Snake Charmer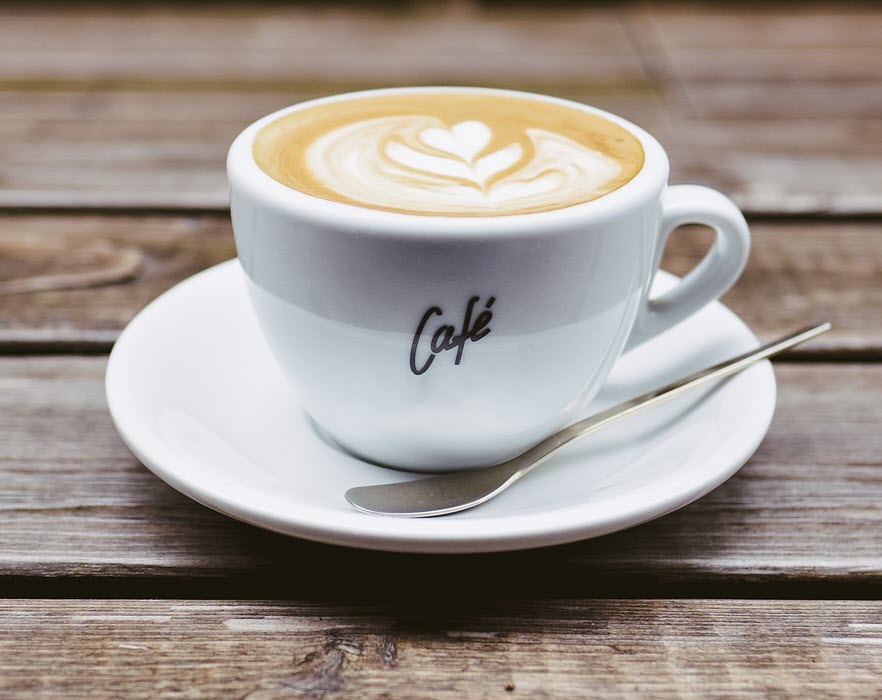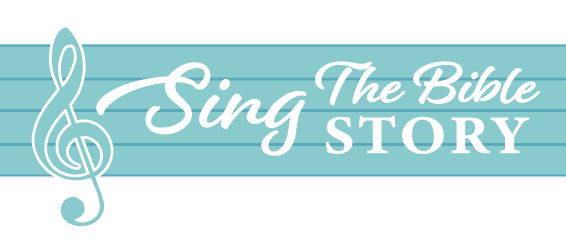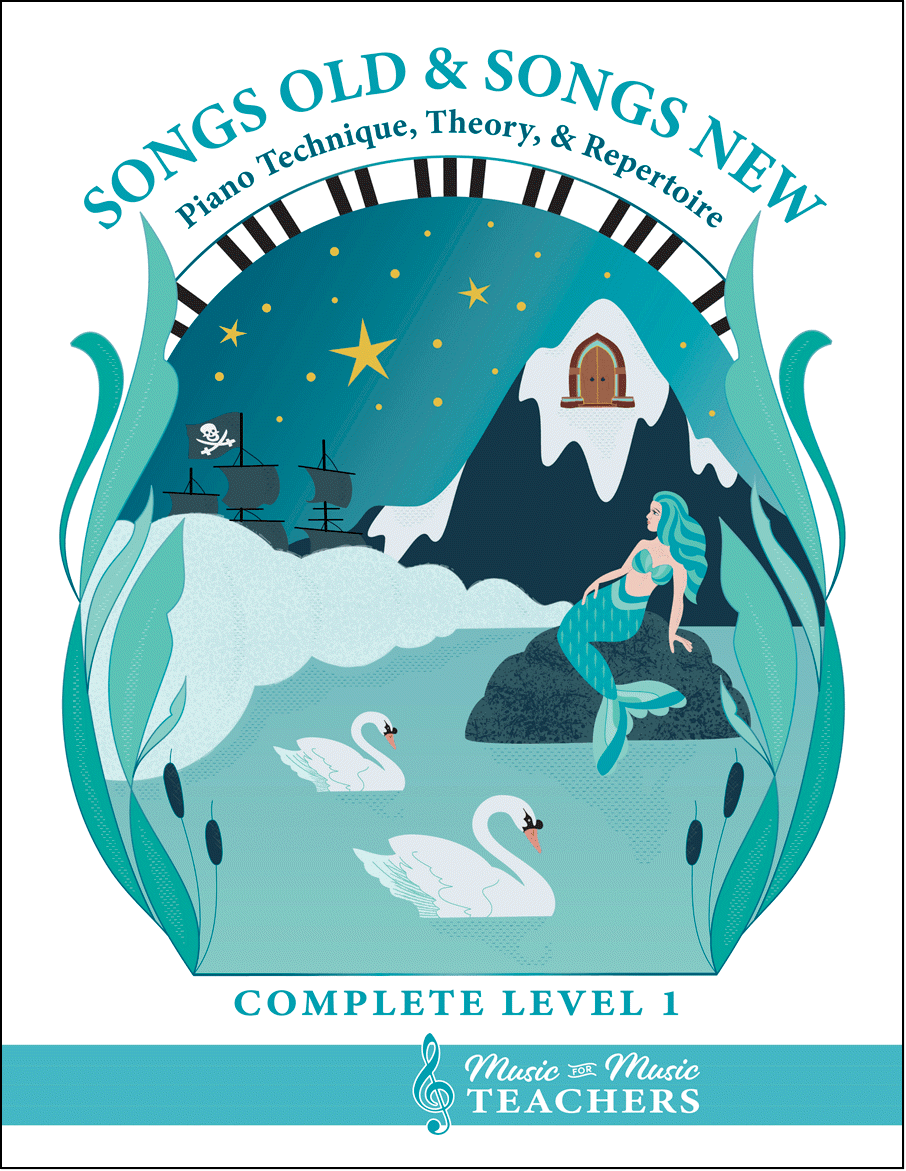 All the first-year material I give my beginner students. 
Piano keyboard sheets, scales, chords, note-reading exercises, and over 256 pages of music!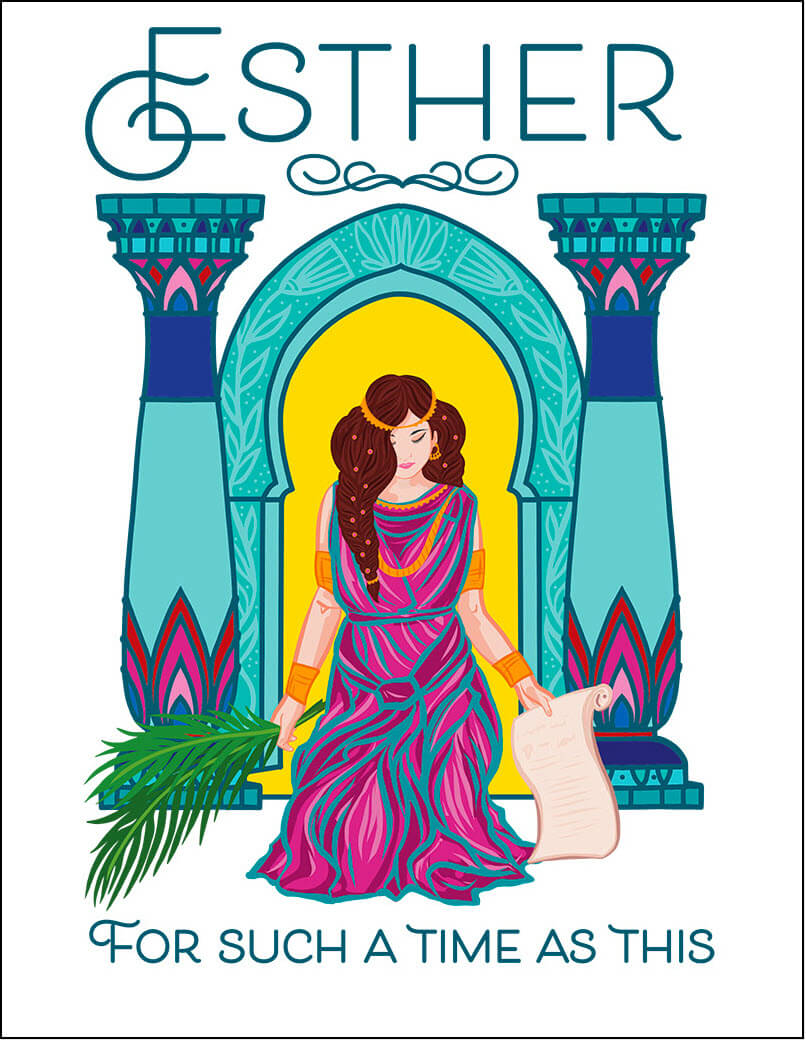 This beautiful song book for piano & voice "Esther, For Such a Time as This",  available as a digital download, tells the riveting story of the time when  Jews in ancient Persia faced a foe named Haman, and how a  brave young queen risked her life to save her people.
A good choice for a singing story-teller, an operatic group, a short theater production, or a class of children!
This book is also available from Amazon as a paperback.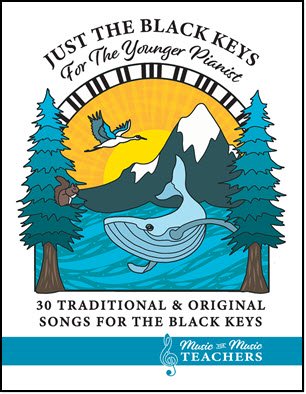 This book is available as a digital download  from this site.  Visit this page to see some free examples from the book.
It is also available from Amazon as a paperback!
This is the perfect easy start for little pianists.
And when they start reading white-key notes on the staff, this is a fun easy resource to say each week, "Choose a new black-key song at home this week and figure it out to show me next lesson!"  They will be spending more time at the piano.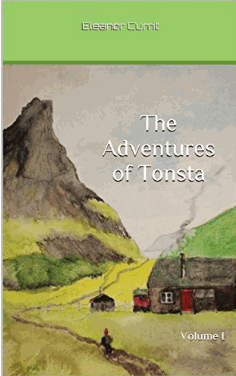 A perfect read aloud storybook
for little boys or girls. 
The Adventures of Tonsta highlight the travels of a very young boy with a good heart, who goes about helping folk in trouble.  
With a red cap on his head and a sack of tools slung over his shoulder, Tonsta seems to meet people in distress wherever he goes.
Lots of trolls in this book - including one who gives him a Christmas gift!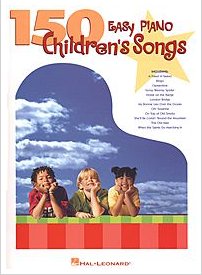 Kim in Washington:
My son is hooked...I've been introducing piano to my son on and off for a year or so, but he's not had much interest. Then I gave him "Monsters Everywhere". He loved playing it with the organ sound on our piano. He memorized it that week and I'm printing off the other Halloween songs to keep him going. I love the detailed instructions on teaching since he is my first student! Thanks so much.
Dana:
That is so neat that your son has experienced the magic and mystery of music through this little song. That is so exciting to me! Thanks for writing, Kim!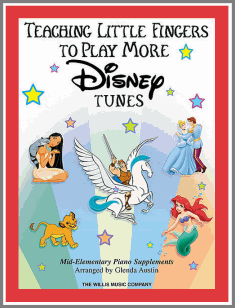 Kelli:
I am so relieved to have found this site!! I have been struggling as a music student, not having any previous instruction in high school. I am starting from scratch and this is a wonderful tool!! Kudos to you!! God Bless you!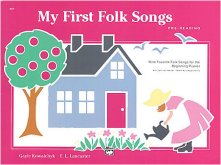 Sign up for "Take Note!" to see what's new every month.

About the Author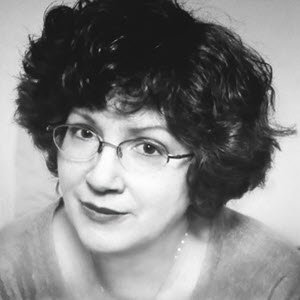 Hi, I'm Dana!  (Say that like "Anna".)  I'm the owner of Music-for-Music-Teachers.com, and a newer site, SingTheBibleStory.com.
Like some of you, I've been playing the piano since early childhood, and have added a few other instruments along the way, plus an interest in arranging and composing music.
You can find out more about me and the reason for this website at my About Me page.