Snake Charmer
for Beginner Piano
You may recognize the Snake Charmer from your school days. Sometimes it's called "Harem Dance." The minor melody is mysterious and scary-sounding...one reason kids love this song! 
Because this piece is such great music, but I didn't like the dumb words I remembered singing as a kid, I invented new words for the melody that seem to go with its title... I find that my students enjoy songs more, and learn them faster, if they have compelling words or a story!  I think words help them travel in their imaginations when they are making music.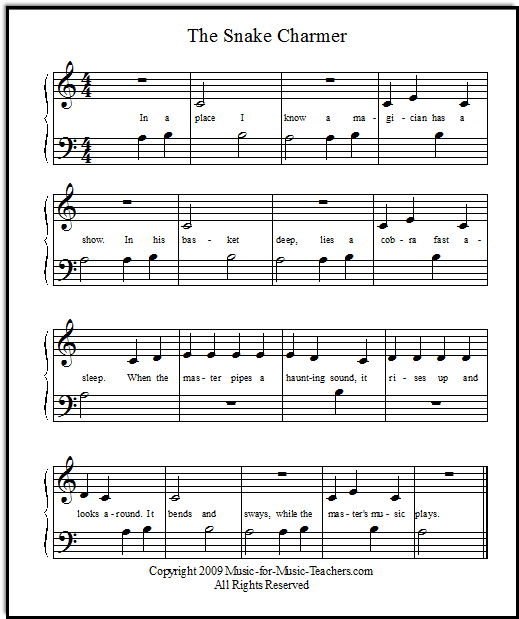 Free easy sheet music Snake Charmer 

What makes Snake Charmer different from similar pieces set around Middle C are the "skips" or intervals of thirds.  For beginners, these take concentration to spot.  Sometimes, I give in and put fingering on the notes the first time the skip pattern occurs.
Before they attempt this piece, I like to know that my students can easily read all the lines in Snakes Go for a Walk, short little exercises that test kids' ability to spot skips in a line of stepwise-moving notes.
A harder version of Snake Charmer puts the melody all in the right hand in the key of Dm, and uses a plain open chord for the left hand. 
Your students might enjoy this short video of an actual snake charmer, playing his flute in the ordinary way.  Look at this fellow handle a real live snake! This is not the tune "Snake Charmer," but this is the story that the song tells: 
---
---
Get word of the latest sheet music at Music for Music Teachers?  Sign up for "Take Note!"
Comments
Do you have a funny story about this music, or does it remind you of something you'd like to share with other readers? Do you have a question? I'd love to hear it!

Please note that all comments are moderated, and will not appear until I have approved them. Also, IF YOU ARE ASKING FOR MUSIC THAT IS NOT IN THE PUBLIC DOMAIN, YOUR REQUEST WILL BE IGNORED. That's pretty much any music written in the last 75 years...