Printable Piano Music 
What Do You Do With a Drunken Sailor
This free printable piano music might be your student's favorite for a long time!  Here are four different arrangements of What Do You Do With a Drunken Sailor... two of them are new, for young beginners.
What Do You Do With a Drunken Sailor is a sea shanty: a sailors' song sung to the rhythm of their working. (Also known as shantey, chantey, or chanty.) Like most songs of folk origin, you'll find many variants of it. This version is the one I know.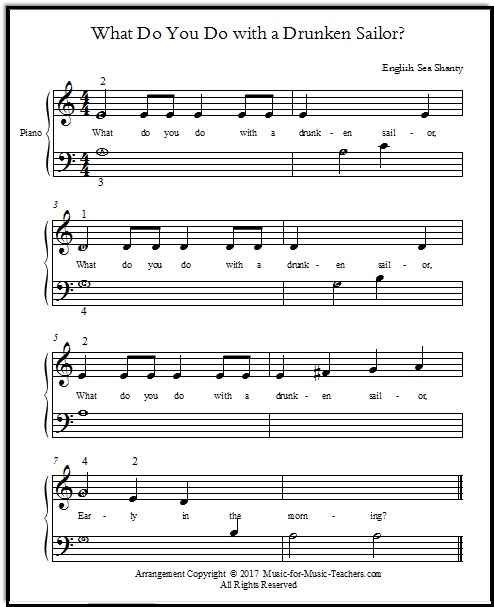 Download easy notereader version of What Do You Do with a Drunken Sailor with left hand harmony and lettered notes
Download harmony arrangement with no helper notes
Download easy version of sea chanty with no harmony 
Below is the long version, full of sound and fury.  The surging energy created by the LH of this easy piano sheet music keeps it driving till the very end.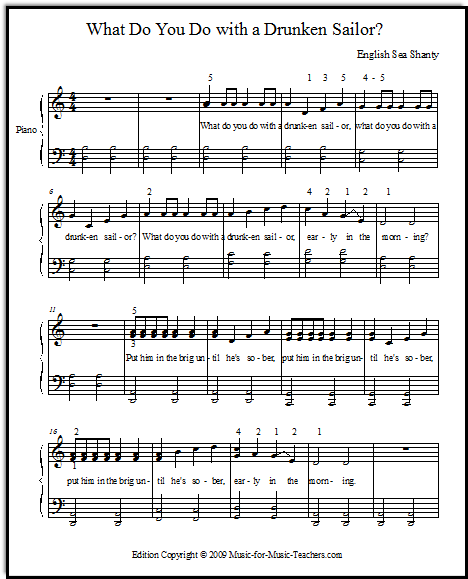 Lots of repetition - but be careful of the fingering
The LH is easy open chords, the same pattern every verse. The RH, too, is almost unchanging from verse to verse, but each repetition has a bit of a twist, or a register change that gives it a fresh feeling. I have found that the fingering needs to be insisted on from the very first (especially with aural learners).
Turn practice into a game
A good way to make sure this happens is to set a goal for them: by next week, be able to play the melody of part 1 --no LH-- with their eyes closed! As soon as I announce this challenge, they try to accomplish it right then -- and some do it! This goal is much more fun to work at than "Have this memorized by next lesson," and it also improves their tactile relationship with the melody.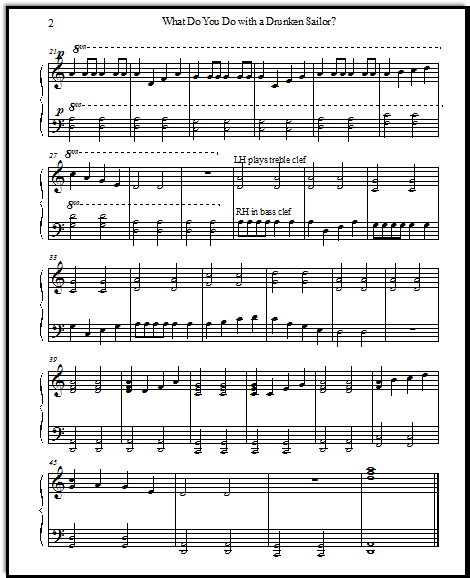 Printable piano music for What Do You Do With a Drunken Sailor

Dynamics change for contrast
On repetition 3, both hands jump up high. This is a good opportunity for contrast -- a pianissimo moment in the midst of all the commotion!
A new skill - Right hand crosses over the left hand
On page 2, the RH crosses over the LH down to the bass clef -- I hope that's clear enough in the music. The LH stays just where it was, but appears temporarily in the top staff. Then at the last repetition, the hands must fly apart quickly as RH goes right again, and LH drops deep into the bass.
A version with no change in left hand
Now here is an even easier version of Drunken Sailor: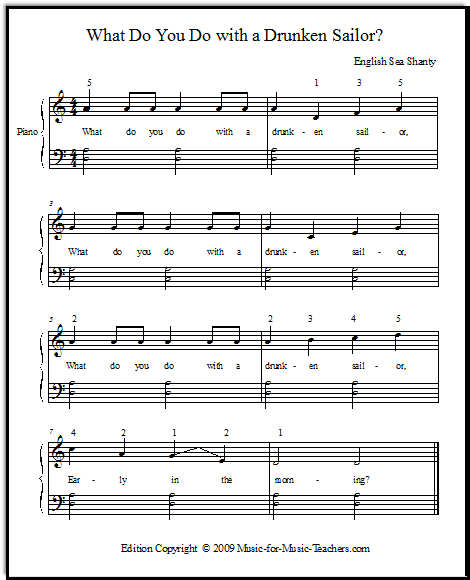 Easy Drunken Sailor free printable sheet music

What Do You Do with a Drunken Sailor lyrics:
I did not include all the lyrics for this printable piano music. If you watch the Irish Rovers' Youtube video of What Will We Do with a Drunken Sailor, you can see that some of the lyrics are the kind of words you might not want to be explaining to your small music students!
The speed will come
Remember what I said about the energy driving this piece? Once the hand coordination is developed in this sea shanty, your students will be flying along... and the pounding might become a bit of an issue for their parents! (Then it will be time to talk about refinement and musicality, if you haven't already.) This song is VERY fun.
---
---
Get word of the latest sheet music at Music for Music Teachers?  Sign up for "Take Note!"
Comments
Do you have a funny story about this music, or does it remind you of something you'd like to share with other readers? Do you have a question? I'd love to hear it!

Please note that all comments are moderated, and will not appear until I have approved them. Also, IF YOU ARE ASKING FOR MUSIC THAT IS NOT IN THE PUBLIC DOMAIN, YOUR REQUEST WILL BE IGNORED. That's pretty much any music written in the last 75 years...
What Other Visitors Have Said
Click below to see contributions from other visitors to this page...

Thank you from an adult learner!
This is a great website and a wonderful contribution to the music community. I am a retired lady trying to read music. I just purchased a double strung …