Famous Duets
Brahms' Hungarian Dances
Famous duets your students will enjoy: Brahms' Hungarian Dance Number 5 in two easy arrangements, for early beginners and Level 2 players.  
This soaring minor melody never grows old!
Brahms wrote a whole set of Hungarian Dances, but this one, Number 5, is surely the most irresistable and crowd-pleasing.
Brahms' Hungarian Dances are so full of "sound and fury" that we may think they were originally conceived as orchestral pieces.  Apparently they were piano duets first, and were later transcribed by Brahms himself for orchestra.
Here is a VERY SIMPLE version, for beginners, of the Hungarian Dance Number 5:
Please scroll down the page for the download links.
I couldn't resist adding some words to the song, for young children.  It really does make the song easier to remember and more fun to play, as those of you who played as children will recall!  
To turn this easy version into duet music, make up a swinging-bass-plus-chord pattern using the chord symbols above each line.
And below is the arrangement for Level 2/3 players Secondo, and Level 1 Primo: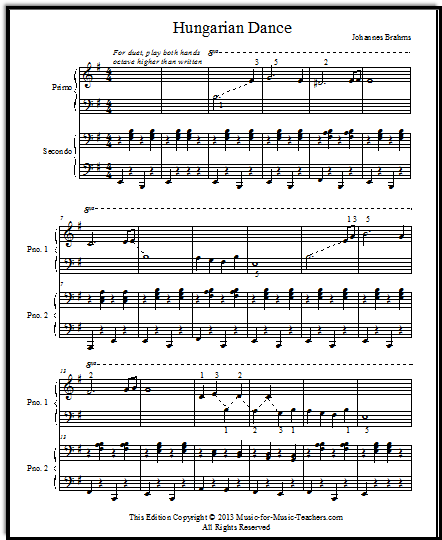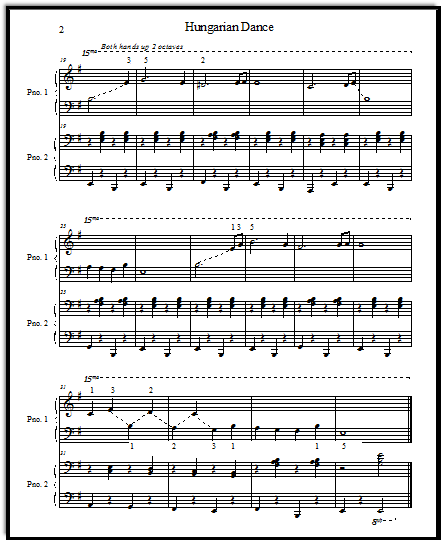 Please scroll down the page for the download links.
As you can see, pages 1 & 2 are just the same, except that the Primo goes up an octave.

The fast-moving eighth notes in the Primo part are usually a new phenomenon for students who are playing this otherwise simple part.  
Rather than tedious explanations about "1-and-2-and-3-and-4-and", which many are not ready for, I might say "One-two-three, tee-tee-Tah-two-three-four," in the fast parts (such as measure five, end of line one). 
 I know that's not very technical, but "Tah" and "tee-tee" really do make sense to young kids!  
Less talk, more music.  The strong melody will itself pull this piece together.
There are quite a few book editions of the Hungarian Dances available in their original - and exciting! - form.  You may also download a digital copy from Sheetmusicplus of some of the Hungarian Dances for duet or solo piano.
According to one publisher (Wiener), 
"The 'Hungarian Dances' were published in three different, yet authentic versions during the composer's lifetime: (1) all 21 dances arranged for piano duet, (2) nos. 1-10 also for solo piano and (3) nos. 1, 3 and 10 as orchestral arrangements."
Another Youtube video featuring many paintings of the handsome Brahms throughout his life, with the Budapest Philharmonic Orchestra playing the music of the famous Hungarian Dance Number 5:
---
The links for the piano music:
Download Brahms duet primo for easy piano
Download famous duets Hungarian Dance Number 5, Primo & Secondo together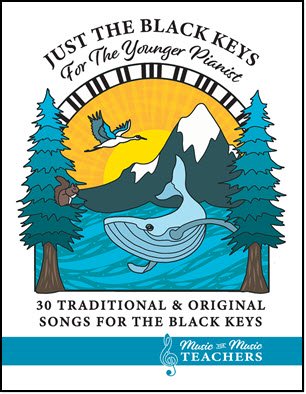 This book is available as a digital download  from this site, and also from Amazon as a paperback!
This is the perfect easy start for little pianists.
And when they start reading white-key notes on the staff, this is a fun easy resource to say each week, "Choose a new black-key song at home this week and figure it out to show me next lesson!"  They will be spending more time at the piano.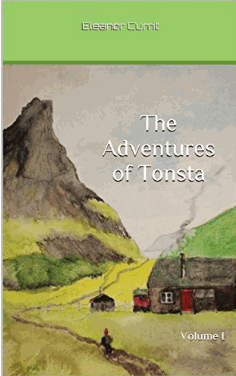 A perfect read aloud storybook
for little boys or girls. 
The Adventures of Tonsta highlight the travels of a very young boy with a good heart, who goes about helping folk in trouble.  
With a red cap on his head and a sack of tools slung over his shoulder, Tonsta seems to meet people in distress wherever he goes.
Lots of trolls in this book - including one who gives him a Christmas gift!
Sign up for "Take Note!" to see what's new every month.
Comments
Do you have a funny story about this music, or does it remind you of something you'd like to share with other readers? Do you have a question? I'd love to hear it!

Please note that all comments are moderated, and will not appear until I have approved them. Also, IF YOU ARE ASKING FOR MUSIC THAT IS NOT IN THE PUBLIC DOMAIN, YOUR REQUEST WILL BE IGNORED. That's pretty much any music written in the last 75 years...

About the Author


Hi, I'm Dana!  (Say that like "Anna".)  I'm the owner of Music-for-Music-Teachers.com.

Like some of you, I've been playing the piano since early childhood, and added a few other instruments along the way, plus an interest in arranging and composing music.

You can find out more about me and the reason for this website at my About Me page.