Beginner Piano Songs
Found a Peanut
Beginner piano songs for young kids are even better when the tune is familiar, and the words are fun or even silly!  "Found a Peanut" is just that kind of song!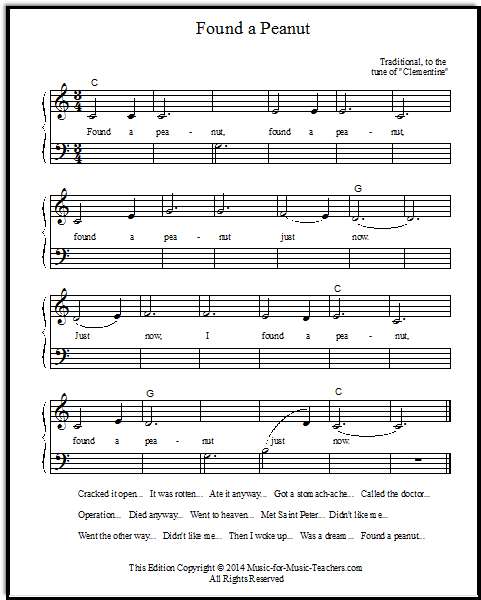 Download Found a Peanut for your beginner students

This video has Found a Peanut lyrics almost the same as mine (you know how it is with "folk tunes"...):
When I teach this song, I usually start with the student on the CHORDS, not the melody, some weeks before actually showing them the music.  Just because the notes are set in the Middle C position doesn't mean this song will be easy at first.  There are too many skips.  

As they work on the melody, try having them proceed VERY SLOWLY, as if a land mine awaits "missteps."  Even if you have prepared their ears for the melody by working with the chords first, they likely will not "hear" the melody, playing so slowly.  That's fine.  Tell them it's the job of their EYES, not their ears, to find the notes right now.

Here's an easy-to-read version of this easy piano sheet music:
Download beginner piano sheet music with made-easy notes

You may find - believe it or not - that the song becomes TEDIOUS to you after a few verses, but there is a certain age group among your students which finds these lyrics HILARIOUS and wants to do the entire song NOW.  For a change of pace, just switch places and let your student play the chords while you play the melody.  

They can start with easy triads, one chord every two measures (since it is a VERY FAST 3-beat song, written so beginners won't be intimidated by eighth notes).  Have them play the chords like this:


Then ask them what the chords would be if you moved the melody up to the key of D?  See if they can figure it out BY EAR - then discuss the theory behind the chords - how the I and V chords (One and Five chords) love to go together, and that when the melody has a different key "home", the chords change along with it.  
So now the triads will be:

Try the key of G also.  Unless you have had them doing pentascales for a little bit, the I and V chords in the keys of E & F might be frustrating.
Keep the Found a Peanut lyrics moving ahead as you move the key center!  If you find yourself fumbling with the melody as it transposes, just sing.  Your voice will be plenty loud to go along with your student's chords.
Then, make the chords MORE FUN.  Show them a waltz pattern: left hand single bass note, and right hand two triads.  This is what I call an "Oom-pah-pah" pattern.

Quiz your students about the melody notes: what's the difference in the slurs versus the ties?  Can they figure it out by just looking, and singing?
Again, when I teach this song, I usually start with the student on the CHORDS, not the melody, some weeks before actually showing them the music.  There is plenty to learn here, for the beginner piano student!

---
A perfect read aloud storybook
for little boys or girls. 
The Adventures of Tonsta highlight the travels of a very young boy with a good heart, who goes about helping folk in trouble.  
With a red cap on his head and a sack of tools slung over his shoulder, Tonsta seems to meet people in distress wherever he goes.
Lots of trolls in this book.
---
---
Sign up for "Take Note!" to see what's new every month.
Search Music-for-Music-Teachers:
Comments
Do you have a funny story about this music, or does it remind you of something you'd like to share with other readers? Do you have a question? I'd love to hear it!

Please note that all comments are moderated, and will not appear until I have approved them. Also, IF YOU ARE ASKING FOR MUSIC THAT IS NOT IN THE PUBLIC DOMAIN, YOUR REQUEST WILL BE IGNORED. That's pretty much any music written in the last 75 years...