Tarantelle, the Spider Dance
Tarantelle and Tarantella are names for fast-moving, exciting pieces based on folk music.   The compositions I have heard always sound like dances to me.

There are at least 195 Tarantelles and Tarantellas listed at IMSLP, but the version I remember from my childhood came from a John Schaum book with pictures of a boy madly dancing after being bitten by a spider - a tarantula.  Here is an easy shared-hands version, with lyrics!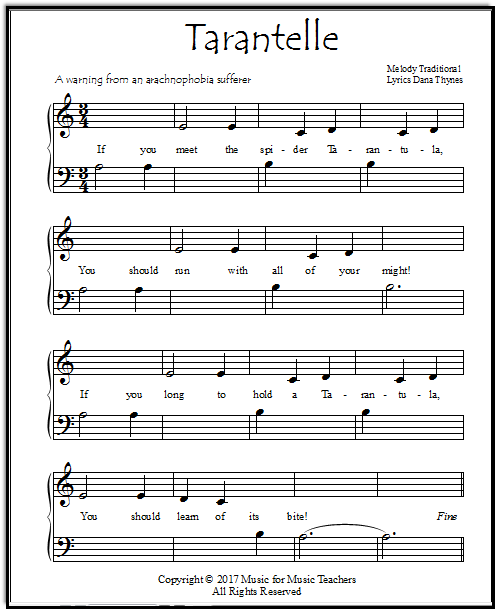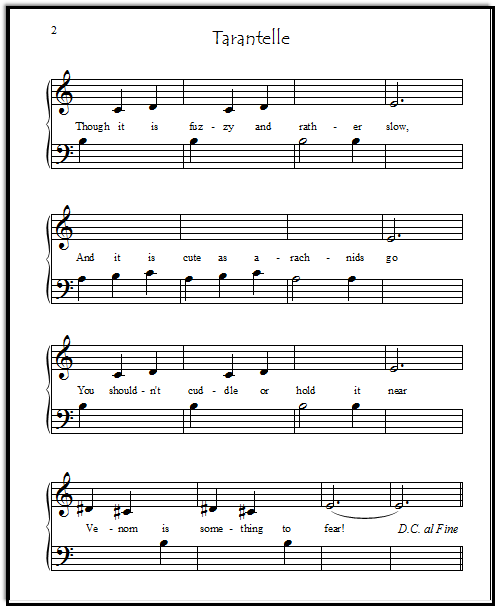 Download Tarantelle for beginner piano, shared-hands melody

Download the same arrangement, with just a few "helper notes" - letters inside the noteheads

The main difficulty with this piece for a beginner is the 3-4 time signature.  Somehow, three beats are always harder for young kids to feel (at first). Also, on page 2, the unexpected black notes may throw your little guys off.  But this is good practice for their reading.  
Here is a Secondo part, if you wish to turn this little piece into a duet: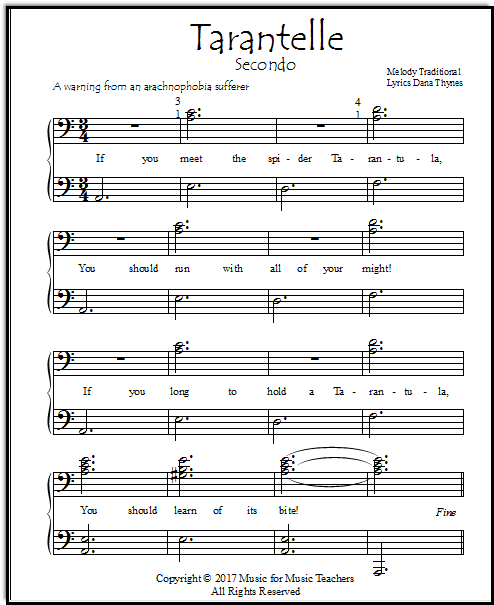 Download secondo duet part for Tarantelle folk song
And here is a solo, very like the one I loved as a child: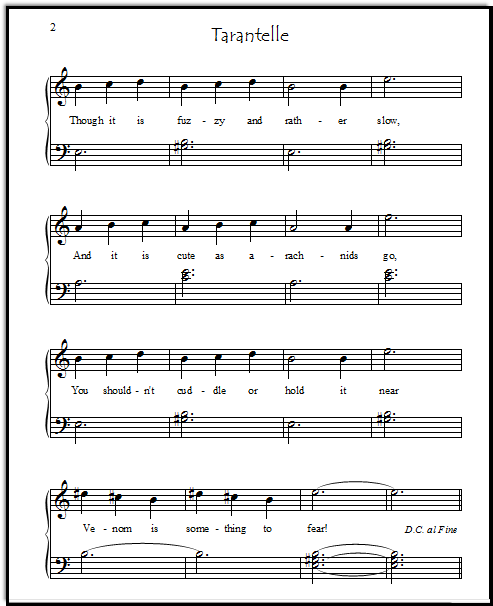 Download piano solo Tarantelle
Your young students are going to love this song!

---
---
Get word of the latest sheet music at Music for Music Teachers?  Sign up for "Take Note!"
Comments
Do you have a funny story about this music, or does it remind you of something you'd like to share with other readers? Do you have a question? I'd love to hear it!

Please note that all comments are moderated, and will not appear until I have approved them. Also, IF YOU ARE ASKING FOR MUSIC THAT IS NOT IN THE PUBLIC DOMAIN, YOUR REQUEST WILL BE IGNORED. That's pretty much any music written in the last 75 years...