Tarantelle, the Spider Dance
Tarantelle is a great 5-finger melody.  Years ago I wrote lyrics for it that younger children enjoy.  Energetic, with swift-moving chords, it is fun to play it faster and faster.
A big arrangement all on one page
I call this a "big" arrangement, because it SOUNDS big to kids, and includes the entire melody.
Years ago I wrote lyrics for the tune, and that proved to be fun for younger kids, but a bit off-putting, perhaps, for older kids who would otherwise jump at this piece.  It's a quick and satisfying learn for them, but they don't need any words to distract their own imaginings.
See the download link all the way at the bottom of the other arrangements, way down the page.
An arrangement in Dm
This one has a shortened melody: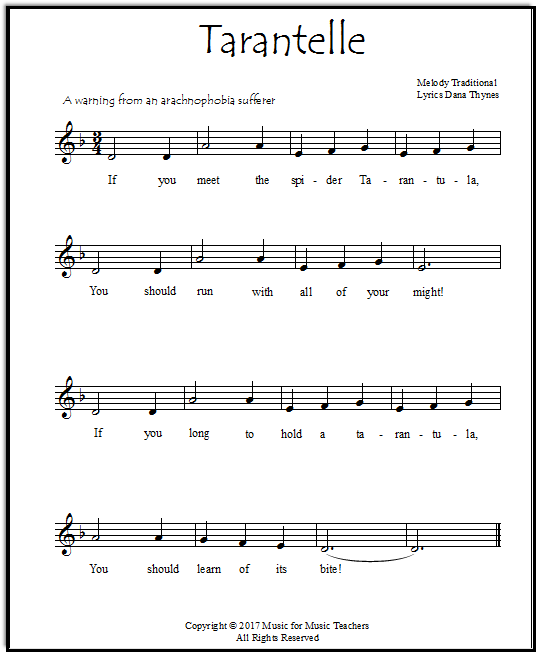 Please scroll down the page for the download links.
Tarantelle and Tarantella are names for fast-moving, exciting pieces based on folk music.   The compositions I have heard always sound like dances to me.
Here is the same Dm arrangement, but with all the notes holding letters inside their heads: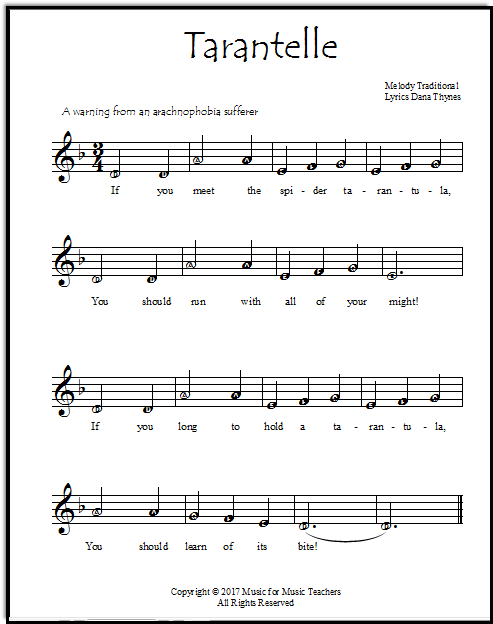 Please scroll down the page for the download links.
Here is the same arrangement as above, but with only a few "AlphaNotes". I call these arrangements "alphanote helpers".   A closeup view: 

Please scroll down the page for the download links.
There are at least 195 Tarantelles and Tarantellas listed at IMSLP, but the version I remember from my childhood came from a John Schaum book with pictures of a boy madly dancing after being bitten by a spider - a tarantula.  
Here is an easy shared-hands version set around Middle C - this version is longer than the Dm arrangements, above.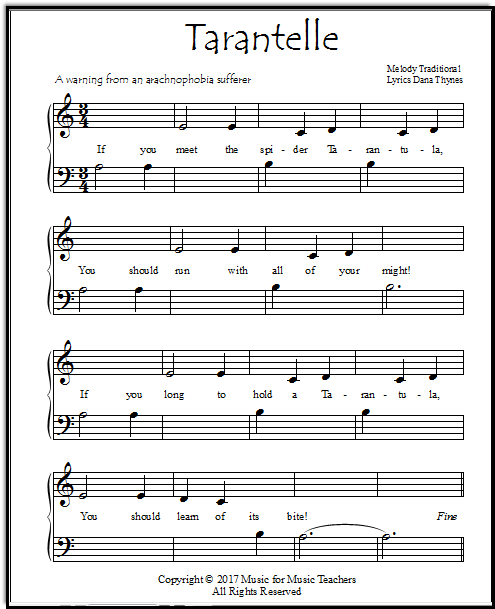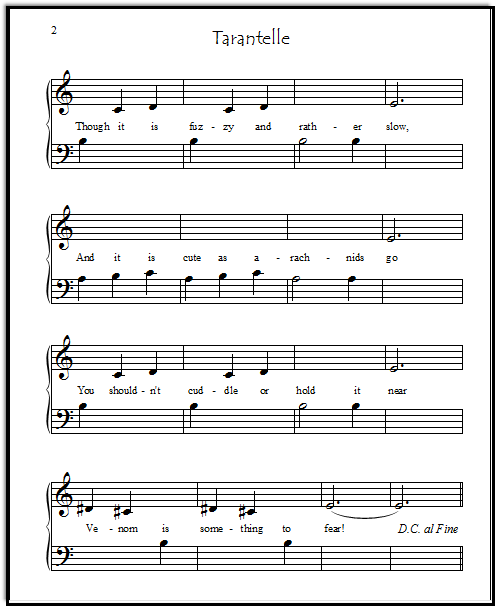 Please scroll down the page for the download links.
The main difficulty with this piece for a beginner is the 3-4 time signature.  Somehow, three beats are always harder for young kids to feel (at first).
Also, on page 2, the unexpected black notes may throw your little guys off.  But this is good practice for their reading.  

Here is a Secondo part, if you wish to turn this little piece into a duet: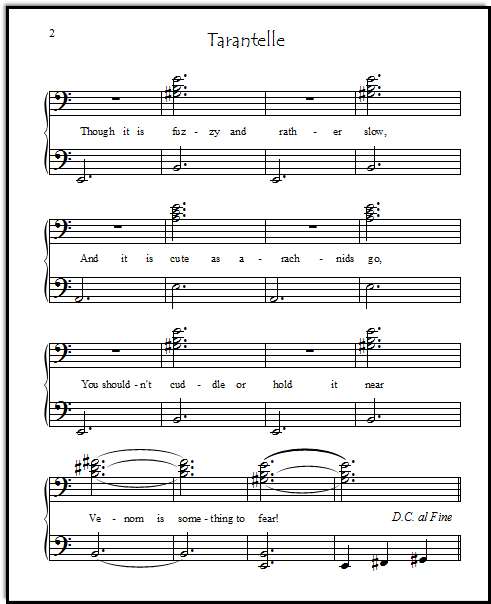 And here is a solo, very like the one I loved as a child, in the key of Am: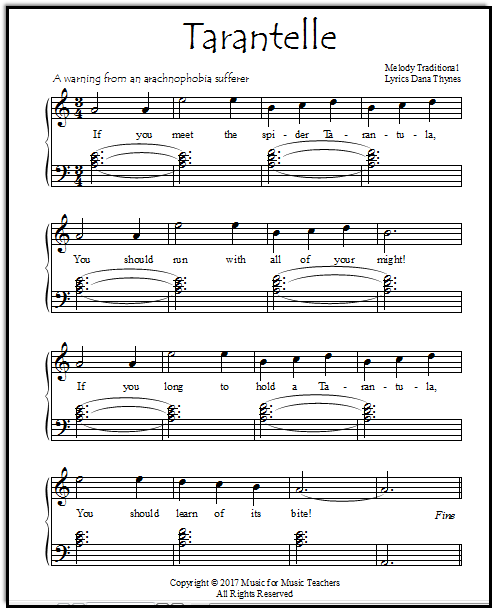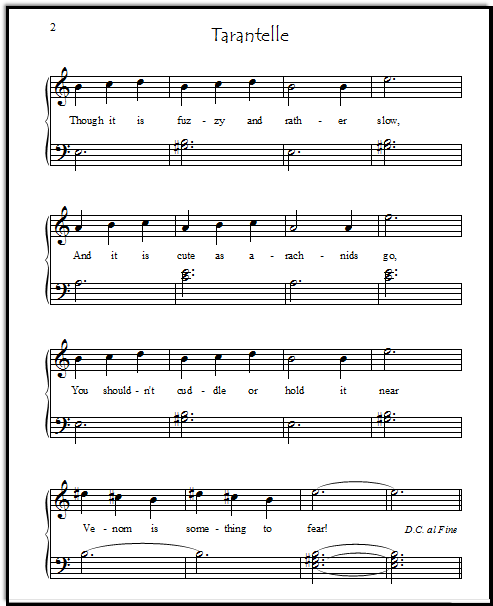 The links to the Dm piano arrangements:
Download short arrangement of Tarantelle in D minor
Download short version with lettered notes, Dm
Download alphanotes "helper" version - just a few lettered notes
The links for the Am beginner arrangements:
Download Tarantelle for beginner piano, shared-hands melody around Middle C position
Download the same arrangement, with just a few "helper notes" - letters inside the noteheads
Download secondo duet part for Tarantelle folk song
Download long Am piano solo Tarantelle, with lyrics
Download the long Am version with NO lyrics, all on one page (shown at the top of this page)
Your young students are going to love this song!

More 5-finger songs at Music-for-Music-Teachers:


Cat Came Back (easiest version) - with fun-to-sing lyrics, many verses!
Erie Canal - Part I has only 5 notes, but is a satisfying introduction to this song
God is So Good - a sweet melody with sweet words
Jingle Bells - every child knows this one
Mary Had a Little Lamb - a song with many uses!
Ode to Joy, the famous tune by Beethoven
Pizza Please (Hot Cross Buns) - 3 notes, arranged for each hand
Sharks (3 notes, for left hand) - this is like the Jaws theme song
Snake Charmer - with fun lyrics and a mysterious minor melody
Tarantelle - the spider dance, with silly lyrics about tarantulas
When the Saints Go Marching In - with several arrangements!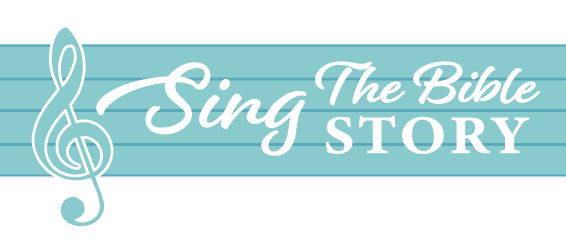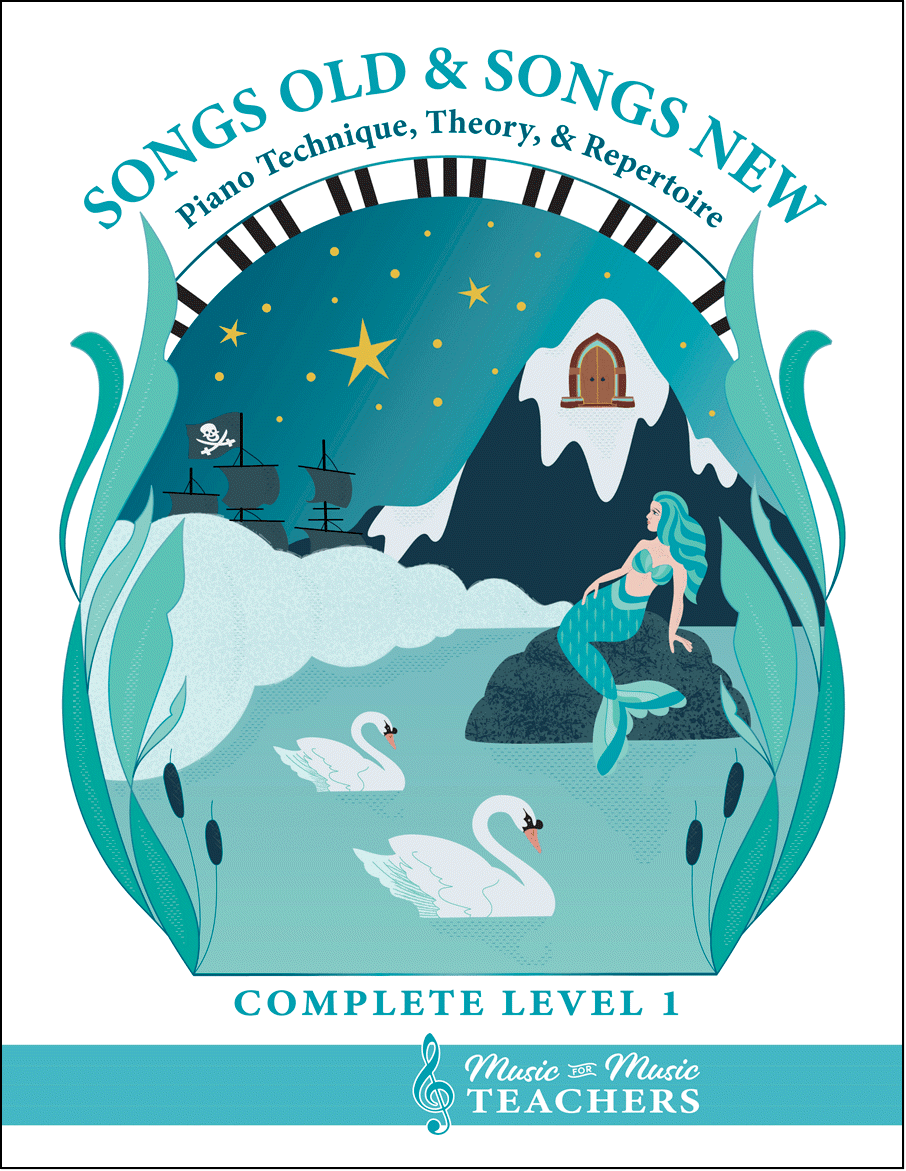 All the first-year material I give my beginner students. 
Piano keyboard sheets, scales, chords, note-reading exercises, and over 256 pages of music!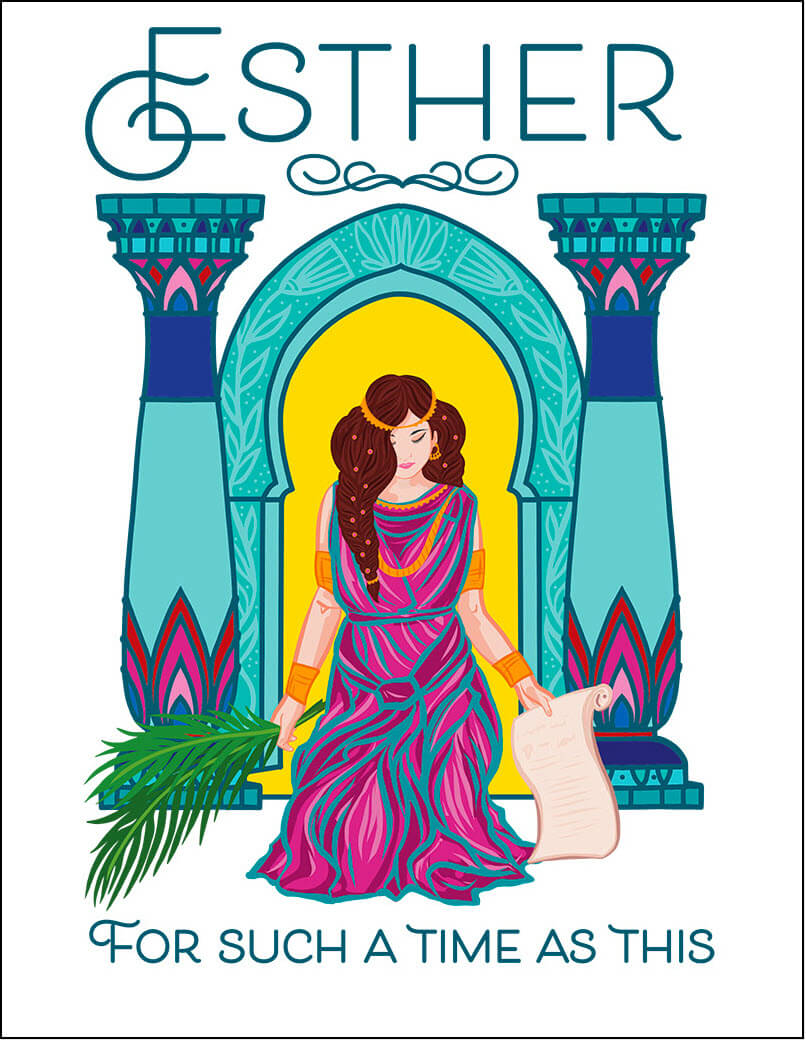 This beautiful song book for piano & voice "Esther, For Such a Time as This",  available as a digital download, tells the riveting story of the time when  Jews in ancient Persia faced a foe named Haman, and how a  brave young queen risked her life to save her people.
A good choice for a singing story-teller, an operatic group, a short theater production, or a class of children!
This book is also available from Amazon as a paperback.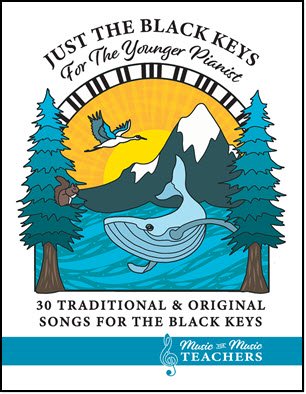 This book is available as a digital download  from this site.  Visit this page to see some free examples from the book.
It is also available from Amazon as a paperback!
This is the perfect easy start for little pianists.
And when they start reading white-key notes on the staff, this is a fun easy resource to say each week, "Choose a new black-key song at home this week and figure it out to show me next lesson!"  They will be spending more time at the piano.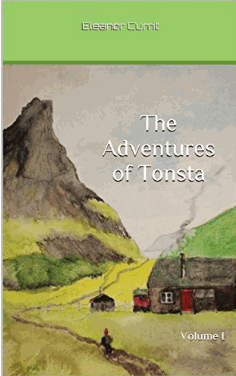 A perfect read aloud storybook
for little boys or girls. 
The Adventures of Tonsta highlight the travels of a very young boy with a good heart, who goes about helping folk in trouble.  
With a red cap on his head and a sack of tools slung over his shoulder, Tonsta seems to meet people in distress wherever he goes.
Lots of trolls in this book - including one who gives him a Christmas gift!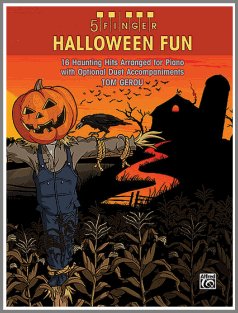 5-Finger Halloween Fun
Lori, homeschool mom, songwriter/musician and private music teacher:
Just wanted to say "thank you" for this site and for all of your dedication and hard work! I have literally combed the internet for months on end to find free and "doable" resources for my young students and for my own children... I will be returning to this site over and over again from here on out and am excited to present some of the tools I found today on here to my voice and piano students later this week! My thirteen-year old son is happily, as I type, working with the guitar chord sheets I just printed for him!

Miggy, United Kingdom:
I've just found your website and I think I've died and gone to heaven. I've just taken up the piano again after 35 years absence... buying sheet music was getting expensive/a luxury. The tips are great too. I also live in the middle of nowhere so buying from a shop is not really an option unless I fancy a 120 mile round trip for a piece of sheet music!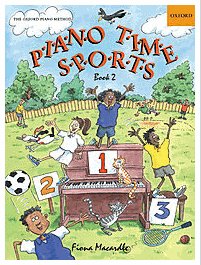 Shanette, US:
I just purchased O Holy Night to use as a duet for Christmas Eve Mass.  
Thank you so much for this simple, easy to read version as my vocalists are not professional and this music won't be quite so intimidating as other arrangements I have. Your expertise is much appreciated!!  Merry Christmas!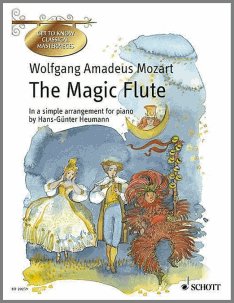 Sign up for "Take Note!" to see what's new every month.
Comments
Do you have a funny story about this music, or does it remind you of something you'd like to share with other readers? Do you have a question? I'd love to hear it!

Please note that all comments are moderated, and will not appear until I have approved them. Also, IF YOU ARE ASKING FOR MUSIC THAT IS NOT IN THE PUBLIC DOMAIN, YOUR REQUEST WILL BE IGNORED. That's pretty much any music written in the last 75 years...

About the Author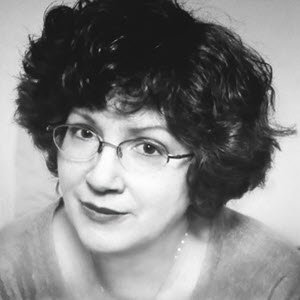 Hi, I'm Dana!  (Say that like "Anna".)  I'm the owner of Music-for-Music-Teachers.com, and a newer site, SingTheBibleStory.com.
Like some of you, I've been playing the piano since early childhood, and have added a few other instruments along the way, plus an interest in arranging and composing music.
You can find out more about me and the reason for this website at my About Me page.