Easy Piano Sheet Music
Swan Lake (Het Zwanenmeer)
Easy piano sheet music Swan Lake, FREE, for little ballerinas, or any child who loves the mysterious sound of the minor scale. 
Here is an arrangement of a classical piece from the ballet repertoire of Tchaikovsky, sent to me by Tabitha S. Kierszka. She is a piano teacher, arranger and composer from the Netherlands, where Swan Lake is called "Het Zwanenmeer." This easy arrangement lays nicely in the hands of a beginner.   The theme from Swan Lake is featured in the video below: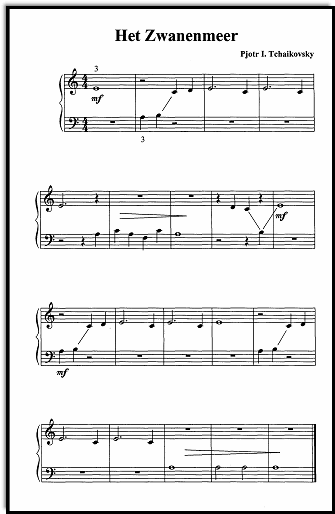 Download free beginner sheet music Swan Lake 

Though this version of the ballet Swan Lake theme is so simple, the mind of a child can supply all the mystery of the orchestral background as their fingers move over the keys -- especially if you introduce them to it. 
To turn this piece into a duet, try broken Am chords played quickly from left to right and held, followed by an F broken chord, and ending with a deep Am again. Another beautiful harmonization is the progression Am - Dm - Am - Dm - Am. When your student plays Swan Lake at home, the ear of the imagination will fill in the missing harmony. (At least I think it will -- I could always hear the missing orchestra in my head as a kid! How about you?) 
Now here is my own easy piano sheet music for Swan Lake: unlike Tabitha, I didn't add any dynamic markings.  But this arrangement differs by using just a touch of harmony:
Download easy piano sheet music Swan Lake with harmony
I hope your students enjoy these two versions of Swan Lake!
---
A perfect read aloud storybook
for little boys or girls. 
The Adventures of Tonsta highlight the travels of a very young boy with a good heart, who goes about helping folk in trouble.  
With a red cap on his head and a sack of tools slung over his shoulder, Tonsta seems to meet people in distress wherever he goes.
Lots of trolls in this book.
---
---
Sign up for "Take Note!" to see what's new every month.
Search Music-for-Music-Teachers:
Comments
Do you have a funny story about this music, or does it remind you of something you'd like to share with other readers? Do you have a question? I'd love to hear it!

Please note that all comments are moderated, and will not appear until I have approved them. Also, IF YOU ARE ASKING FOR MUSIC THAT IS NOT IN THE PUBLIC DOMAIN, YOUR REQUEST WILL BE IGNORED. That's pretty much any music written in the last 75 years...