Free Piano Sheets for Beginners
"Fairies in the Garden"
Free piano sheets for beginners "Fairies in the Garden".   Short and sweet, this  whimsical piano sheet music with letters or plain notes may be just what your little girl students want.

The melody moves stepwise, making reading easy.  Only two places have skips, and you can use the "helper" version of this piano sheet music with letters to assist navigation: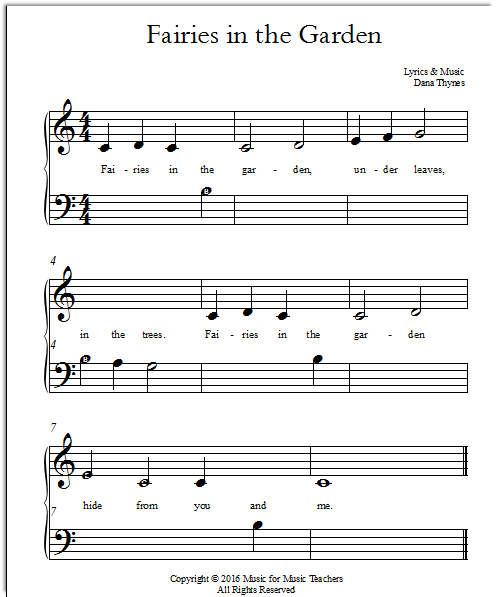 Download free piano sheets for beginners with helper notes

Because my students learn to recognize Middle C as quickly as possible, even while still playing songs on the black keys, I tend not to show the name of Middle C inside piano sheet music with letters.  But having every note named sometimes provides students with the confidence they need to think about other things, such as counting.  Here is a version, entirely composed of AlphaNotes: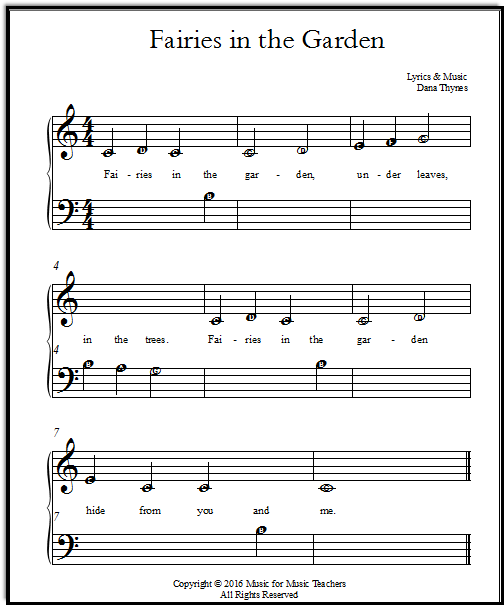 Download piano music with letters Fairies in the Garden, free!

Download Fairies song with standard notation

Now here is the same song with a bit of accompaniment in the left hand.  Download it in the key of C or in the key of F, which is better suited for young voices with this melody: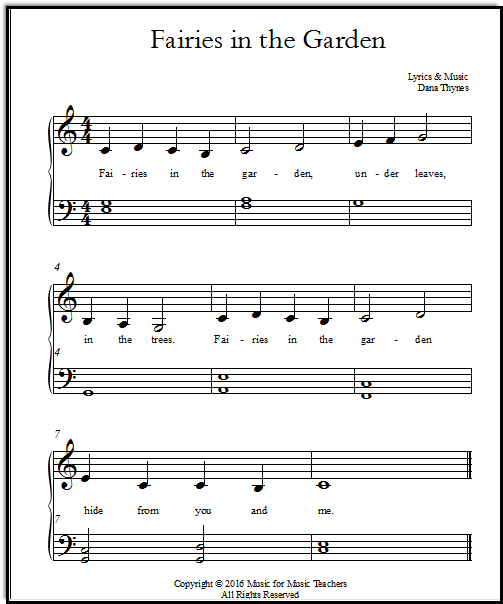 Download piano music sheets for beginners in the key of C
Download Fairies in the Garden with left hand and alphanotes

Download piano music sheets beginners in C with helper notes
Download piano music for beginners in the key of F
The left hand with accompaniment arrangement will be easier for your student if she understands how to shape open-5th chords, and also little chords (which I sometimes call "Baby Chords").

A few of the chords (measure 1 and measure 7, the first chord) show us upside-down C chords.  Play the notes in those spots and see if your student can identify which chord uses those notes!
---
A perfect read aloud storybook
for little boys or girls. 
The Adventures of Tonsta highlight the travels of a very young boy with a good heart, who goes about helping folk in trouble.  
With a red cap on his head and a sack of tools slung over his shoulder, Tonsta seems to meet people in distress wherever he goes.
Lots of trolls in this book.
---
---
Sign up for "Take Note!" to see what's new every month.
Search Music-for-Music-Teachers:
Comments: Do you have a story or a question about music teaching? Share it!
Please note that all comments are moderated, and will not appear until I have approved them. Also, IF YOU ARE ASKING FOR MUSIC THAT IS NOT IN THE PUBLIC DOMAIN, YOUR REQUEST WILL BE IGNORED. That's pretty much any music written in the last 75 years...