Easy Piano Songs for Beginners
How Doth the Little Crocodile
Easy piano songs for beginners with creepy lyrics... How Doth the Little Crocodile, by Lewis Carroll!  The melody is creepy too!  You can almost hear the crocodile slowly sneaking up.

I have always relished this short poem from "Alice in Wonderland," and enjoyed Alice's bemusement at not being able to remember the CORRECT poem about a busy little bee.  One of my young students feels just the same way as I, and decided to recite it for me.  As he spoke the words, the tune built itself in my head!  I had to write it down, and the following 3 arrangements are the result.  First, the full arrangement: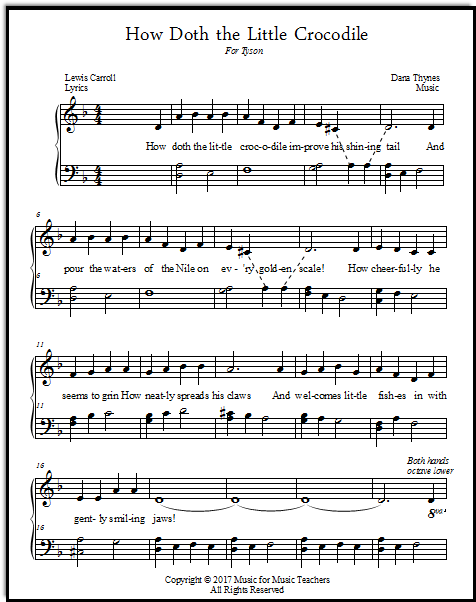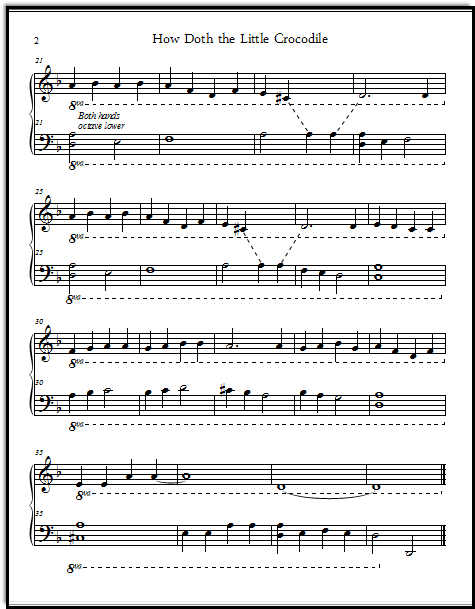 Download How Doth the Little Crocodile easy piano songs for beginners
Can you hear the crocodile creeping closer?  On page 2, both hands drop down an octave, and I thinned out the left hand accompaniment a bit so as not to be too heavy.  By the way, there is nothing particularly EASY about this little arrangement.
Here is the same basic arrangement, with a much easier left hand, just a single page: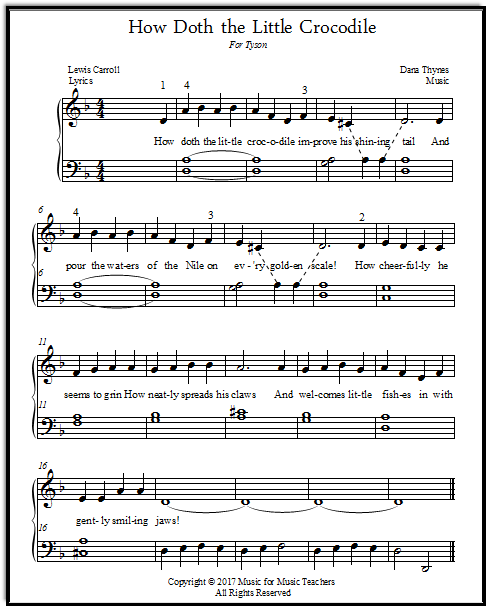 Download simplified arrangement of the Crocodile song
Now here is a transposed shared-hands version of the song: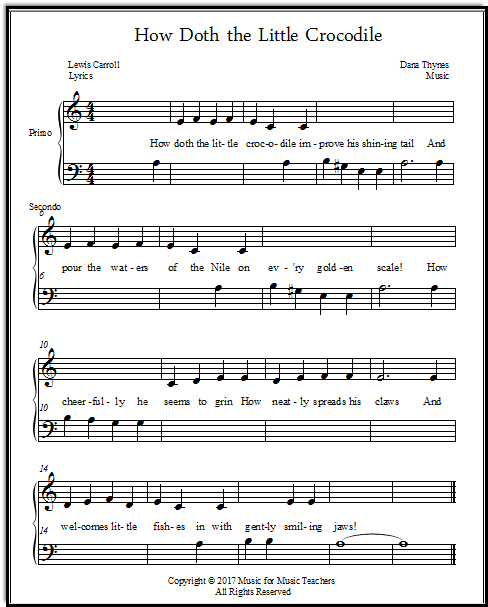 Download easy arrangement for young beginners of How Doth the Little Crocodile
I plan to write a duet accompaniment for this arrangement... check back.
Lastly, here is the same version, but with just a handful of lettered notes to help out:
Download helper version of easy beginner arrangement of the Crocodile song
---
A perfect read aloud storybook
for little boys or girls. 
The Adventures of Tonsta highlight the travels of a very young boy with a good heart, who goes about helping folk in trouble.  
With a red cap on his head and a sack of tools slung over his shoulder, Tonsta seems to meet people in distress wherever he goes.
Lots of trolls in this book.
---
---
Sign up for "Take Note!" to see what's new every month.
Search Music-for-Music-Teachers:
Comments: Do you have a story or a question about music teaching? Share it!
Please note that all comments are moderated, and will not appear until I have approved them. Also, IF YOU ARE ASKING FOR MUSIC THAT IS NOT IN THE PUBLIC DOMAIN, YOUR REQUEST WILL BE IGNORED. That's pretty much any music written in the last 75 years...