Yellow Rose of Texas
Yellow Rose of Texas, in 2 arrangements for your music students.  Download this piano sheet music - free, printable PDFs in 2 levels!  I loved this cowboy song when I was a kid.
Here's a nice and surprisingly energetic rendition of this cowboy piano music for beginners, making it sound like a march.  I'll bet it makes you smile:
And here is the Middle C version of Yellow Rose of Texas: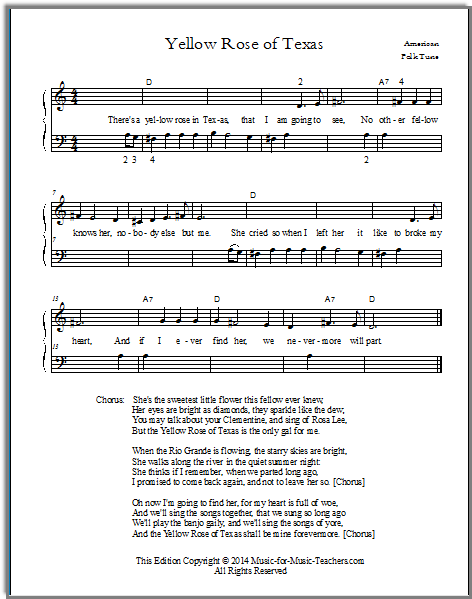 Download free piano sheets for beginners Yellow Rose of Texas
The "Middle C" arrangement of Yellow Rose of Texas may seem tricky at first.  First of all, it isn't truly a Middle C song - the thumbs do NOT share the C note or ANY note, and the right hand thumb is actually on a black note, C sharp!
Both hands also place fingers 4 on black notes, F sharp.  Oh no!  But your students can handle it, if you go slowly enough, and if they like this song enough.
This arrangement of Yellow Rose of Texas is for early intermediate piano, in 2 keys:
Download free piano sheets online Yellow Rose of Texas in Bb



Piano sheet music free, printable Yellow Rose of Texas in C

There is a FAST finger replacement suggestion in line one, which happens again at the end of line two.  Your student will end up with their own fingering eventually (!) but you can try this fingering with them.  Good preparation would be to place finger 5 on the note and quickly slide to 3 -- over and over again.  In the key of Bb this fingering will be harder, because the pinky finger (5) just does not like black notes.
Notice that there are small changes to the left hand pattern - they may slip past your student if you don't prepare them for these spots.  In measure 8, I've placed the 4 finger as an alert to the new note; in measure 9 the pattern stops for one beat.

Aside from the general issue of hand coordination, the only potentially difficult place for the left hand comes at the penultimate (next-to-last) measure, where the pattern is broken.
Note that this bass chord pattern is really the same as students may have met with in a much easier song, Cowboy Song, where the pattern is "swung".  There's something about this stretched, loping sound that evokes the image of a horse trotting along with a cowboy on its back!
Sign up for "Take Note!" to see what's new every month.