Jazzy Piano Music for Beginners 
The Little Man Who Wasn't There
This fun tune is based LOOSELY on a version performed by Glenn Miller and his band.  
I've written solos for beginner and late elementary, and also for duet! (Two different versions of the duet music.)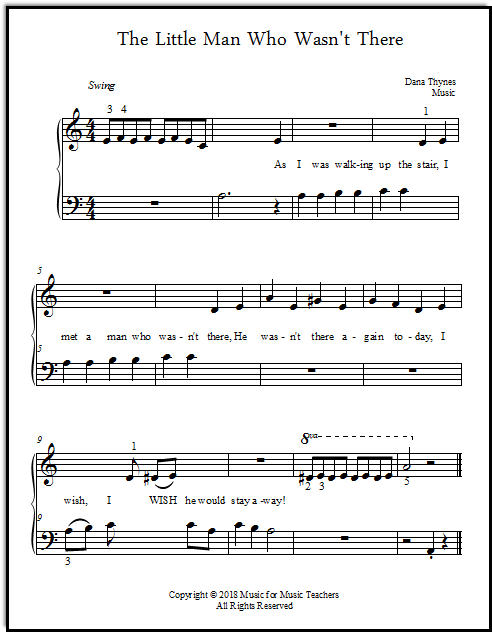 Please scroll down the page for the download links.
The notes in this jazzy piano music are MOSTLY easy, being based around Middle C.  However, there are some scary accidentals!  
Some students freeze when they see an unexpected sharp or flat... engage their minds, and maybe do some drawing of accidentals.
Remember to play this with SWING!  Though it looks slow, even some of the quarter notes can anticipate the next beat.  You don't need me to tell you how to do this, and your students probably won't either. 
Here is the "easy" solo for late elementary, in D minor:
Please scroll down the page for the download links.
Now the duet, in Am like the easiest beginner solo:

Please scroll down the page for the download links.
The important thing for the duet is to practice the two parts together enough so that they move as one.  
At the very end, the words "stay a-WAY!" are an example of where the quarter note rhythm isn't truly straight, but rushes onto the third beat.  If both primo and secondo parts do this, it is very effective!
Now here is a version of the duet - SAME MUSIC! - but with the Primo made small and the Secondo large, for big brothers or sisters:
Please scroll down the page for the download links.
There are actually quite a few verses in this "poem" or "song" that can be found, and they go a long way back.  
The version I'm using here is the first stanza in the oldest poem I found.
My students LOVE this song!  I'm betting yours will too.
---
The links to the piano solos:
Download jazzy piano music "The Little Man Who Wasn't There"
Download late elementary solo, "The Little Man Who Wasn't There"
The links to the piano duets:
Download jazzy piano duet "The Little Man Who Wasn't There"
Download jazzy piano music with extra-large print Secondo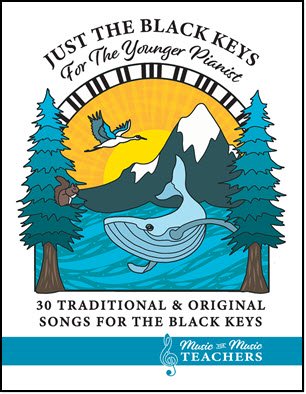 This book is available as a digital download  from this site, and also from Amazon as a paperback!
This is the perfect easy start for little pianists.
And when they start reading white-key notes on the staff, this is a fun easy resource to say each week, "Choose a new black-key song at home this week and figure it out to show me next lesson!"  They will be spending more time at the piano.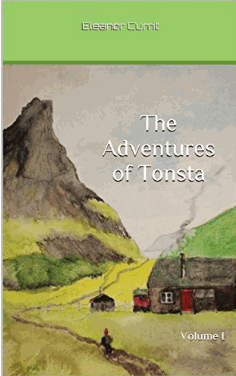 A perfect read aloud storybook
for little boys or girls. 
The Adventures of Tonsta highlight the travels of a very young boy with a good heart, who goes about helping folk in trouble.  
With a red cap on his head and a sack of tools slung over his shoulder, Tonsta seems to meet people in distress wherever he goes.
Lots of trolls in this book - including one who gives him a Christmas gift!
Sign up for "Take Note!" to see what's new every month.
Comments
Do you have a funny story about this music, or does it remind you of something you'd like to share with other readers? Do you have a question? I'd love to hear it!

Please note that all comments are moderated, and will not appear until I have approved them. Also, IF YOU ARE ASKING FOR MUSIC THAT IS NOT IN THE PUBLIC DOMAIN, YOUR REQUEST WILL BE IGNORED. That's pretty much any music written in the last 75 years...
What Other Visitors Have Said
Click below to see contributions from other visitors to this page...


About the Author


Hi, I'm Dana!  (Say that like "Anna".)  I'm the owner of Music-for-Music-Teachers.com.

Like some of you, I've been playing the piano since early childhood, and added a few other instruments along the way, plus an interest in arranging and composing music.

You can find out more about me and the reason for this website at my About Me page.