Piano Sheet Music for Beginners    "Snakes"
"Snakes" piano sheet music for beginners makes reading notes easier by focusing on just one question: which way does the note go?
It can only go up, down, or stay the same. And it doesn't matter where they start! 
Pick any piano key!

"Snakes" is the next step after Wormies, another piece of free kids' sheet music. Pick any key on the piano to be the starting note, use only your pointer finger, and you're off to the races!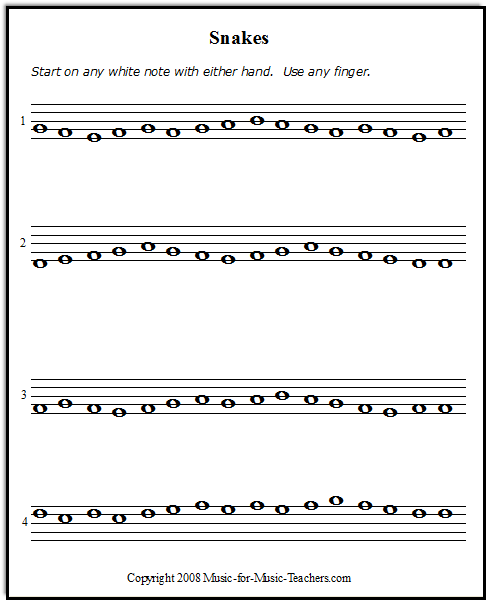 Please scroll down the page for the download links.
Make it easy - just one problem at a time!

This piano sheet music for beginners helps by focusing on just one question: which way does the note go?
With no clef sign or time signature to muddy the waters, students only need ponder, "Line note? Space note? Moving up -- or down? Or the same!"
Just one finger

Kids like a challenge that calls on a single skill.
No finger numbers to worry about -- just use the pointer finger. (Although I have found that most kids WANT to try to play Snakes and Wormies using all five fingers!)
And you can pick any key to be the starting note! So this is an easy exercise to get perfect.
Quick success is fun for students

It makes them feel smart, and tells me instantly if there's comprehension in their note-reading.
Writing big fat notes (an exercise we do frequently as part of learning to read notes) on a whiteboard is one thing -- somehow the notes don't look the same printed small on a page. 
Only a bit at a time

For young kids, I might assign just #1 the first week, to be played 2x a day. Next week, #2.
Very often, the kids will go ahead on their own, because they find this piano sheet music for beginners so easy.
Don't let them memorize it!
With older and younger kids, I  always suggest that each day they do a different Snake.
This way, they don't quickly memorize the way each exercise sounds. (Memory, though a wonderful asset in itself, can work against sight reading.)
Using the metronome

Sometimes I ask students to play these exercises with the metronome, giving them a Slow, a Medium, and a Fast speed to try.
They should NOT count four beats for each note even though the notes look like whole notes -- but as beginners, they probably won't think of doing that unless their mother is helping them!
Just one tick for each note. And set the speeds slower than you might think.
Playing with a group

When I ask for solos in a group setting of new beginners, kids frequently wish to play a Snake.
The other kids and I will follow along (keeping their attention from wandering) by calling out, "Start," (that's what we call the first note, as this is an exercise only about reading steps and not real staff notes), "up - up - up - down, up -" etc.
This idea works with skips (3rds) too

When kids have mastered these exercises, they are usually ready to go on to "Snakes Go for a Walk," (also called "Crickets Go Hopping") which introduces skips into the mix.
The skips are "hidden" -- that is, I don't tell them where they are. It can be surprisingly hard to spot them for beginners, so I start it slow; #1 has 1 hidden skip, #2 has 2 hidden skips, etc.
I hope your students enjoy this piano sheet music for beginners! 
---
The link for the Snakes song:
Download piano sheet music for beginners Snakes 

---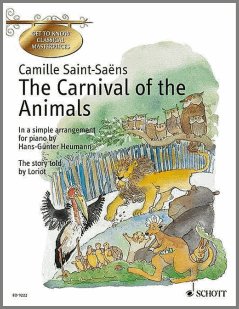 Marianne:
You are awesome. Thank you. I'm a voice and piano teacher and to have so many pieces in one place- for many different levels- is a Godsend. Thank you for the time and effort you have put in to make this so easily available to all of us stressed music teachers!!!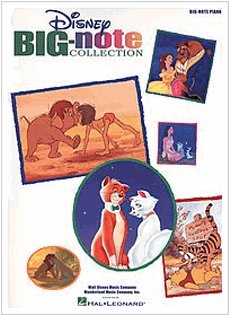 Samii:
THANK YOU!  THANK YOU!  THANK YOU!  Your hard work helped me in my college Introduction To Music class.  As a 50++ student, I struggle remembering all the chords, triads, inversions, etc... Without this amazing wealth of info, I would fail.  What a blessing!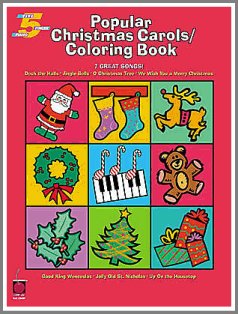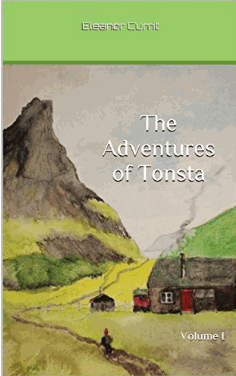 A perfect read aloud storybook
for little boys or girls. 
The Adventures of Tonsta highlight the travels of a very young boy with a good heart, who goes about helping folk in trouble.  
With a red cap on his head and a sack of tools slung over his shoulder, Tonsta seems to meet people in distress wherever he goes.
Lots of trolls in this book - including one who gives him a Christmas gift!
Sign up for "Take Note!" to see what's new every month.
Comments: Do you have a story or a question about music teaching? Share it!
Please note that all comments are moderated, and will not appear until I have approved them. Also, IF YOU ARE ASKING FOR MUSIC THAT IS NOT IN THE PUBLIC DOMAIN, YOUR REQUEST WILL BE IGNORED. That's pretty much any music written in the last 75 years...

About the Author


Hi, I'm Dana!  (Say that like "Anna".)  I'm the owner of Music-for-Music-Teachers.com.

Like some of you, I've been playing the piano since early childhood, and added a few other instruments along the way, plus an interest in arranging and composing music.

You can find out more about me and the reason for this website at my About Me page.