Download Piano Sheet Music
All the Pretty Little Horses
Download piano sheet music for All the Pretty Little Horses, now with a printable Secondo part!  Included are chord symbols and suggestions for turning beginner keyboard music sheets into piano duets.
This free kids sheet music is very, very pretty. Your young students will hardly be able to help singing along.  
Three versions, including one with keyboard music notes with letter names in the note-heads!
Despite the skips in the melody, All the Pretty Little Horses (also known as All the Pretty Little Ponies) is really easy to play. I use it as a sightreading piece, but also, always, turn it into a duet. Here is version one, using eighth notes: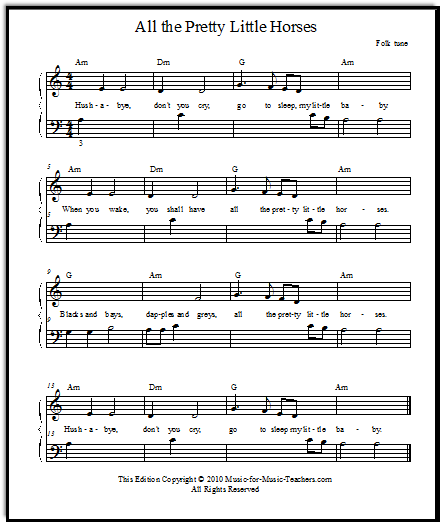 If you are following the note-reading approach advocated by Jon Schmidt ("Anchor Notes"), you will notice that the first interval in this song used two anchor notes!

And here is an easy-to-count version, with no eighth notes, which is particularly friendly-looking for those who can count: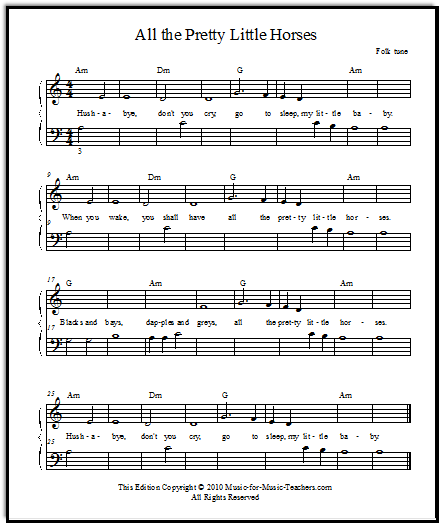 Below is a version that makes reading music notes for beginners much simpler - the note-heads are "Alpha-Notes":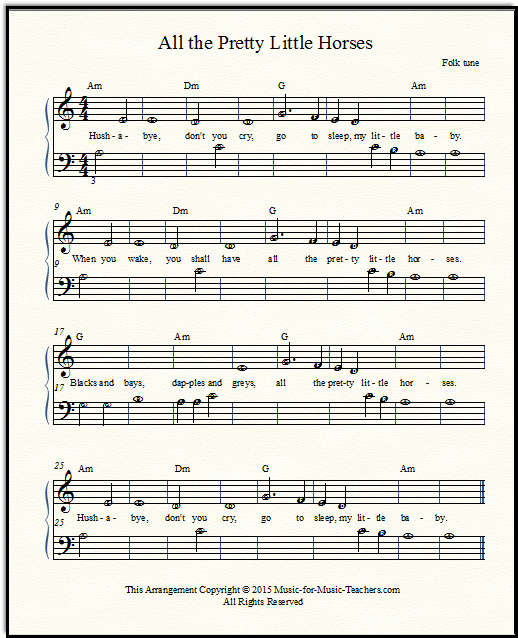 After students have conquered the melody, we look at the chords. 
Usually, they play just plain block chords the first week, hands together, while I take my turn playing the "singing part" (my term to explain what a melody is).
Yes, it is already time to show them how to make chords, as early on as this level of music is...

Now comes the fun part! I show them how to play the beautiful chord pattern illustrated below:

However, I don't always expect them to read these notes! 
I don't write out the notes at all; instead, relying on their knowledge of what Am, Dm, and G triads look like on the piano, I show them the pattern using finger numbers. LH = 5-1, RH = 53-1.
Making sure to draw that pattern somewhere on the top of their music, we try it with each chord, then play through the song, stopping each time we have a different chord.
If your students are already familiar with chord inversions, try the Secondo version below.  
It may seem identical at first to the pattern above, but look carefully at the Dm chords in the right hand...
Not only is this arrangement more beautiful, but it is also easier, or should I say easier to play SMOOTHLY, than the example shown above: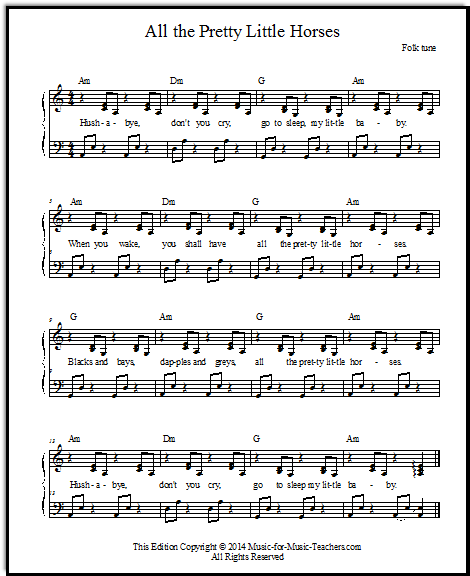 Knowing how to make beautiful chord patterns like this has led to greater spontaneity among my students, I have found, both in composing their own music, and in getting together on their own to play duets.
For piano students, a duet is a real motivator, because piano playing tends to be very solitary... and music is more fun when it is shared!
---
The PDF links:
Download piano sheet music All the Pretty Little Horses 

Free kids sheet music for All the Pretty Ponies (its other name!), using doubled timing
Download song with made-easy notes and doubled timing
Download Secondo for All the Pretty Horses duet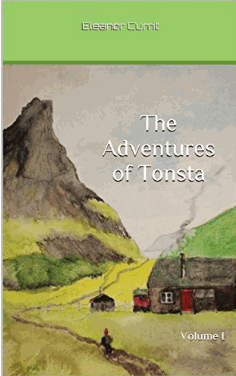 A perfect read aloud storybook
for little boys or girls. 
The Adventures of Tonsta highlight the travels of a very young boy with a good heart, who goes about helping folk in trouble.  
With a red cap on his head and a sack of tools slung over his shoulder, Tonsta seems to meet people in distress wherever he goes.
Lots of trolls in this book - including one who gives him a Christmas gift!
Sign up for "Take Note!" to see what's new every month.
Comments
Do you have a funny story about this music, or does it remind you of something you'd like to share with other readers? Do you have a question? I'd love to hear it!

Please note that all comments are moderated, and will not appear until I have approved them. Also, IF YOU ARE ASKING FOR MUSIC THAT IS NOT IN THE PUBLIC DOMAIN, YOUR REQUEST WILL BE IGNORED. That's pretty much any music written in the last 75 years...
What Other Visitors Have Said
Click below to see contributions from other visitors to this page...

Adding UKULELE Tunes...
Thank you so much for this website! I'm more comfortable with guitar/bass/uke, and having these resources here is a HUGE help! Thank you so much …
Amazing Job
I am grateful for this website and your dedication in this help. I am a new student and find some of your flash cards to be useful.
Thank You
This site is such a help for all the children around the world that do not know how to play. Thanks to you they will learn very quickly -- thank you!

About the Author


Hi, I'm Dana!  (Say that like "Anna".)  I'm the owner of Music-for-Music-Teachers.com.

Like some of you, I've been playing the piano since early childhood, and added a few other instruments along the way, plus an interest in arranging and composing music.

You can find out more about me and the reason for this website at my About Me page.