Scary Halloween Music
The Funeral March
Scary Halloween music by Chopin, the Funeral March. This free Halloween music is one of the world's most famous songs.  It really has been used for funerals, too - Chopin's mother, and his own funeral.  I have arranged the funeral march in five levels of difficulty: for beginner, EARLY beginner, elementary, intermediate, and late intermediate piano students.

I always secretly loved this gloomy sonata movement as a young teen learning piano.  Cartoons of that time used to make frequent musical references to Chopin's "Marche funèbre", and its familiarity even made it good Halloween party music.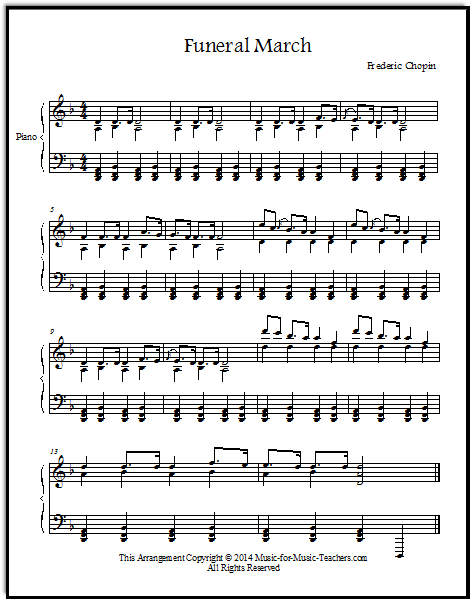 Download the funeral song by Chopin for Halloween in Dm

This is my favorite arrangement, set with the hands far apart in D minor.  To me, it is the one of my arrangements that sounds most like the real composition:
Here is the same key, but greatly simplified, except for the Left Hand: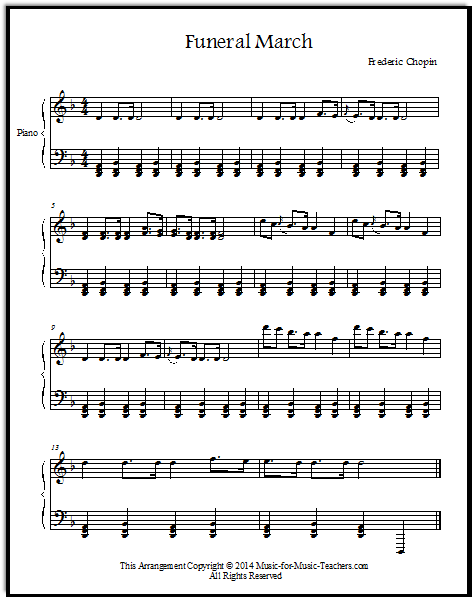 Download Dm easier version of the Funeral March

The only difficulties posed for young students with this arrangement are figuring out those very low and very high notes.  Turn students' lessons into a theory session!  The nice thing is that the low notes are the same, measure after measure (except for the very last note), and the high notes move down in a scale-wise fashion, mostly.

Now below is the song for a funeral in the key of A minor: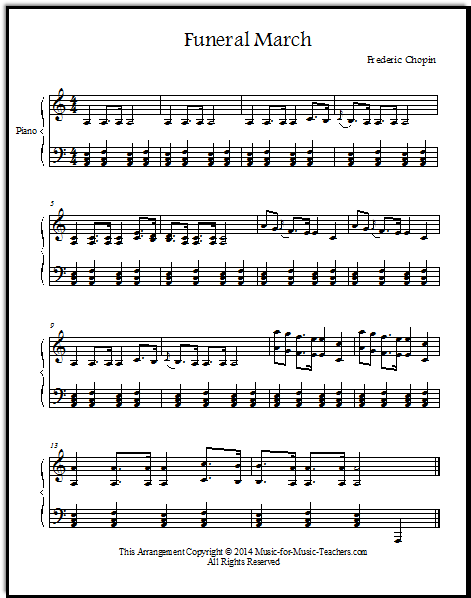 Download scary Halloween music (the Funeral March by Chopin) for intermediate pianists

Frederic Chopin certainly wasn't thinking of Halloween when he composed this third movement of his piano sonata, but it has the right kind of Halloween sounds!  The persistent, marching chords of the left hand, never changing, seem to give this most famous of songs for a funeral an air of inevitability, of oncoming fate - even doom.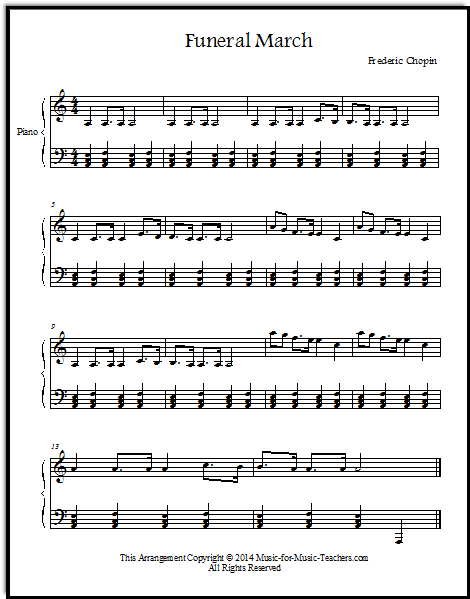 Halloween download funeral music by Chopin

The arrangement above doesn't have parallel thirds, octaves, and grace notes, but otherwise is just the same as the intermediate arrangement.  The original composition is set a half step higher, in the key of Bb minor.  The texture is thick, with many octaves in both hands.  

All of my arrangements are true to the original chord progression pattern (i - VI, back and forth), but sometime you and your advanced piano students need to try the full composition - it is mesmerizing and lovely (and long!).  And check out the longer arrangement of this Third Movement of Sonata No. 2, Opus 35, in Jerry Ray's piano book "Simply Chopin." Very nice!
Here is an arrangement for beginners of the Funeral March.  It looks long, but the notes are EASY.  And it is a good opportunity to hunt for marker or guide notes: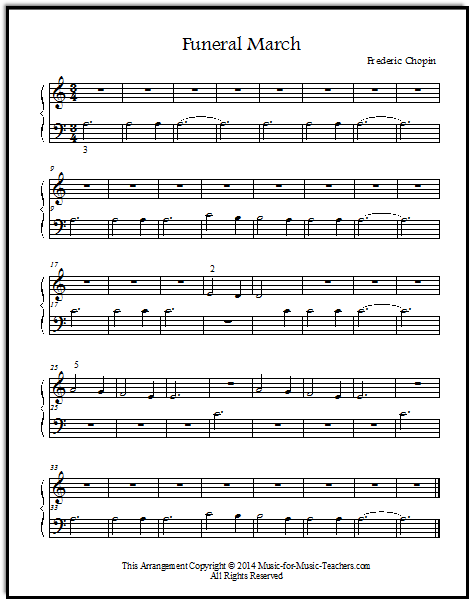 Download Halloween printable funeral song

This easy arrangement can be turned into a duet merely by accompanying the melody with chords Am and F, back and forth.

You will notice that I changed the time signature from 4 to 3 beats a measure for this arrangement.  I think it is WAY easier for young children to execute this way.  And guess what?  It sounds just the same to them!
As an adult, I don't possess an automatic fascination with ghoulish and scary things, but as a child I did.  When I was a child, I was fascinated and drawn by the mystery in this funeral march.  See what your student thinks -this may be his or her first classical music!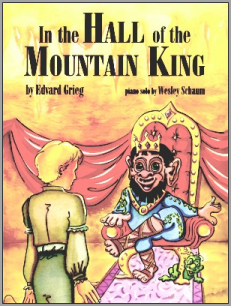 Kim in Washington:
My son is hooked...I've been introducing piano to my son on and off for a year or so, but he's not had much interest. Then I gave him "Monsters Everywhere". He loved playing it with the organ sound on our piano. He memorized it that week and I'm printing off the other Halloween songs to keep him going. I love the detailed instructions on teaching since he is my first student! Thanks so much.
Dana:
That is so neat that your son has experienced the magic and mystery of music through this little song. That is so exciting to me. Thanks for writing, Kim!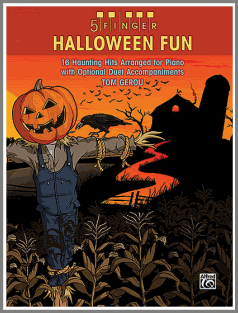 5-Finger Halloween Fun
Joy: I bought your Halloween Songs, wrote teacher accompaniment for some, and performed with 17 of my students in costume at an assisted living facility. It was a "win-win" situation. The kids and residents loved it and the parents were very pleased with the service aspect of their children's performance as well. Thank you for sharing these lovely pieces that introduce the minor key in a very simple and interesting way to early elementary students.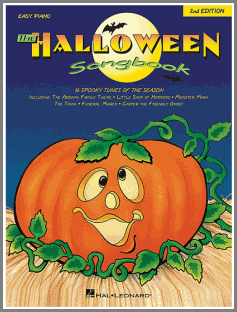 ---
A perfect read aloud storybook
for little boys or girls. 
The Adventures of Tonsta highlight the travels of a very young boy with a good heart, who goes about helping folk in trouble.  
With a red cap on his head and a sack of tools slung over his shoulder, Tonsta seems to meet people in distress wherever he goes.
Lots of trolls in this book.
---
---
Sign up for "Take Note!" to see what's new every month.
Search Music-for-Music-Teachers:
Comments
Do you have a funny story about this music, or does it remind you of something you'd like to share with other readers? Do you have a question? I'd love to hear it!

Please note that all comments are moderated, and will not appear until I have approved them. Also, IF YOU ARE ASKING FOR MUSIC THAT IS NOT IN THE PUBLIC DOMAIN, YOUR REQUEST WILL BE IGNORED. That's pretty much any music written in the last 75 years...