Printable Piano Sheet Music
The Golden Wedding
Printable piano sheet music for:
piano solo
piano duet
keyboard ensemble or piano class, 
Golden Wedding, will be a popular addition to your solo, duet, and ensemble repertoire!
This famous classical music has a strong, easily-remembered minor melody, besides being very beautiful.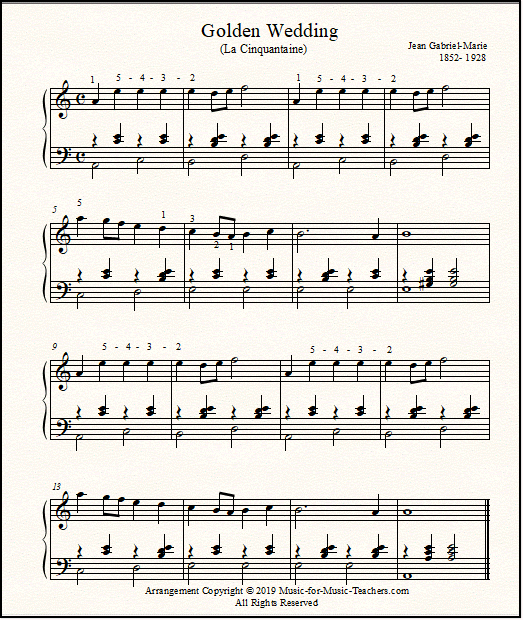 Please scroll down the page for the download links.
As a solo, the left hand gets a workout!  It isn't easy for students when they first start making giant leaps like this.
But if they understand the chords the left hand is using, and realize that left hand is walking through parts of the Am chord, the Dm chord (a kind of HYBRID chord with extra tones, in this case), and the E chord, this might be easier.
Here is just the melody, set at Middle C.  For a duet, take this part up an octave: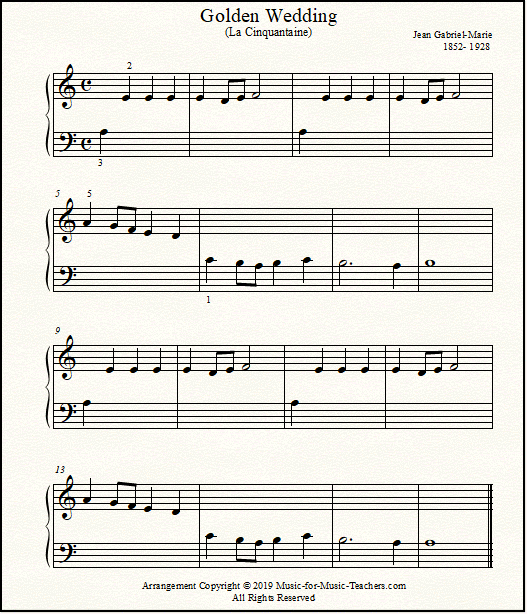 Please scroll down the page for the download links.
And here is the secondo part to go with the melody - you may notice that it is just the same as the left hand of the solo!
But now, it is split into two hands.  This is actually an excellent way to prepare for that solo left hand, above: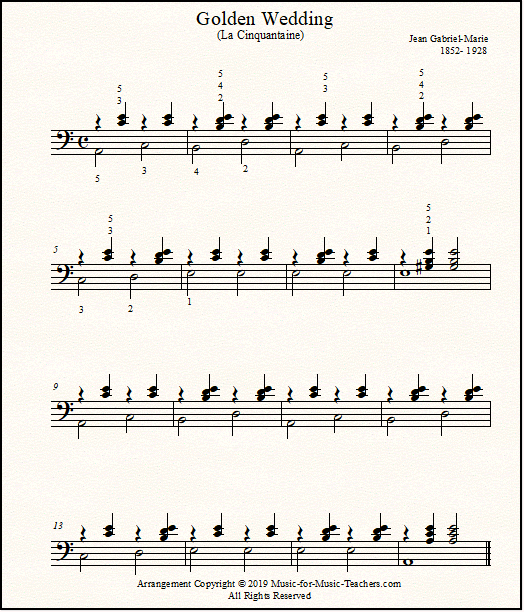 Please scroll down the page for the download links.
Your student may struggle with that suggested fingering.
It may not feel at all natural to start with fingers 5 and 3, shifting to 5-4-2, but they do prepare the hand well for the E chord inversion with finger 2 on the B.
Now below you will see three parts which make up THE VERY SAME MUSIC.  Same thing, just split into three instead of two, or one (the solo).
This arrangement works fairly well for a keyboard class, if the reading ability  is there.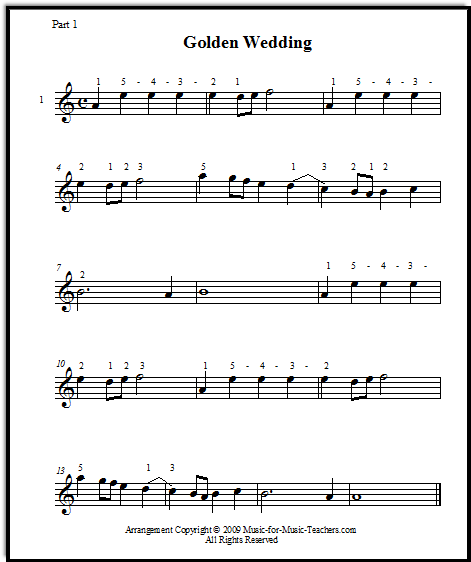 Part 1 requires students to use the skills of finger replacement and crossing over.  With no left hand part for them to worry about, students can focus on just this skill...

Part 2 uses chords and chord inversions around Middle C position: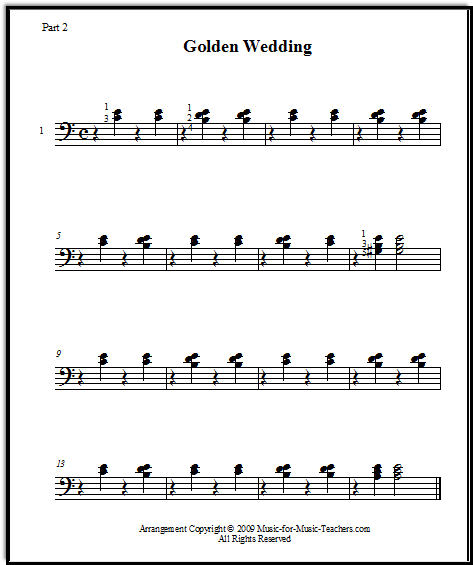 Part 3 moves slowly. Those students who are shaky reading notes in bass clef will find this part a little challenging, but not intimidating, particularly as it is repetitious.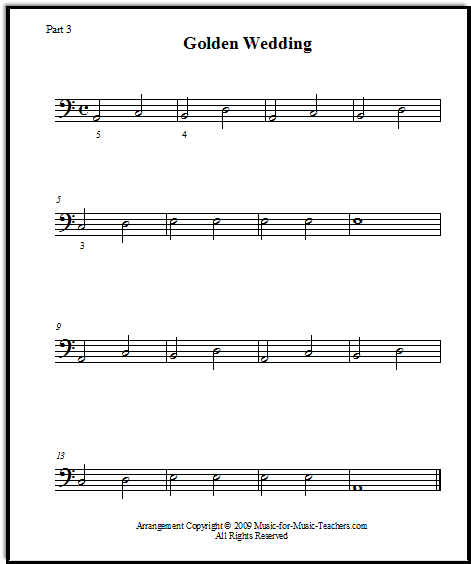 Please scroll down the page for the download links.
Try consolidating parts 2 and 3

 If some of your keyboard class students find this arrangement of Golden Wedding too easy, have them combine parts!
See all the parts at once
A conductor's score is what I like to read from, and sometimes I will pass out copies of this page for my students to play from as well.
It's good practice for them to have to keep track of their part in the full score, and it helps them anticipate entrances.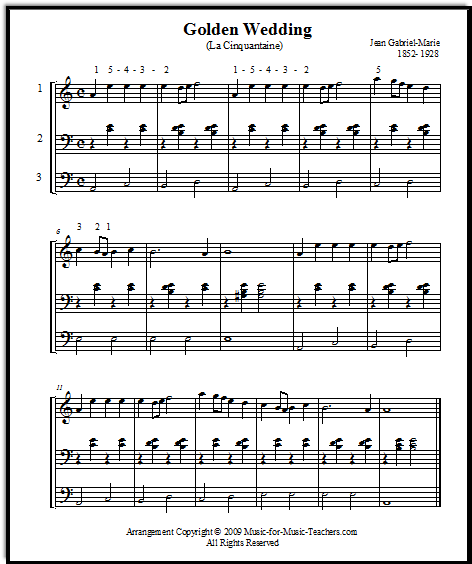 Please scroll down the page for the download links.
Because the melody has many repeating notes, and moves step-wise, it is not too hard for students to sing the note names aloud as they play.
I like to start them singing, and after a few measures, ask them to join me as we move along reading notes.
What am I singing?  Just the note names, or the beats.  This also works very well for Part 3, and is good bass clef practice. I don't insist on perfection, just that they try.

In a digital keyboard class, it's fun to set the sounds for each keyboard to a different kind of instrument.
Part 3 can round out the sound of the ensemble with a deep, edgy kind of instrument sound such as bassoon. An all-organ selection can be powerful, too.
Golden Wedding can sound brisk and energetic, or slow and dirge-like! ("That sounded like Golden Funeral," I sometimes tell my music students.) Experiment!

---
The link for the solo:
Download the Golden Wedding for piano solo
The links for the duet:
Download the melody (the Primo)
Download the secondo for the duet Golden Wedding
The links for the trio (ensemble) parts and conductor's score:
Printable piano sheet music for Golden Wedding trio Part 1

Printable piano music for Golden Wedding trio Part 2 

Printable trio sheet music for Part 3 

Beginner piano ensemble Golden Wedding Conductor part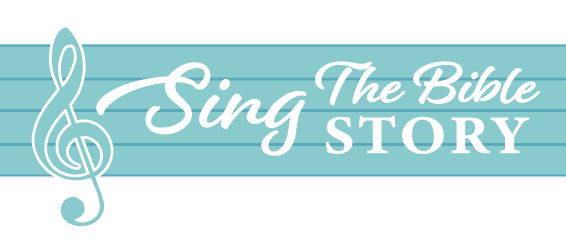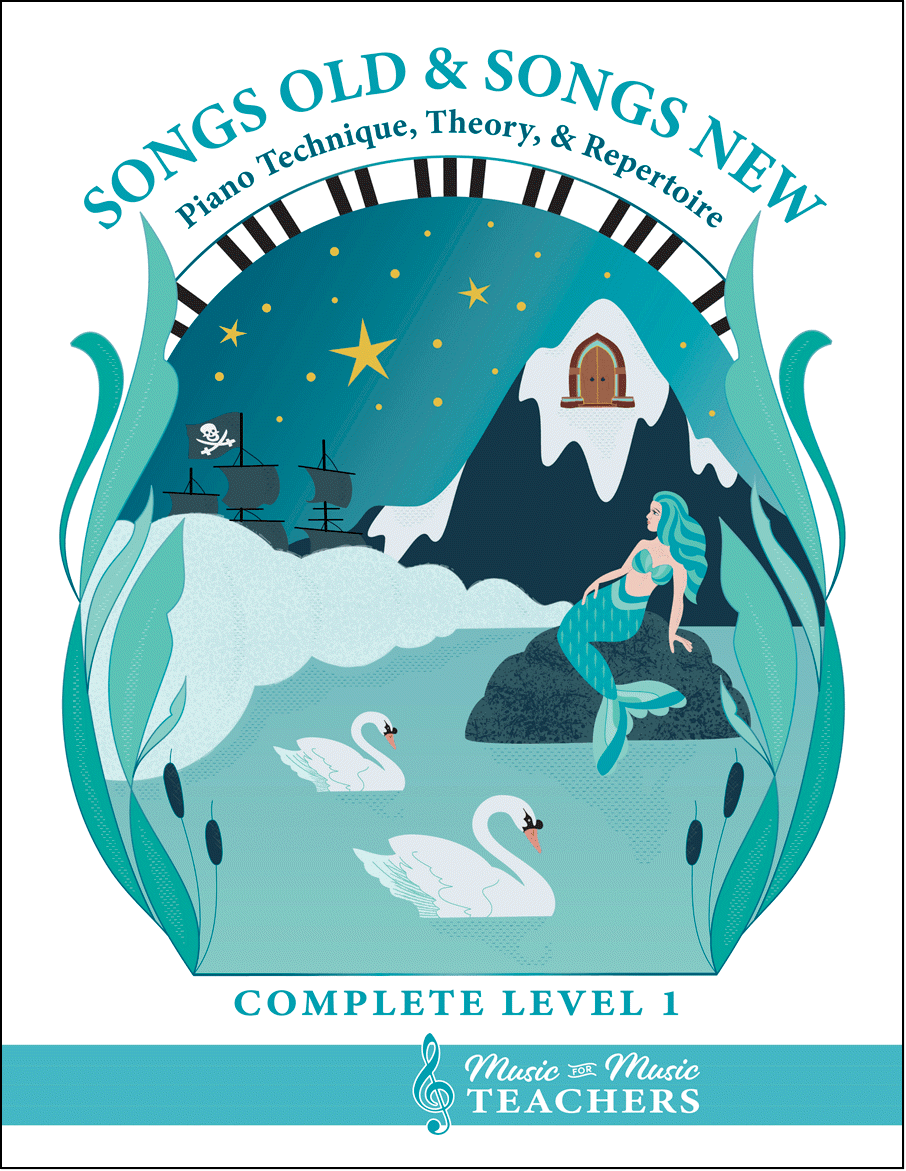 All the first-year material I give my beginner students. 
Piano keyboard sheets, scales, chords, note-reading exercises, and over 256 pages of music!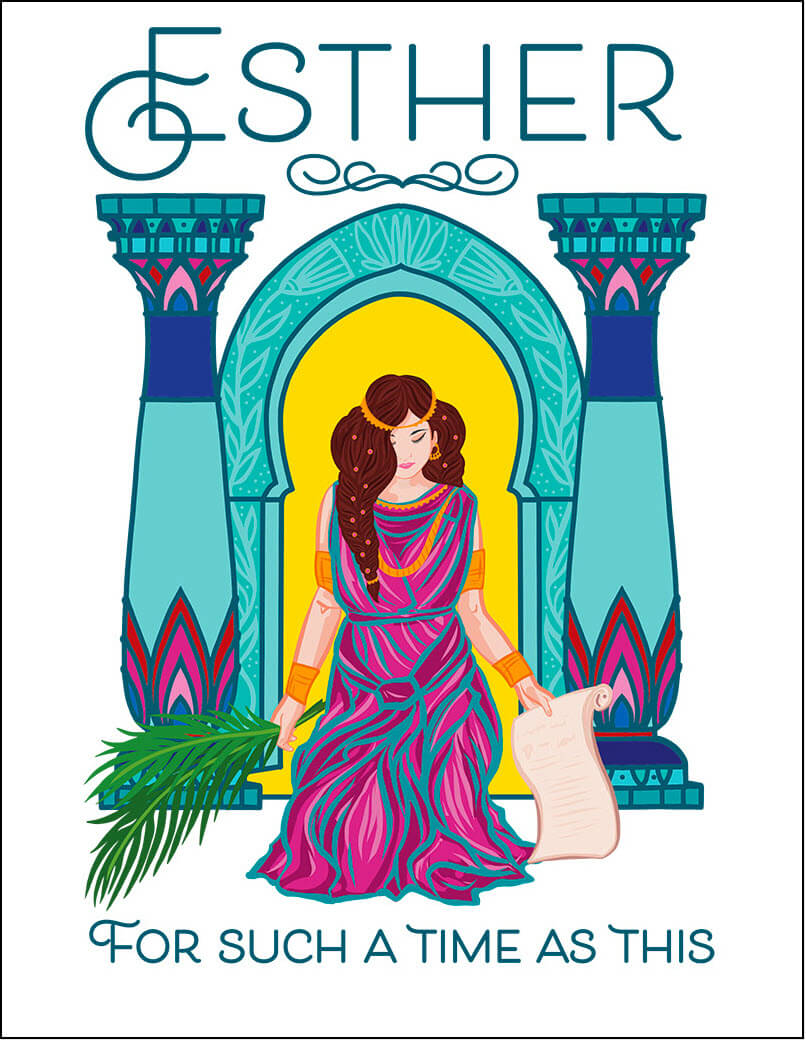 This beautiful song book for piano & voice "Esther, For Such a Time as This",  available as a digital download, tells the riveting story of the time when  Jews in ancient Persia faced a foe named Haman, and how a  brave young queen risked her life to save her people.
A good choice for a singing story-teller, an operatic group, a short theater production, or a class of children!
This book is also available from Amazon as a paperback.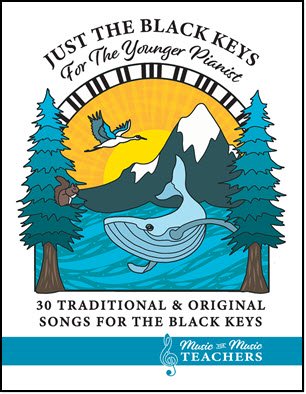 This book is available as a digital download  from this site.  Visit this page to see some free examples from the book.
It is also available from Amazon as a paperback!
This is the perfect easy start for little pianists.
And when they start reading white-key notes on the staff, this is a fun easy resource to say each week, "Choose a new black-key song at home this week and figure it out to show me next lesson!"  They will be spending more time at the piano.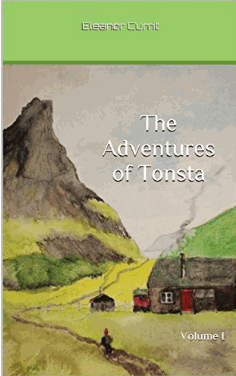 A perfect read aloud storybook
for little boys or girls. 
The Adventures of Tonsta highlight the travels of a very young boy with a good heart, who goes about helping folk in trouble.  
With a red cap on his head and a sack of tools slung over his shoulder, Tonsta seems to meet people in distress wherever he goes.
Lots of trolls in this book - including one who gives him a Christmas gift!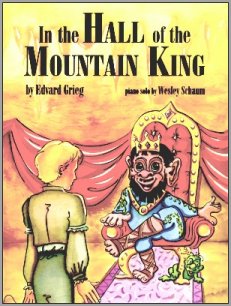 Kim in Washington:
My son is hooked...I've been introducing piano to my son on and off for a year or so, but he's not had much interest. Then I gave him "Monsters Everywhere". He loved playing it with the organ sound on our piano. He memorized it that week and I'm printing off the other Halloween songs to keep him going. I love the detailed instructions on teaching since he is my first student! Thanks so much.
Dana:
That is so neat that your son has experienced the magic and mystery of music through this little song. That is so exciting to me! Thanks for writing, Kim!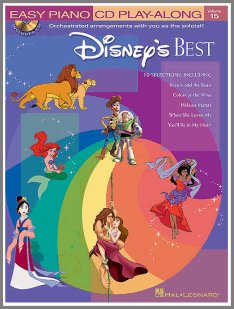 Elania:
THANK YOU! This website is a God-send! :D I took piano lessons as a kid, a little music theory, and now I'm a homeschooling mom hoping to pass on anything I can to my kids about music. It is such a gift, for so many reasons!
I have been slowly giving my oldest daughter whatever my memory can dredge up, scouring the internet for free music she can do, but your website with its instructions AND tips on how to teach pieces are going to help me SO much in this endeavor. I just wanted to tell you thank you. Really really! THANK YOU!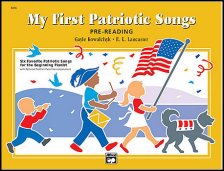 Comments: Do you have a story or a question about music teaching? Share it!
Please note that all comments are moderated, and will not appear until I have approved them. Also, IF YOU ARE ASKING FOR MUSIC THAT IS NOT IN THE PUBLIC DOMAIN, YOUR REQUEST WILL BE IGNORED. That's pretty much any music written in the last 75 years...
Sign up for "Take Note!" to see what's new every month.

About the Author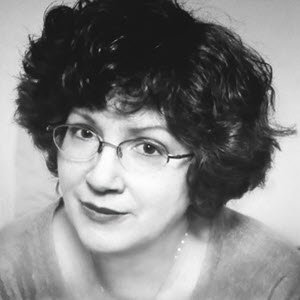 Hi, I'm Dana!  (Say that like "Anna".)  I'm the owner of Music-for-Music-Teachers.com, and a newer site, SingTheBibleStory.com.
Like some of you, I've been playing the piano since early childhood, and have added a few other instruments along the way, plus an interest in arranging and composing music.
You can find out more about me and the reason for this website at my About Me page.