Printable Piano Sheet Music
The Golden Wedding
This free printable piano sheet music for keyboard or piano class, Golden Wedding, will be a popular addition to your ensemble repertoire. This famous classical music has a strong, easily-remembered minor melody, besides being very beautiful. 
This arrangement has 3 parts
Part 1 requires students to use the skills of finger replacement and crossing over.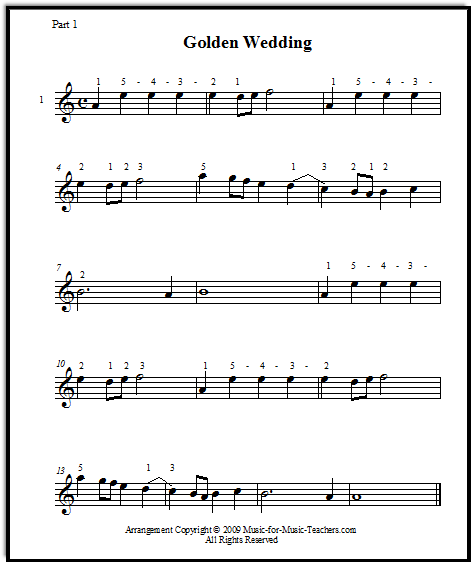 Printable piano sheet music for Golden Wedding Part 1

Part 2 uses chords and chord inversions around Middle C position: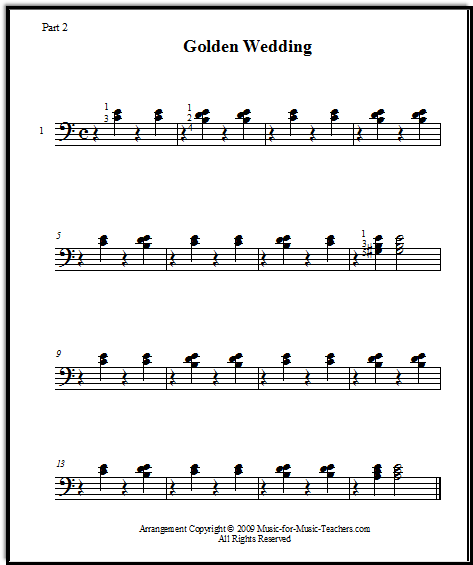 Printable piano music for Golden Wedding Part 2 

Part 3 moves slowly. Those students who are shaky reading notes in bass clef will find this part a little challenging, but not intimidating, particularly as it is repetitious.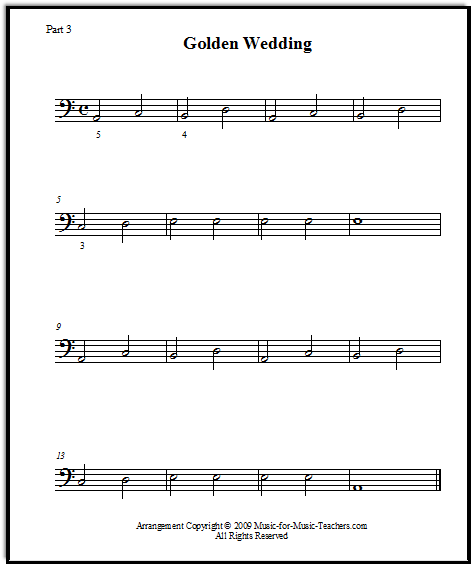 Printable sheet music for Part 3 

Try consolidating parts 2 and 3

 If some of your keyboard class students find this arrangement of Golden Wedding too easy, have them combine parts!
See all the parts at once
A conductor's score is what I like to read from, and sometimes I will pass out copies of this page for my students to play from as well. It's good practice for them to have to keep track of their part in the full score, and it helps them anticipate entrances.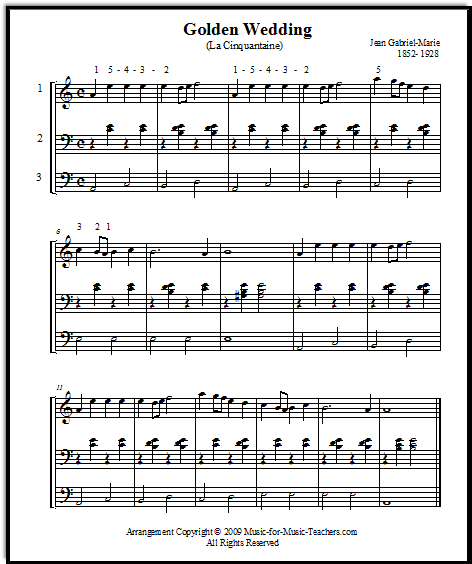 Beginner piano ensemble Golden Wedding Conductor part 

Because the melody has many repeating notes, and moves step-wise, it is not too hard for students to sing the note names aloud as they play. I like to start the singing, and after a few measures, ask them to join me as we move along reading notes. This also works very well for Part 3, and is good bass clef practice. I don't insist on perfection, just that they try.

In a digital keyboard class, it's fun to set the sounds for each keyboard to a different kind of instrument. Part 3 can round out the sound of the ensemble with a deep, edgy kind of instrument sound such as bassoon. An all-organ selection can be powerful, too. Golden Wedding can sound brisk and energetic, or slow and dirge-like! ("That sounded like Golden Funeral," I sometimes tell my music students.) Experiment!

---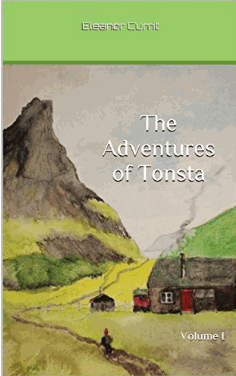 A perfect read aloud storybook
for little boys or girls. 
The Adventures of Tonsta highlight the travels of a very young boy with a good heart, who goes about helping folk in trouble.  
With a red cap on his head and a sack of tools slung over his shoulder, Tonsta seems to meet people in distress wherever he goes.
Lots of trolls in this book - including one who gives him a Christmas gift!
---
---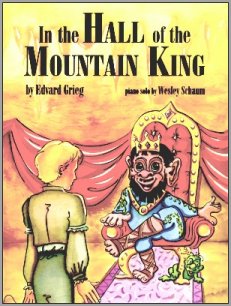 Kim in Washington:
My son is hooked...I've been introducing piano to my son on and off for a year or so, but he's not had much interest. Then I gave him "Monsters Everywhere". He loved playing it with the organ sound on our piano. He memorized it that week and I'm printing off the other Halloween songs to keep him going. I love the detailed instructions on teaching since he is my first student! Thanks so much.
Dana:
That is so neat that your son has experienced the magic and mystery of music through this little song. That is so exciting to me. Thanks for writing, Kim!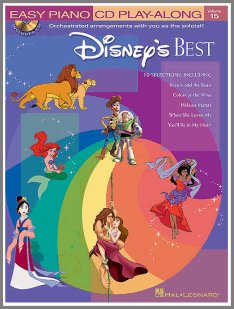 Elania:
THANK YOU! This website is a God-send! :D I took piano lessons as a kid, a little music theory, and now I'm a homeschooling mom hoping to pass on anything I can to my kids about music. It is such a gift, for so many reasons!
I have been slowly giving my oldest daughter whatever my memory can dredge up, scouring the internet for free music she can do, but your website with its instructions AND tips on how to teach pieces are going to help me SO much in this endeavor. I just wanted to tell you thank you. Really really! THANK YOU!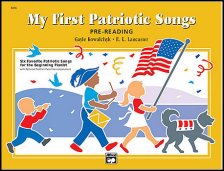 Comments: Do you have a story or a question about music teaching? Share it!
Please note that all comments are moderated, and will not appear until I have approved them. Also, IF YOU ARE ASKING FOR MUSIC THAT IS NOT IN THE PUBLIC DOMAIN, YOUR REQUEST WILL BE IGNORED. That's pretty much any music written in the last 75 years...
Sign up for "Take Note!" to see what's new every month.
Search Music-for-Music-Teachers: