Oh Holy Night Sheet Music
Piano Music for Beginners
Oh Holy Night sheet music for elementary piano - now with a Secondo part for a full-sounding duet!
The melody works out very nicely when shared between the two hands, thumbs side-by-side; the span is only from F below Middle C to A above Middle C. (If you are looking for a more challenging version, visit this page.)
The key of F is really too low for young kids to sing along with as they play (which is the ideal, I believe), but they can still sing many of the phrases.  For performing as a duet, this arrangement will of course sound more beautiful with the melody played an octave higher than written.

I chose this key because it makes the accidental from B flat to B natural very easy to play.  I'd rather have the left hand 2 negotiating that change, than a thumb going from C to C sharp, for example, as would be the case in the key of G.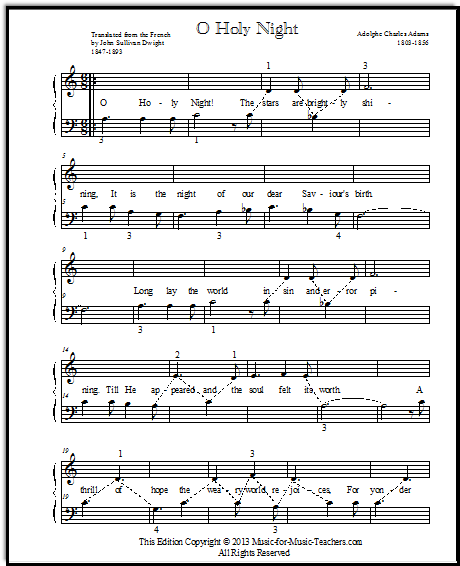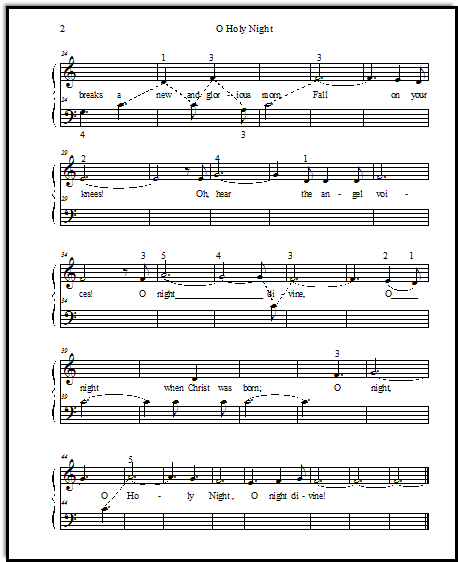 Oh Holy Night Sheet Music for elementary piano

O Holy Night with lettered notes for easy note reading

Sorry about the timing!  I know 6/8 is not going to LOOK as easy as your students might wish - but don't worry - they'll catch on quickly, especially if you sing the words.

In the more difficult version for solo piano (and also vocal duet), there is an additional measure after measure 9.  I decided to leave it out for younger players, as it doesn't feel that natural, and most people find the shorter pause easier.
This version looks like it would made a great duet - where's the Secondo?
Here it is!  It is 2 pages long.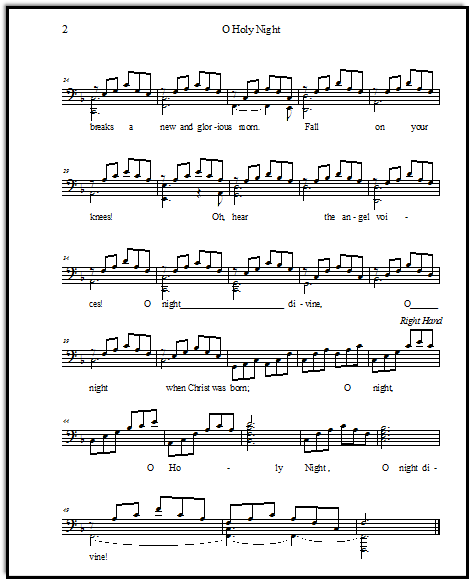 Download Secondo part for Oh Holy Night

The duet Secondo is primarily LH bass and RH broken chords.  It's not beginner level, but it isn't too hard for a student who understands chords. Have fun!  

Sign up for "Take Note!" to see what's new every month.
Comments
Do you have a funny story about this music, or does it remind you of something you'd like to share with other readers? Do you have a question? I'd love to hear it!

Please note that all comments are moderated, and will not appear until I have approved them. Also, IF YOU ARE ASKING FOR MUSIC THAT IS NOT IN THE PUBLIC DOMAIN, YOUR REQUEST WILL BE IGNORED. That's pretty much any music written in the last 75 years...