Free Piano Sheet Music PDF for Beginners
Boil'em Cabbage Down
This free piano sheet music PDF for beginners has a popular history as a fiddle & guitar tune. For beginning piano, it makes a rambunctious, easy duet!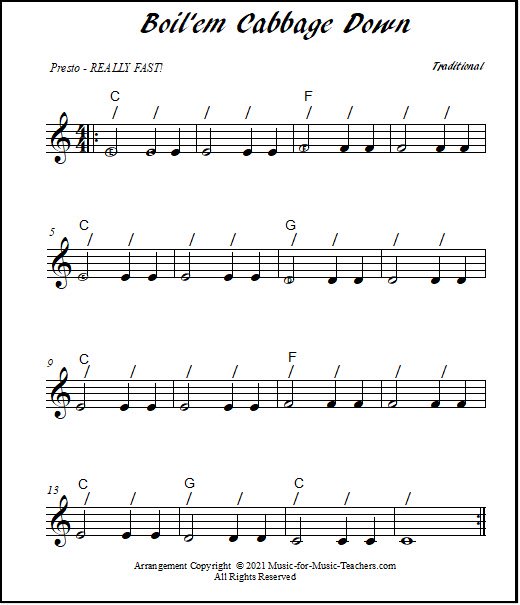 Please scroll down the page for the download links.
Oh my goodness, this looks like a PLAIN melody.  The same notes over and over, and not even any lyrics to grab ahold of!
Doesn't matter - this little piece is FUN.
*Listen to Klaire & Klay playing Boil'em Cabbage Down*
(You may have seen this sister and brother team before, in a video of Shortnin' Bread they did one day during lessons.)
Have a listen to a fabulous fiddle rendition - the actual melody doesn't start until 1:22 into the video:
It's a lead sheet - but the chords are for a partner
Though this piece can function as a solo, it's way more fun and satisfying as a duet.  But don't start your student with the melody...
Focus on the chords first
This is one of those songs where open chords give us the kind of sound we want.  They also provide a "bounce" effect!
What IS an open chord?
Instead of forming triads (tri = three, like triangle, tripod, tricycle, I like to tell students), we use plain 2-note chords.
Thus, a C chord would be formed with fingers 1 and 5 on c and g (for the right hand), or fingers 5 and 1 on c and g (for the left hand).  My students learn to do this open chord right along with their earliest scales.
I'm giving this song the same treatment as Star of the County Down, where the left-right, left-right open chords of the secondo part impart great ENERGY. 
And excitement!  I was so surprised to hear a little boy shout, "This is fun!" last week after multiple repetitions of the chord pattern (while I played the simple melody).  Haha - he even like the chords as a "solo".  His enthusiasm made me decide to try the same piece with other beginners, and they like it too.
The meaning of the forward slashes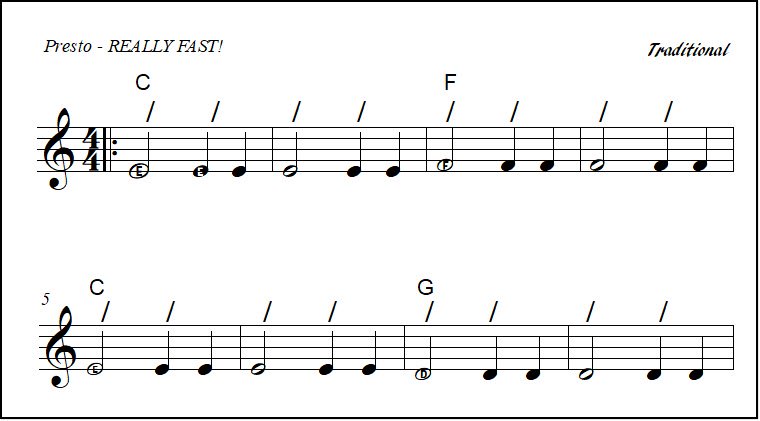 As you might expect, the slash marks are just rhythm indications for the chords.  Kids will grasp this right away, especially if you point at each slash with pen, pencil, or finger as you move along.
Start with one hand only
The pattern is the same for each chord - 4 strikes - until the last line, then it is 2 quick strikes each for the C & G penultimate chords.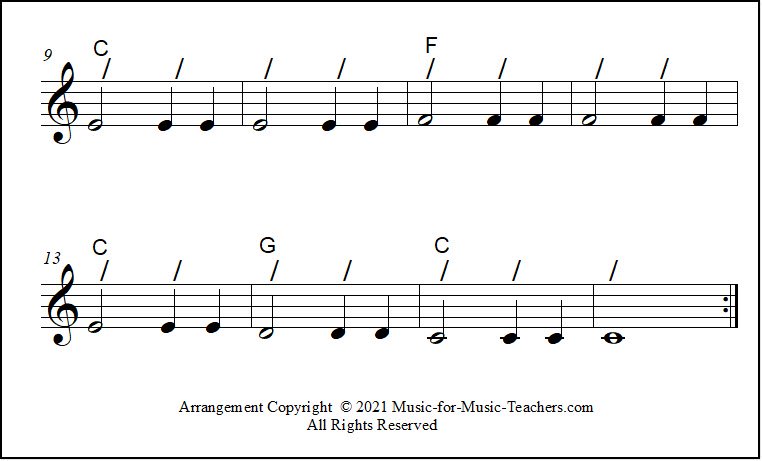 (Please do have a look at the page Star of the County Down for sheet music examples of how to do the chords here in Boil'em Cabbage Down.)

Ideas for presenting Boil'em Cabbage Down
My suggestions for teaching this song:
Play it through yourself, with melody and accompanying chords, as fast as you can.
Demonstrate to them JUST THE CHORDS, with your free hand pointing to the chord symbols as you play.
Invite them to try the chords ( with one hand only - it doesn't matter which hand!) - play the chords with them.
Repeat, but this time play the MELODY as they play the chords.
Now show them how the chords look if you split them between the two hands: Left-right, left-right, left-right, left-right.  BUT DON'T TELL THEM what you're doing.  Ask them, "What's different?  Can you tell?"
Invite them to try.  They will LOVE it.
Play the melody as they play the chords.
Finally, give them a try at the melody.  See how much they can figure out on their own.
No fingering
I decided not to suggest any fingering in this piece.  That worked well, because some of my students benefitted from the extra power of a reinforced finger 3 - like a doughnut shape.  Their hand can take on the speed and power of a drumstick.  See the little song "Dipping Donuts" for an explanation of this hand shape.
I think you will have fun with this little duet!
The link for the sheet music:
Free piano sheet music PDF for beginners Boil'em Cabbage Down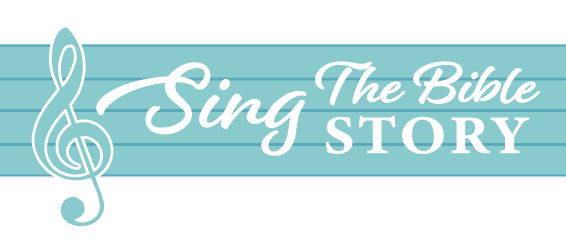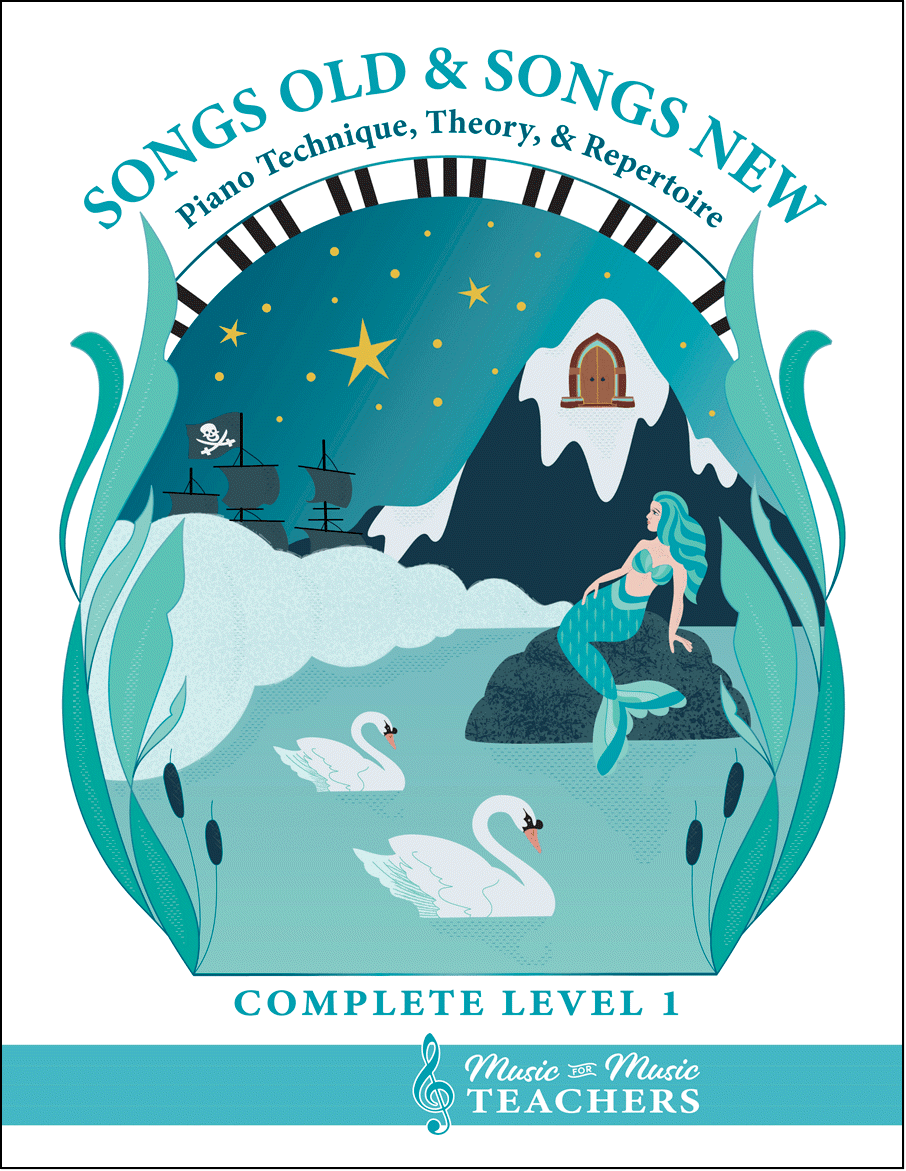 All the first-year material I give my beginner students. 
Piano keyboard sheets, scales, chords, note-reading exercises, and over 256 pages of music!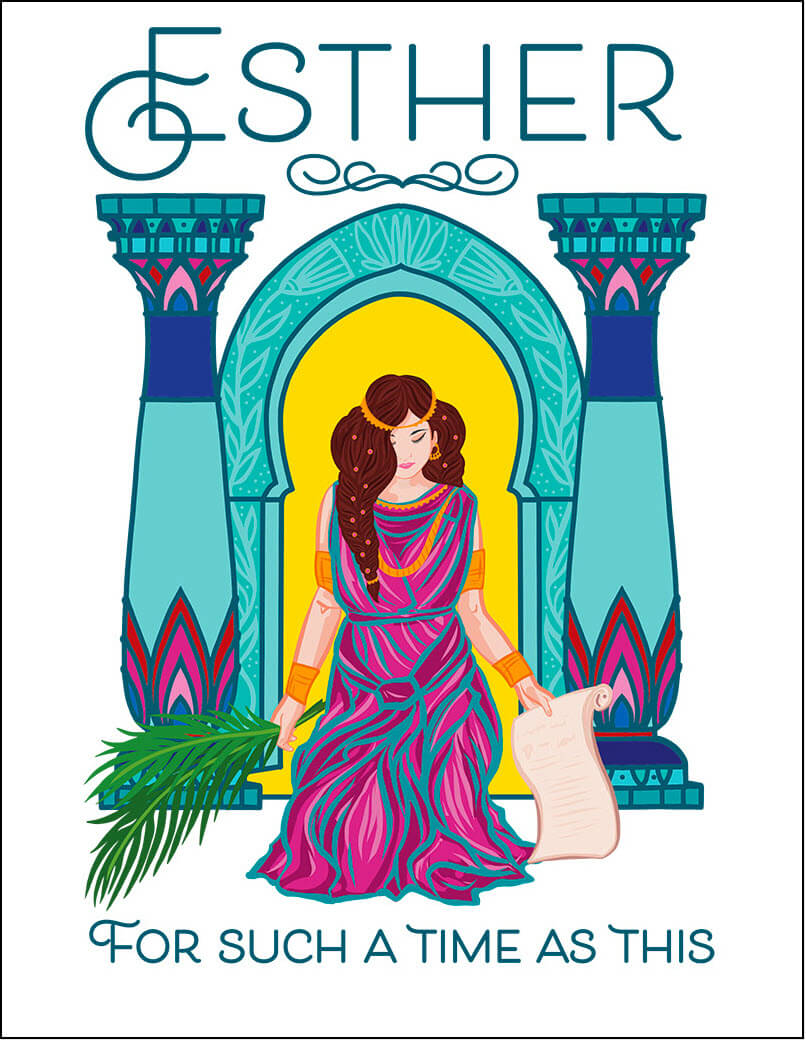 This beautiful song book for piano & voice "Esther, For Such a Time as This",  available as a digital download, tells the riveting story of the time when  Jews in ancient Persia faced a foe named Haman, and how a  brave young queen risked her life to save her people.
A good choice for a singing story-teller, an operatic group, a short theater production, or a class of children!
This book is also available from Amazon as a paperback.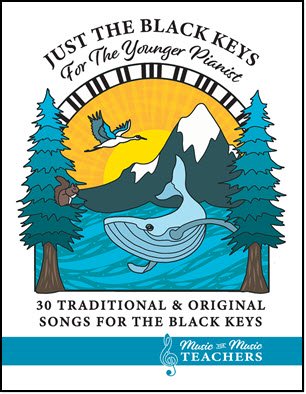 This book is available as a digital download  from this site.  Visit this page to see some free examples from the book.
It is also available from Amazon as a paperback!
This is the perfect easy start for little pianists.
And when they start reading white-key notes on the staff, this is a fun easy resource to say each week, "Choose a new black-key song at home this week and figure it out to show me next lesson!"  They will be spending more time at the piano.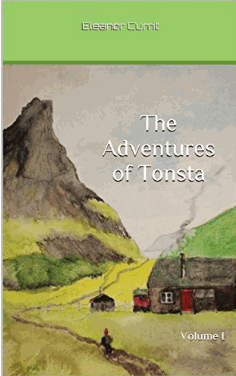 A perfect read aloud storybook
for little boys or girls. 
The Adventures of Tonsta highlight the travels of a very young boy with a good heart, who goes about helping folk in trouble.  
With a red cap on his head and a sack of tools slung over his shoulder, Tonsta seems to meet people in distress wherever he goes.
Lots of trolls in this book - including one who gives him a Christmas gift!

More 5-finger songs at Music-for-Music-Teachers:


Boil'em Cabbage Down - only 4 notes, and lots of repeated notes, with energy!
Cat Came Back (easiest version) - with fun-to-sing lyrics, many verses!
Erie Canal - Part I has only 5 notes, but is a satisfying introduction to this song
God is So Good - a sweet melody with sweet words
Jingle Bells - every child knows this one
Mary Had a Little Lamb - a song with many uses!
Ode to Joy, the famous tune by Beethoven
Pizza Please (Hot Cross Buns) - 3 notes, arranged for each hand
Sharks (3 notes, for left hand) - this is like the Jaws theme song
Snake Charmer - with fun lyrics and a mysterious minor melody
Tarantelle - the spider dance, with silly lyrics about tarantulas
When the Saints Go Marching In - with several arrangements!
Sign up for "Take Note!" to see what's new every month.

About the Author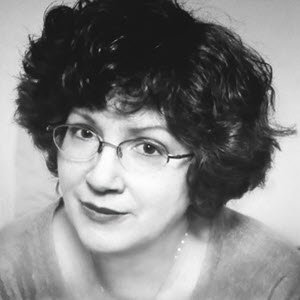 Hi, I'm Dana!  (Say that like "Anna".)  I'm the owner of Music-for-Music-Teachers.com, and a newer site, SingTheBibleStory.com.
Like some of you, I've been playing the piano since early childhood, and have added a few other instruments along the way, plus an interest in arranging and composing music.
You can find out more about me and the reason for this website at my About Me page.