Sunday School Songs Free Download, The B-I-B-L-E
Sunday School songs, free!  Download "The B-I-B-L-E",  a great song for shouting at Vacation Bible School or Children's Church.  Just kidding.  But it is a vigorous little song, allowing for the challenge of jumping  up and spelling quickly!  Very fun.
Here is The B-I-B-L-E for second-year piano players: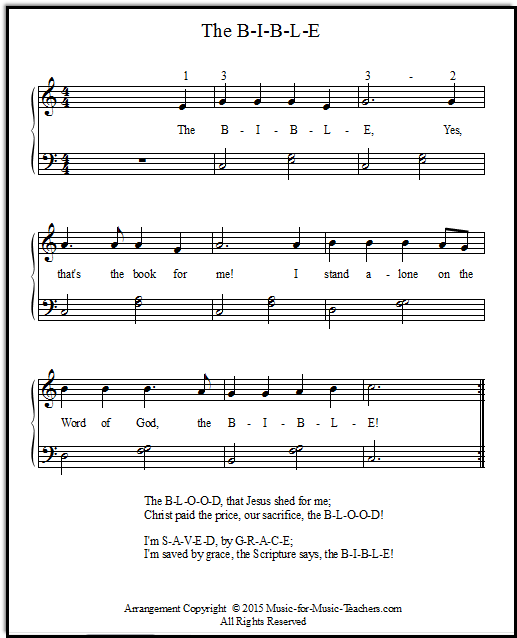 Download Sunday School song The B-I-B-L-E for elementary piano
Notice there is just one RH finger replacement, then the rest of the fingering is a piece of cake.  The LH, too, stays with a simple I - IV - V chord inversion pattern that is quickly conquered - but notice that the LH pinky dips down to a "B" instead of a "D" in the penultimate measure.
Below is an easy arrangement of this fun song, for beginners who know their way around the Middle C notes:
Download Middle C arrangement of the Bible song for Sunday School
Here is the easy Middle C version written like music note drawings; each notehead has the letter name inside of it, and the F# is written out instead of hiding in a key signature as in the arrangement above: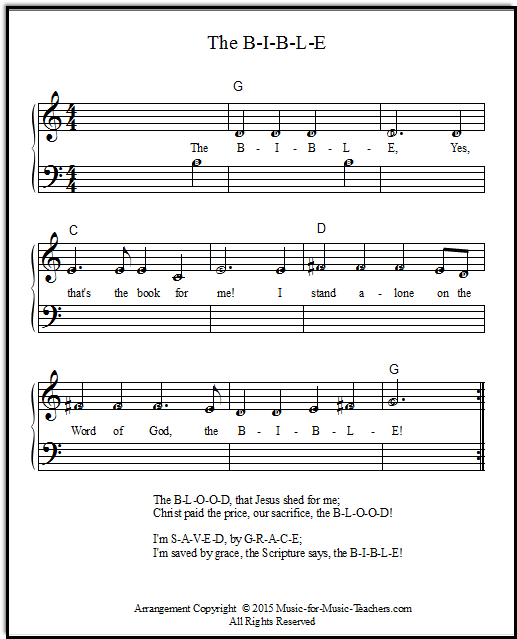 Download The B-I-B-L-E with made easy notes
And below, the Sunday School songs free downloads of lead sheets, for other instruments or for other keys, for those pianists among you who can interpret chords:
Sunday School songs free download in Bb
Sunday School song download in D
The B-I-B-L-E lead inthe key of Eb
The B-I-B-L-E song inthe key of G
Now what's this sheet of chords below?  It's a simple way for kids who are brand new to solid chords to be able to "play" The B-I-B-L-E" at home for a week or so.  This will probably only work for your student if he or she already knows the song! 
The child plays the C to F to G chords (it doesn't matter which hand plays the chords - and the notes are really to help YOU, the teacher, understand what I'm saying), using the rhythm of the song's melody.  So easy.  It's fun, and I like that it uses the three main chords of the key of C - in order! - which I want students to grasp early on.
Download sheet of chords for the Bible song
Have fun!
---
---
Get word of the latest sheet music at Music for Music Teachers?  Sign up for "Take Note!"
Comments
Do you have a funny story about this music, or does it remind you of something you'd like to share with other readers? Do you have a question? I'd love to hear it!

Please note that all comments are moderated, and will not appear until I have approved them. Also, IF YOU ARE ASKING FOR MUSIC THAT IS NOT IN THE PUBLIC DOMAIN, YOUR REQUEST WILL BE IGNORED. That's pretty much any music written in the last 75 years...