Easy Piano Songs for Kids,
Goober Peas
Easy piano songs for kids with a funny story and singable tune, Goober Peas in 3 versions, now with an easier Middle C version.
Play this Civil War song as a solo or a duet!
This rather goofy song is irresistible to some kids, the way "Found a Peanut" is (at first), but Goober Peas retains its charm over the long haul!  It has a swingy rhythm and engaging melody.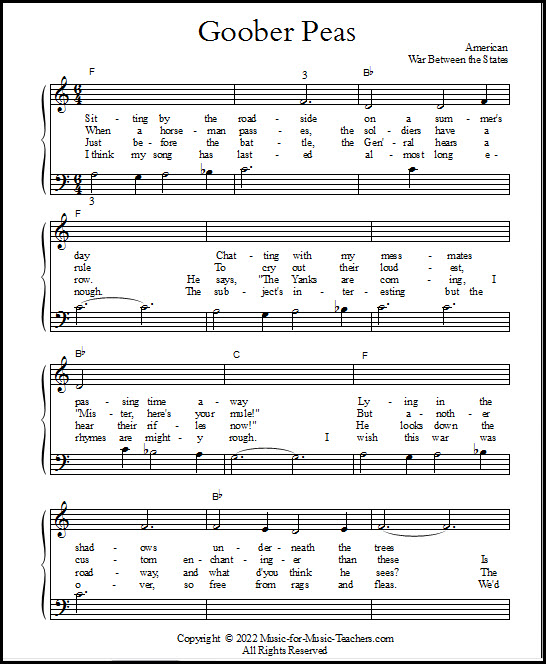 This version in the key of F is a bit easier to read than my previous arrangement in G, which requires a ledger line note for the beginners.
Please scroll down the page for the printable PDF links.
Instead of starting with the melody, I started a little boy off with this new arrangement at his last lesson by having him just find the bass notes "F", "Bb", and "C" as I played and sang the words and played the melody myself.  Ultimately, I want him to play the melody, but we are going to take it a bit at a time.
A fun duet for two siblings
He and his sister just put "Shortnin' Bread" together (not up on this site yet) in a very easy but stylish arrangement of their own making.  With her understanding of chords, I anticipate them doing something like that with Goober Peas.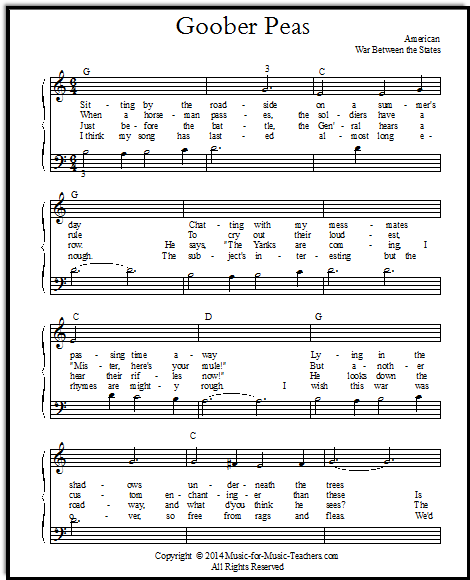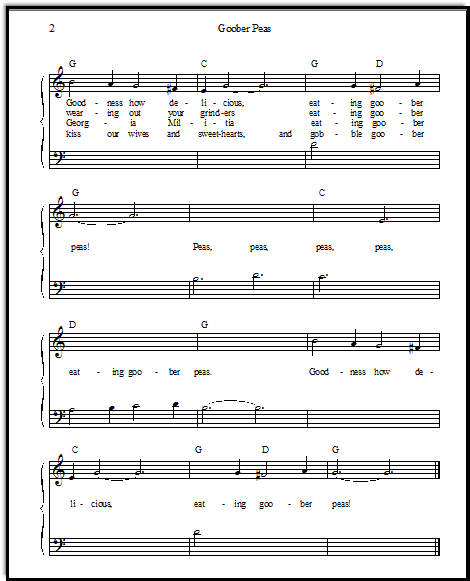 Please scroll down the page for the printable PDF links.
What are the chord symbols for?  They are there to make it easy in case you wish to add a duet part.  
For a duet, I suggest imitating the left hand chord pattern of the piano version in G (the last one shown on this page).
It has a nice "swingy" sound, a relaxed feeling very nice for this laid-back melody with the story of soldiers laying about on a hot day, chomping peanuts.
Here's an arrangement for late elementary piano: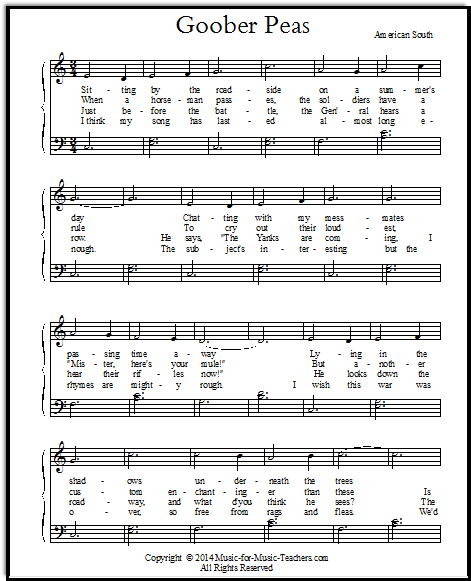 This version is fairly easy; the trickiest part will be figuring out a fingering that you and your student both like!  
And perhaps that won't be possible, and you will just have to settle for a fingering that YOUR STUDENT likes, and that you merely TOLERATE.  

I suggest treating the melody as if it is part of a regular octave C scale: starting the right hand with finger 2 or 3, and tucking under at the F, so that F, G, and C are played with fingers 1, 2, and 5.  
Obviously, there will be lots of LIFTING of the hand with this piece.  Get out your pencil.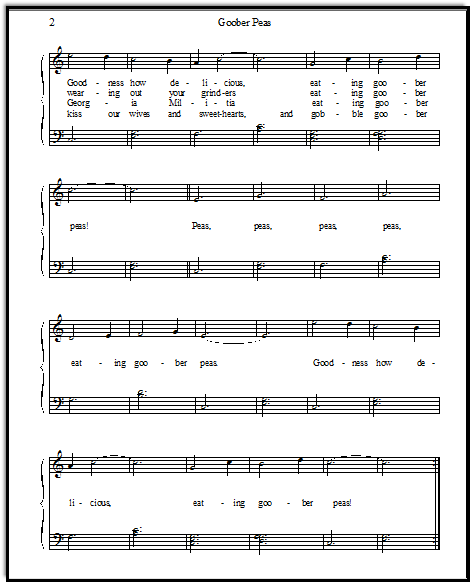 Please scroll down the page for the printable PDF links.
Below is my favorite piano version of all these easy piano songs for kids; I really like using the simple chord pattern of the 5th and octave, split as shown below.  This sound has lots of energy, but doesn't HAVE to be loud.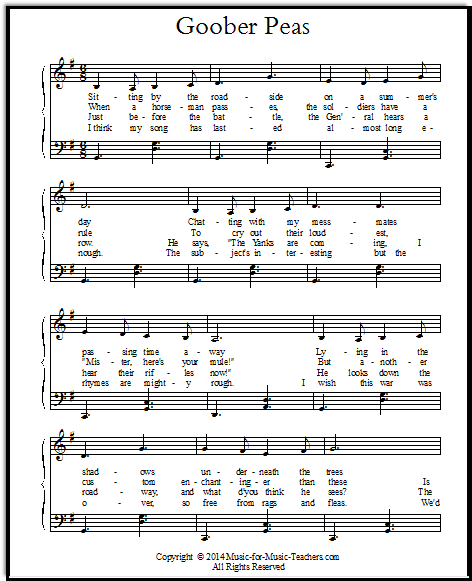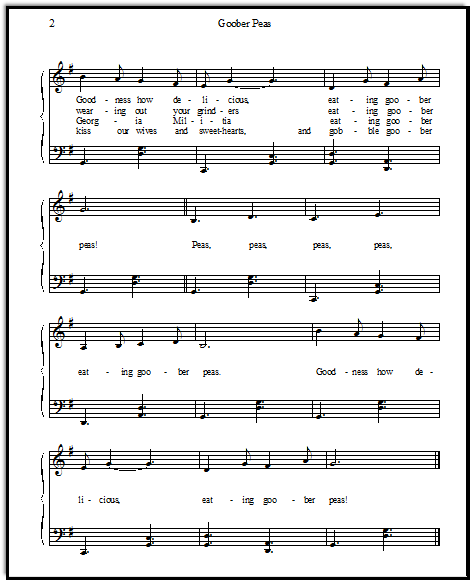 Please scroll down the page for the printable PDF links.
If you play or teach guitar, you may enjoy having a look at the guitar tabs for Goober Peas on another page of this site!  It is a great favorite, once learned.
The links for the printable PDFs:
Download new Middle C arrangement in the key of F
Download easy piano songs for kids Goober Peas for beginners in the key of G
Download easy piano version with chords, in the key of C
Download Goober Peas in the key of G with big chords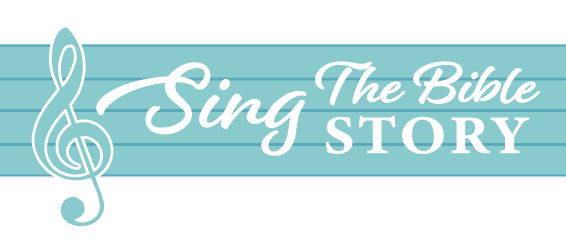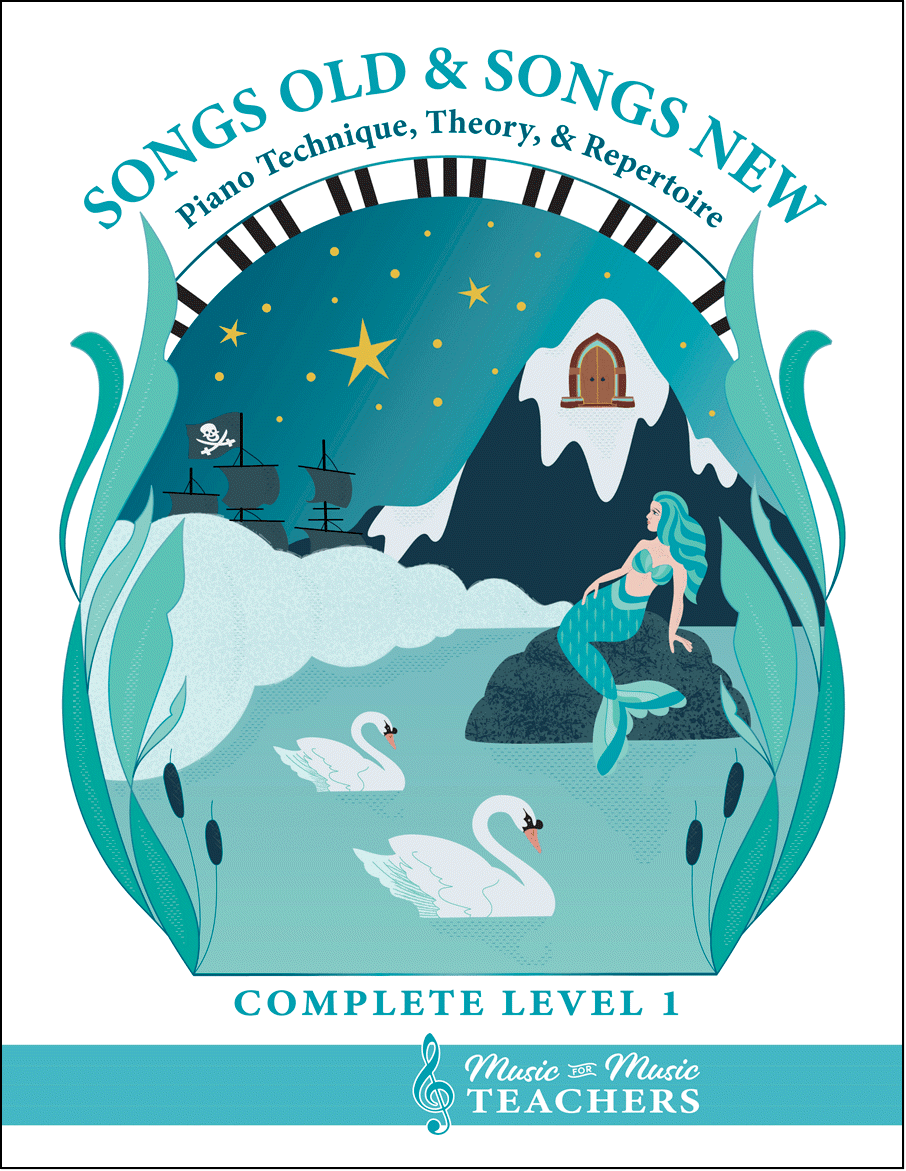 All the first-year material I give my beginner students. 
Piano keyboard sheets, scales, chords, note-reading exercises, and over 256 pages of music!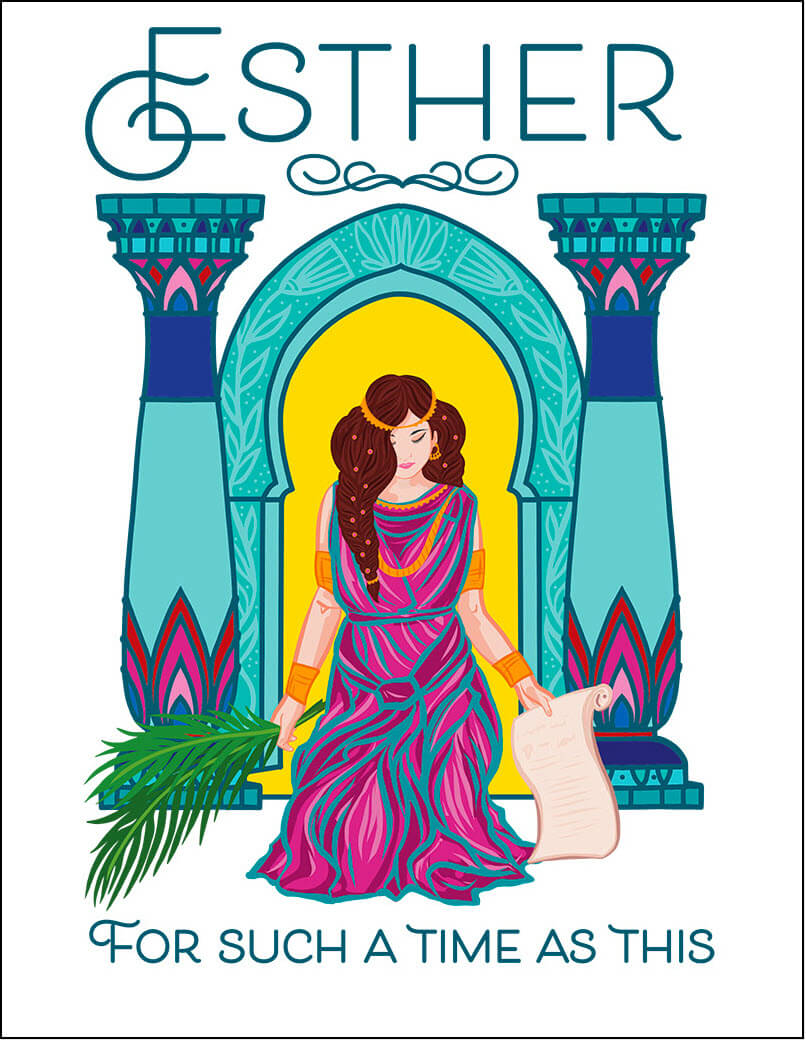 This beautiful song book for piano & voice "Esther, For Such a Time as This",  available as a digital download, tells the riveting story of the time when  Jews in ancient Persia faced a foe named Haman, and how a  brave young queen risked her life to save her people.
A good choice for a singing story-teller, an operatic group, a short theater production, or a class of children!
This book is also available from Amazon as a paperback.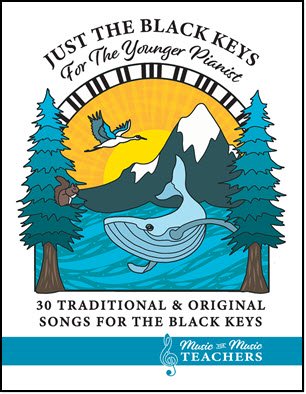 This book is available as a digital download  from this site.  Visit this page to see some free examples from the book.
It is also available from Amazon as a paperback!
This is the perfect easy start for little pianists.
And when they start reading white-key notes on the staff, this is a fun easy resource to say each week, "Choose a new black-key song at home this week and figure it out to show me next lesson!"  They will be spending more time at the piano.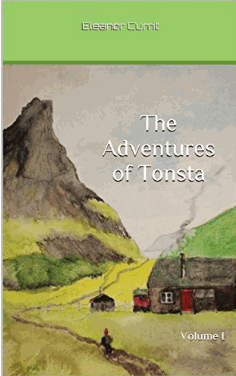 A perfect read aloud storybook
for little boys or girls. 
The Adventures of Tonsta highlight the travels of a very young boy with a good heart, who goes about helping folk in trouble.  
With a red cap on his head and a sack of tools slung over his shoulder, Tonsta seems to meet people in distress wherever he goes.
Lots of trolls in this book - including one who gives him a Christmas gift!
Sign up for "Take Note!" to see what's new every month.

About the Author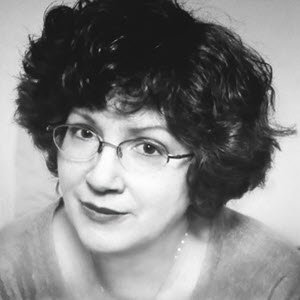 Hi, I'm Dana!  (Say that like "Anna".)  I'm the owner of Music-for-Music-Teachers.com, and a newer site, SingTheBibleStory.com.
Like some of you, I've been playing the piano since early childhood, and have added a few other instruments along the way, plus an interest in arranging and composing music.
You can find out more about me and the reason for this website at my About Me page.