Easy Piano Songs for Kids,
Goober Peas
Easy piano songs for kids with a funny story and singable tune, Goober Peas in 3 versions. Play this Civil War song as a solo or a duet!
This rather goofy song is irresistable to some kids, the way "Found a Peanut" is (at first), but Goober Peas retains its charm over the long haul!  It has a swingy rhythm and engaging melody.
Here is a rendition by the 97th Regimental String Band: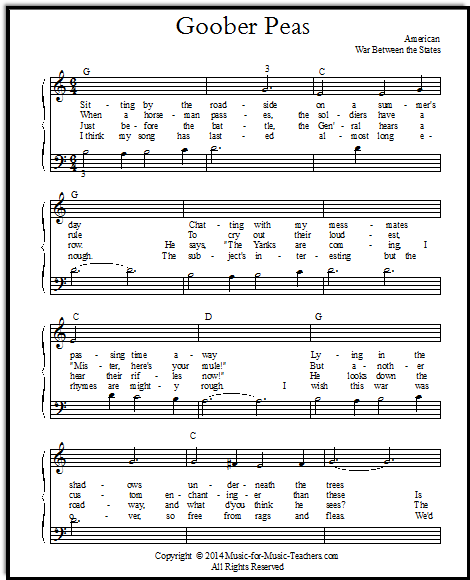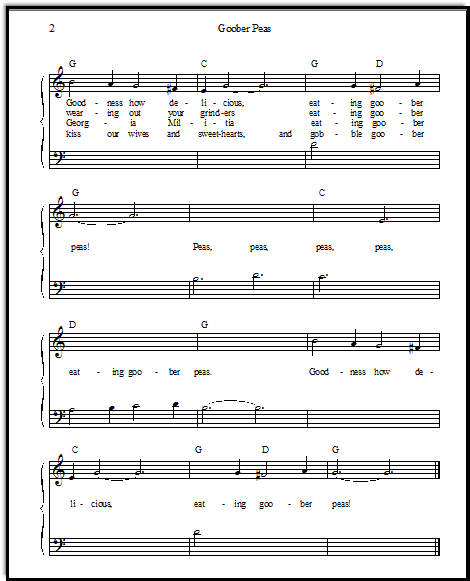 Download easy piano songs for kids Goober Peas for beginners
What are the chord symbols for?  They are there to make it easy in case you wish to add a duet part.  
For a duet, I suggest imitating the left hand chord pattern of the piano version in G (the last one shown on this page); it has a nice "swingy" sound, a relaxed feeling very nice for this laid-back melody with the story of soldiers laying about on a hot day, chomping peanuts.
The version below is fairly easy; the trickiest part will be figuring out a fingering that you and your student both like!  (And perhaps that won't be possible, and you will just have to settle for a fingering that YOUR STUDENT likes, and that you merely TOLERATE.)  

I suggest starting the right hand with finger 2, and tucking under at the F, so that F, G, and C are played with fingers 1, 2, and 5.  Obviously, there will be lots of LIFTING of the hand with this piece.  Get out your pencil.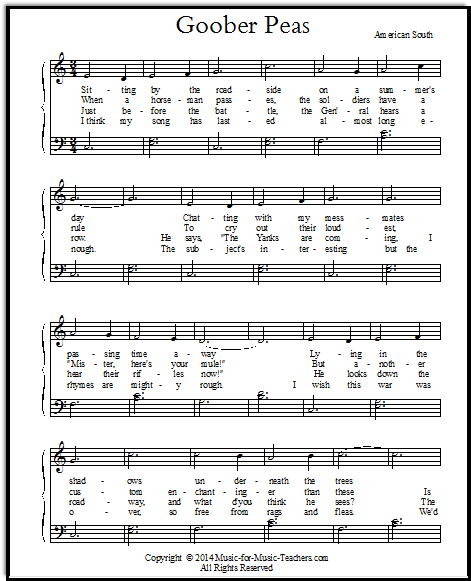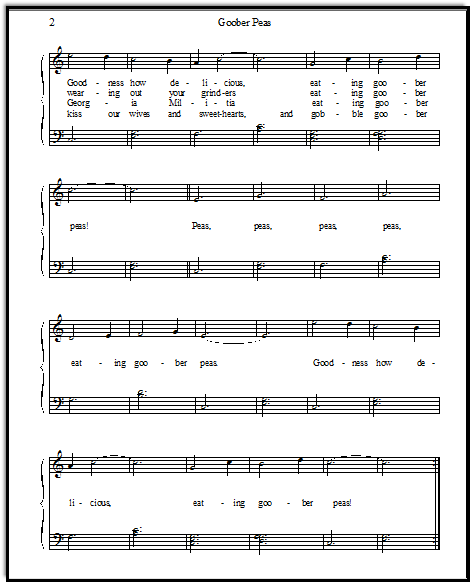 Download easy piano version with chords, in the key of C
Below is my favorite piano version of all these easy piano songs for kids; I really like using the simple chord pattern of the 5th and octave, split as shown below.  This sound has lots of energy, but doesn't HAVE to be loud.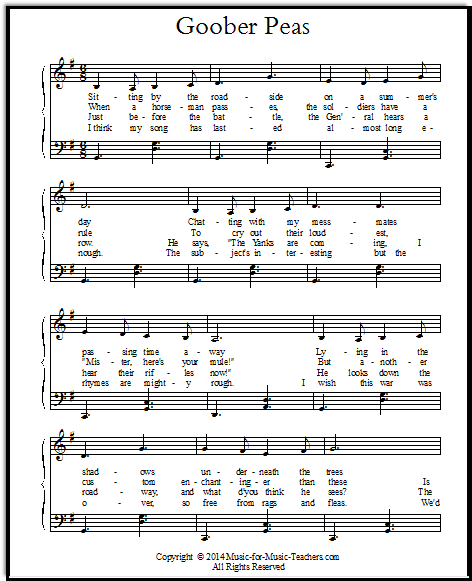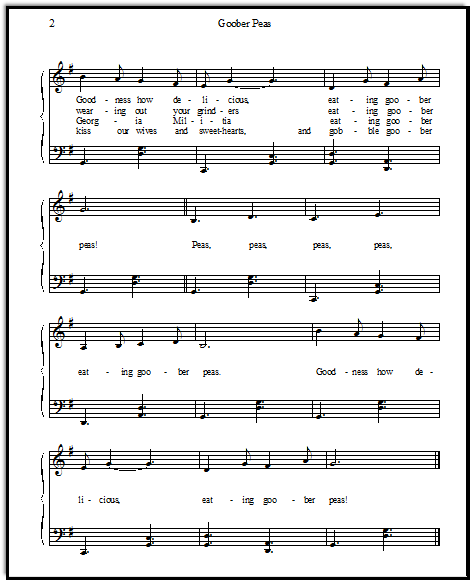 Download Goober Peas in the key of G with big chords
You may enjoy having a look at the guitar tabs for Goober Peas on another page of this site!
---
A perfect read aloud storybook for Christmas for little boys or girls. 
The Adventures of Tonsta highlight the travels of a very young boy with a good heart, who goes about helping folk in trouble.  
With a red cap on his head and a sack of tools slung over his shoulder, Tonsta seems to meet people in distress wherever he goes.
Lots of trolls in this book.
---
---
Sign up for "Take Note!" to see what's new every month.
Comments
Do you have a funny story about this music, or does it remind you of something you'd like to share with other readers? Do you have a question? I'd love to hear it!

Please note that all comments are moderated, and will not appear until I have approved them. Also, IF YOU ARE ASKING FOR MUSIC THAT IS NOT IN THE PUBLIC DOMAIN, YOUR REQUEST WILL BE IGNORED. That's pretty much any music written in the last 75 years...