Sonatina in C by Clementi
Spiritoso
Sonatina in C, Opus 36 No. 1 by Clementi is a happy-sounding famous classical piano piece.  Give this FREE, easy version of the Spiritoso movement to your beginners!
How close is this to Clementi's original version?
This "Middle C" arrangement of the Spiritoso is almost exactly like the original, and yet it can be played by students who still are mostly locked into the area around Middle C but starting to venture beyond.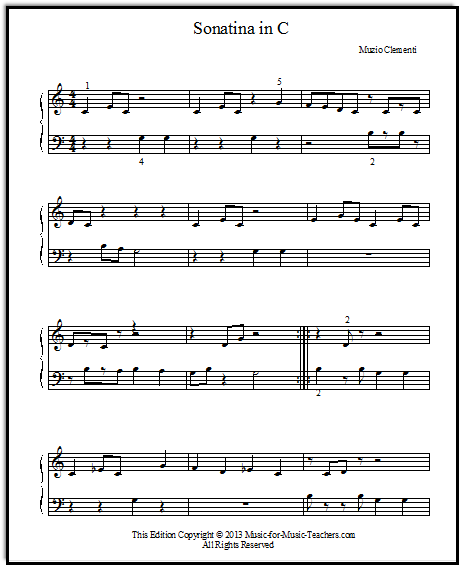 What about the eighth notes rhythm?
This isn't actually a difficult rhythm to catch on to, even for young students still laboring in Level One of their method book, where quarter notes are typically the shortest rhythm used.  Instead of counting "One-and-two-and-three-and-four-and...", my student and I use the words "TAH, tee-tee, TAH, TAH; TAH, tee-tee, TAH, TAH."  This is a good substitute for the trickier method of keeping track of beats, though that is certainly where we are headed (and we may do a bit of analysing of the Sonatina using traditional counting).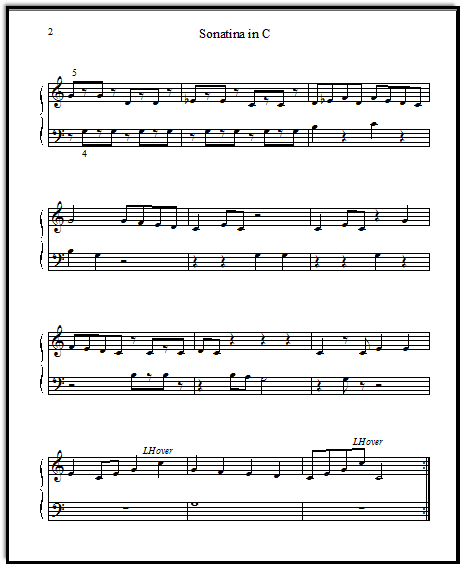 Download Clementi's Sonatina in C for beginners
It is an excellent recital piece
Recently one of my younger students played this arrangement of the Sonatina in C for an "All-Classical" recital, followed by his older sister playing the original movement 3 (the Vivace) from this same piece.  
I admit it did help him in learning this piece to have become familiar with the Spiritoso, movement 1, after hearing BOTH of his older sisters play it frequently in the past!  But with the imitative motives and repeated use of the C major chord, part one is easy to pick up.
Any other challenges in this Clementi piece?
Part 2 changes to C minor and a very fun back-and-forth pattern at the top of page 2.  Looks hard, but it really isn't! BUT... as we return to the main theme again in C major, the LH (left hand) begins adding in a few harmony notes, and for the first time the hands aren't taking turns.
Then it's back to one-hand-at-a-time, until the penultimate measure (second-to-last measure), when the LH jumps quickly to the G below Middle C, having just crossed over to high C.  This is perhaps the hardest part for a young student to play accurately, without a pause (or "hiccup", as I call an untimely halt).
---
---
Get word of the latest sheet music at Music for Music Teachers?  Sign up for "Take Note!"