Ode to Joy Piano
Piano Music for Beginners
Ode to Joy, now with an arrangement offering a challenging and interesting set of left hand chords for students in their second year! This is one of Beethoven's most recognized and beloved melodies. Perhaps your student's older brother has played it on his trumpet in school band, or perhaps he has heard it sung in church as "Joyful, Joyful, we adore thee..."
Here are several easy music downloads.  These pieces of simple, free kids sheet music for beginning piano players can be dressed up with chords, but the new arrangement with extra harmonies has built-in chords: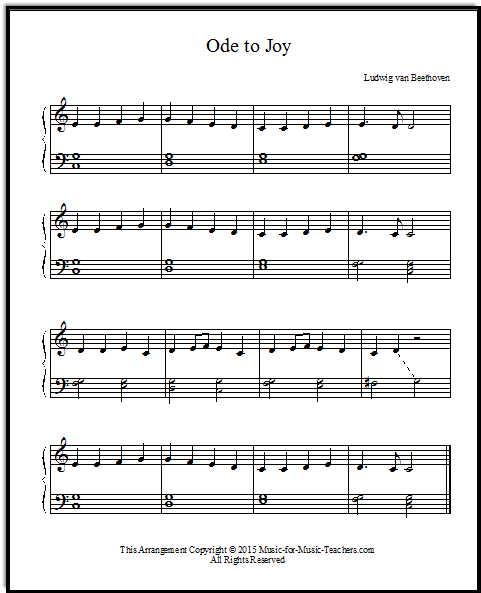 Download easy piano sheet music for Ode to Joy
It is just possible your student has heard the song sung by a quartet at the end of Beethoven's Ninth Symphony. However it may be, if they have heard this most famous of Beethoven's songs before, they will want to play it themselves!
This is probably how they will want to play it: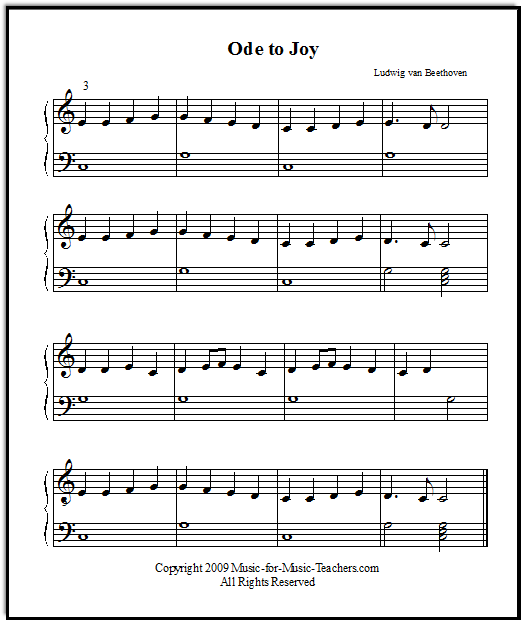 Beethoven's Ode to Joy with Left Hand

And eventually, beginners will play it like that. But at first, I simplify the melody so they can concentrate on reading the notes: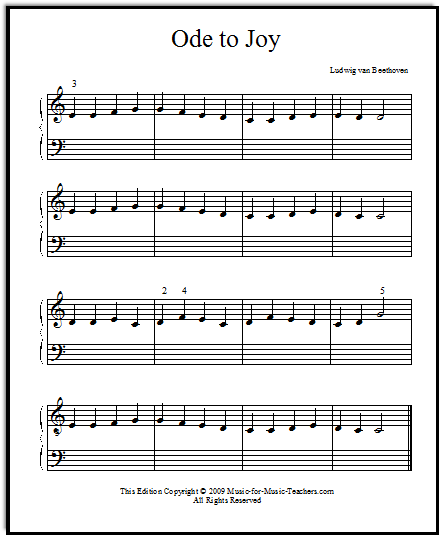 Free Beethoven printable piano music ALMOST easiest version

Download piano music with letters Ode to Joy, the EASIEST version (not shown)

Download a HELPER version - with just a few lettered notes (also not shown)
With only minimal fingering, kids read this song just like "Snakes," except I warn them that there are some skips hiding in some of the measures. Sometimes we go looking for the skips (or thirds), and circle them with a colored pen.
This free kids' sheet music is a simplified version of Beethoven's actual rhythm. (But they may play it with the dotted rhythm anyway, if they have ever heard it before!)
Another change I have made is to turn the melody up at the end of line 3 instead of down, in order to contain the melody within one hand. That way,we can add chords in a few weeks or months when the melody is very strong.
With chords, Ode to Joy can be dressed up for a duet, or returned to later when they have gained more skill and their hands are more independent.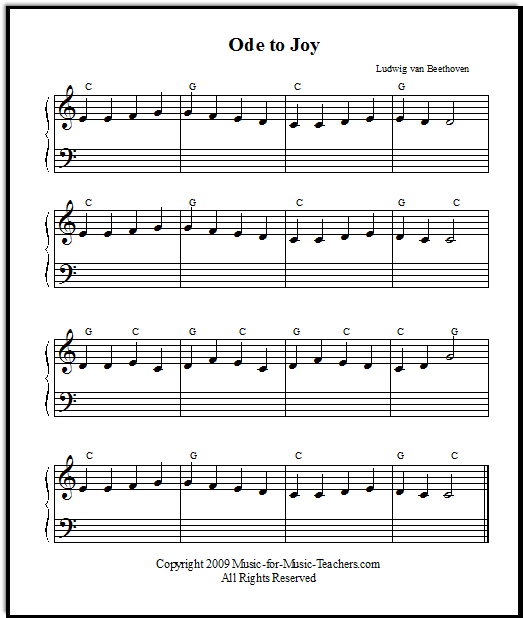 Free kids' sheet music Ode to Joy with chord symbols

When should you start adding chords? As I said, not until the melody is well in hand.
I've had kids play the chord accompaniment different ways in this piece, but always starting it as a duet with them on the melody and me on the chords -- BIG chords.
It's good for them to feel the majesty of this piece and to learn to feel comfortable with all the sounds happening while they strive to keep the melody going rhythmically. (If they get too lost and confused initially, then I drop the fancy accompaniment and just play along with them, doubling their part.)  Here's what I mean by "majestic":


This is the kind of accompaniment I might make - FOR ME, THE TEACHER!
Then we switch places, and I have them try C and G open chords all the way through, striking the chord on beat 1 only. Changing chords may be a little slow at first, but this student will have been playing the C, F, and G chords of the 12-Bar-Blues for at least a few weeks or months by now.


Then we do something fun. I point out to them that they can change from C to G and back to C again without even looking at their hand, if they "sneak" through the g key, using it as a landmark."Close your eyes and try it," I tell them, and now it becomes a challenge. They love a challenge!
Then we go through the whole piece, with me on the melody and them on the chords, left handonly, swapping back and forth from C to G to C.  Line 3 is a lot of work, moving twice a measure. Watch out where there are 2 C chords in a row! Then line 4 is just like line 2.
Finally, we make one last change... after the energy of line 3, it doesn't seem right to settle back down to just one chord a measure, so we put four chords in each measure of line 4 -- what a difference! I ask them if they can feel the difference, and they can indeed!
It may be some time before they can put this vigorous left hand together with the right hand melody, but that's okay...in the meantime, you have a great duet, and they are learning chord basics.
---
---
Get word of the latest sheet music at Music for Music Teachers?  Sign up for "Take Note!"
Comments
Do you have a funny story about this music, or does it remind you of something you'd like to share with other readers? Do you have a question? I'd love to hear it!

Please note that all comments are moderated, and will not appear until I have approved them. Also, IF YOU ARE ASKING FOR MUSIC THAT IS NOT IN THE PUBLIC DOMAIN, YOUR REQUEST WILL BE IGNORED. That's pretty much any music written in the last 75 years...
What Other Visitors Have Said
Click below to see contributions from other visitors to this page...