Note-Naming Worksheets - Reading Music Notes for Beginners
NOTE NAMING WORKSHEETS ought to be more fun than just worksheets.  These ones are, because they are real songs and pieces that kids love.   With "made easy" notes - keyboard music notes with names, these are songs the kids actually want to play.

Are lettered notes like a "gateway drug", risking the possibility that your students will never learn to read music properly?  On the contrary, in the early stages of note-reading, not only can many tears can be avoided and the reward of playing actual  music be reached, but understanding of the up-and-down movement of notes on the staff is reinforced!
I enjoy seeing students dive excitedly into a new piece and follow the lettered notes carefully, especially in the "helper" versions, where only a few tricky notes or measures are lettered.  I'm excited for you to see your students accept new music more willingly, too!
Most of the pieces on this page are beginner level, with a melody shared by both hands, but a few are more challenging, such as part 1 of Für Elise, with the original notes, The Lake Pirates, and also a LONG VERSION of the Pachelbel Canon (not the one featured directly below...).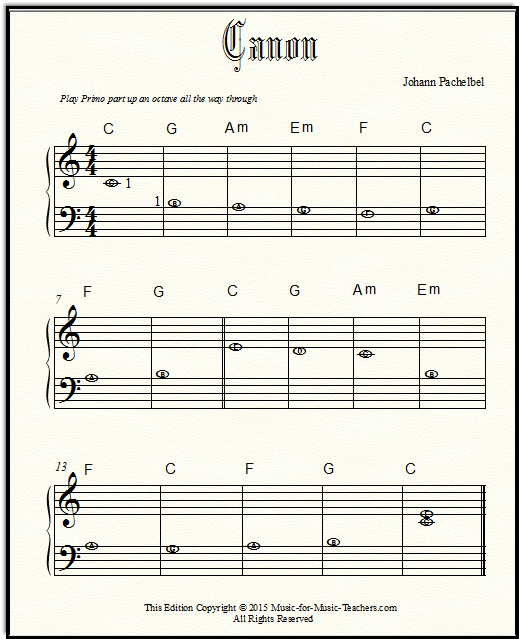 Here are all the AlphaNote songs so far:

All the Pretty Little Horses


Amazing Grace

Arabian Dance, from the Nutcracker


Ash Grove


Beethoven's 5th Symphony - go to the page to download 3 arrangements


Bingo


Blow, Ye Winds in the Morning,  a sailor's song - helper version


Cat Came Back - see the whole page


Come Ye Sinners, Poor and Needy (a Sacred Harp melody)


Deck the Halls With Boughs of Holly, an alphanote helper


Egyptian Dance helper version


Erie Canal Song


Erie Canal with 2 hands, helper version

First Noel


First Noel with helper notes (only a few alphanotes)


Found a Peanut

Für Elise original version, part 1 only, with helper notes

Fuzzy Wuzzy


Fuzzy Wuzzy helper version


God is So Good with chords


God Rest You Merry Gentlemen, alphanotes

God Rest You Merry Gentlemen, alphanotes helper

Greensleeves (What Child is This melody)


Greensleeves chords & melody, lettered notes & helper notes

Haida, a singing round from Israel


Happy Birthday, easy 

Happy Birthday with chords, alphanotes helper


Hark How the Bells beginner arrangement, alphanotes helper


Hark How the Bells elementary, a helper version


Have You Seen the Ghost of John


Hungarian Dance

I'm a Pirate - go to the page for solo & duet versions


Indian Dance

Indian Dance helper


Irish Wedding


Irish Wedding "Helper" - just a few alphanotes


Irish Wedding longer, helper version

Jolly Old Saint Nicholas helper version


Kum Ba Yah


Kum Ba Yah helper version


Lake Pirates helper version


Lavender's Blue - with the Cinderella song lyrics!


Lavender's Blue helper version


Louie Louie

Mary Had a Little Lamb alphanotes helper


Minka alphanotes helper, Dm traditional version


Monsters Everywhere, a Halloween song


Monsters Everywhere, with just a few helper notes


Morning Has Broken

O Christmas Tree (O Tannenbaum)


O Holy Night


Ode to Joy


Ode to Joy, helper version


Pachelbel Canon in D piano sheet for beginners


Pachelbel Canon in D sheet music long and fancy version

Pizza Please (Hot Cross Buns) for right & also left hands - see the main page

Sharks, with dynamic markings


Silent Night duet with helper notes


Slumber My Darling (for singers)


Spanish Ladies, an old British sea chanty


Star of the County Down


Star of the County Down helper version

Tarantelle, the Spider song, alphanotes helper


The B-I-B-L-E


This Old Man


Toccata by Johann Sebastian Bach, introduction


Toccata, very short and simple


Twinkle Twinkle Little Star


Twinkle Twinkle Little Star helper (just a few notes with letters)

Up on the Housetop the Reindeer Pause

Up on the Housetop the Reindeer Pause, in the key of C (more singable)


Wabash Cannonball, melody


Wabash Cannonball melody, helper


Wabash Cannonball Secondo


Waltzing Matilda


Waltzing Matilda with helper notes


We Wish You a Merry Christmas


We Wish You a Merry Christmas, late elementary arrangement, helper notes

What Child is This, lettered notes & helper notes


What Do You Do with a Drunken Sailor


What Wondrous Love

White, Orange & Green (for singers)


Wiegenlied, "Mozart's Cradle Song", for singers


Yo Ho Ho, a song about life on the sea - please see this page
Yes, I've scoffed at this shortcut approach.  Not anymore.  What I've seen is that kids are much more willing to take on a new piece of music if there is a bit of help - or a lot of help - there.  They are playing MORE music!
Plus, their interpretation of the "up" and "down" movement of the notes is reinforced - or corrected.  A bit like a video game, this is an instant feedback system that really helps even with familiar melodies.  I have seen this with my students!
I've had lots of people request music with the note names on it to help them learn piano notes, so I've decided to make available, over time, an AlphaNote version of the music of every beginner level piece (along with the standard notation music, of course).  Today I gave "All the Pretty Little Horses", AlphaNote version, to a young beginner, and smiled to hear her persevere past the skips in the melody.  (Those skips always trip them up.)  
My young beginning readers and even pre-readers dive into this music:
Download All the Pretty Little Horses with easy-to-read keyboard music notes
It will be fun to see how it goes... reading music notes for beginners is a long process, in any case, and I'm hoping this encourages the learning of more songs, more quickly, rather than a reliance on the little letters inside the note-heads.  Maybe it will end up being like guitar tablature - the kids fight every step of the way against reading standard notation!  But I don't think so.
I do want to caution you about ONLY giving lettered-notes songs to your students.  You must continually be moving them along the reading road.  The day may come when you realize they aren't looking at the direction of the noteheads, or learning patterns, but struggling only to read the tiny letters inside the notes.  That actually slows them down.  These AlphaNote songs should be more like candy, eventually - an easy snack.
On the two initial songs, Mary Had a Little Lamb and All the Pretty Little Horses, I just went ahead and put AlphaNotes - piano music with letters - in every measure, but that was because I was just getting to know this software.  I think what I'm actually headed toward is just supplying the names of the first note of each hand, or perhaps the first measure.  
I'll be listing new additions to the "AlphaNote Repertoire" here on this page.
Comments: Do you have a story or a question about music teaching? Share it!
Please note that all comments are moderated, and will not appear until I have approved them. Also, IF YOU ARE ASKING FOR MUSIC THAT IS NOT IN THE PUBLIC DOMAIN, YOUR REQUEST WILL BE IGNORED. That's pretty much any music written in the last 75 years...
What Other Visitors Have Said
Click below to see contributions from other visitors to this page...

Thank you Not rated yet
Hello, I have finally returned to playing the organ after a long, traumatic divorce. Music has made my soul come alive again thanks to your free music …