Reading Piano Music
Reading piano music is hard for beginners... As their teacher, you feel responsible if your piano teaching methods don't work miracles at once. Don't be discouraged if it seems to take a while for them to get the "code"! Check out a few ideas below for how to teach music notes to beginners, in a reply I penned to Nancy...
Nancy:

In September I decided to take a few piano students (4) after not teaching for 33 years! Three of my students (grades 4 & 5) are still uncertain about their note "names" even after teaching them the acronym for EGBDF and FACE, etc. I adore my students and we have a great student-piano relationship.

These girls are extremely bright academically speaking but I haven't been able to "unlock the key" for them in this arena of the "basics of music". I am very blessed to have these students and once they learn a song, they are excited.

However, they are very frustrated and I don't want them to give up. Do you have any suggestions for me to help them grasp the "note names" of lines and spaces"?
Dana:

Hi, Nancy,
I don't think you need to be worried about the girls' note-reading. I have found that the "Every Good Boy Does Fine" approach is only helpful for the occasional student, though I still keep it in my "How to Teach Music" tool bag & say it with all of my students.
Most of them don't actually start using that particular memory device on their own for 2 or 3 years!

What I have found much more useful for reading piano music are such activities as making sure they can draw Middle C, and the treble & bass clef signs in the correct places on their staffs.   
I have them identify the notes belonging with the "special" parts of the clef symbols - "G" for the place where the treble clef (also known as the G clef) crosses the second line 4 times, and "F" for the bass clef line surrounded by the 2 dots.

I like to use a lap-sized dry erase board and felt pens.  My "whiteboard" is blue, like the one here... I bought it at Fred Meyer's for only a few dollars.
Start them even with a single line and draw the Treble clef on it, for example, and say,
"What note goes on this line?"
Same with the bass clef -- the "fish" note is trying to swim in-between the "bubbles" (the 2 dots).   That's where "F" is.
Then draw the other lines parallel to complete the staffs.
Let them do some or most of the drawing -- they will remember much better.
These somewhat hasty drawings are what my students and I have been doing for staff and note review the last few weeks; one side of the board is for me, and the other side is for them.  Drawing on the board like this is better for retention than ANY of the games we play.  
What is surprising is to find that having your student merely copy a measure or two of music from their lesson book to the board will frequently reveal misunderstandings.  That activity will show you just what your student knows.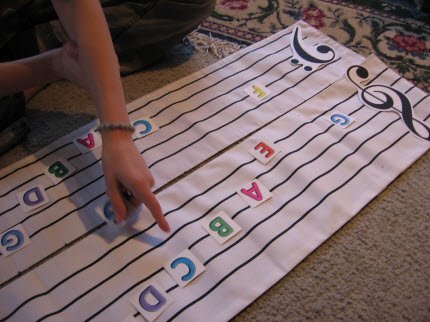 I suggest that you buy a cloth staff/keyboard from Neil A Kjos  -- I use my 2 cloth keyboards almost every week. Or construct your own out of butcher paper, as one of my student teachers did. (By the way, I bought my keyboards years ago from "Three Cranky Women Resources" - TCW Resources - for about $12 each.  Apparently they sold out to Neil A Kjos, and now 2 keyboards plus game supplies cost $49.99!!!)
Here you see one of my students placing little note-name cards on the cloth staffs. (I downloaded the PDF for the cards from Susan Paradis's site.) 
On the flip side of the staff is a keyboard. Use GAMES, lots of games, to approach the note-reading from different angles.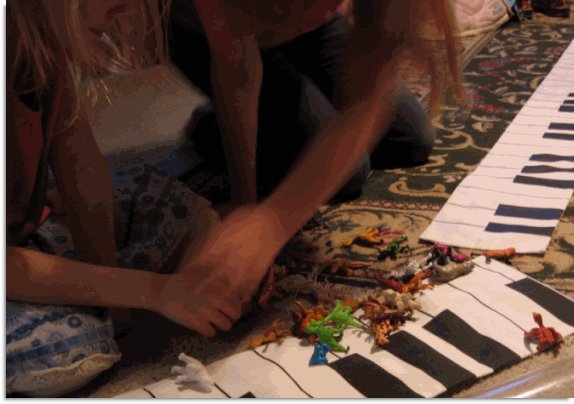 Make up your mind to accept the possibility that it may be a long time until there is fluency in reading piano music!
I would make sure that every week or so they are working on an extra-easy piece, or even one that they have already conquered. If you think that they can do it without tears (!), assign it to them to play 1 time a day saying the Note Names ALOUD -- then do it with them then & there at the lesson, and again the following week.
Don't assume reading piano music will come quickly. It is HARD, because so many things must happen at once... correct hand posture, correct fingers numbers, correct timing, correct dynamics, correct notes. I would settle for one thing at a time, or two or three -- when they are saying note names, let the timing go (or be very flexible).

When they begin a song, I usually go through a routine that helps them focus on where to place their hands. My routine is a mantra with gestures:

WHICH HAND?

WHICH FINGER?

WHICH NOTE?
I say "Which hand starts first?" and hold up both my hands, fingers spread. They copy me, then quickly pick out which hand must begin, dropping the other.
Then I say "Which finger (goes first)," wiggling my fingers. They peer closely at the music and wiggle the correct finger. I wiggle mine, too. Lastly, I ask, "Which NOTE?" and then we figure out what that note is, by one or more methods. Sometimes we might turn back a page to a previous song and find that same note.
Your own imagination, in combination with the music that they are using, will suggest many ideas for reading piano music.

Flashcards are the LEAST fun -- you can turn them into a game at the studio, but at home they will almost certainly be neglected unless you have got a parent firmly committed to the task of reading piano music!
Visit other music sites for ideas on how to teach music -- the Piano Adventures Forum is terrific, as is Susan Paradis's blog with all her music & resources for free. MusicMatters is great too! The "Great Music Resources" & "Helpful Piano Sites" blog rolls are on most of my pages in the right column... have a look. 

Don't feel like you are a bad teacher if it takes them a while to get fast at reading piano music, and never underestimate the value of games - get away from the piano and down on the floor!

I like to repeat a new game for a few weeks, because they will remember it from one week to the next and improve, carrying the skills into their playing. Sometimes you will decide that a particular game is a bit of a dud, but with a twist, it might work for another student's needs. Kids are all so different.
Remember that reading piano music is truly learning a new language, and it will be halting for a long time. Continue to quiz and re-quiz them on even the simplest things, such as "Where is Middle C?" (So many kids think it is a different note for the different hands.)

And since they can't read hard music yet, have fun with what they CAN do.
Also, introduce chord playing (see Greensleeves & Mary Had a Little Lamb) and composing, transposing, and using chords to play VERY SIMPLE leadsheets (such as Ode to Joy!) -- don't worry that they'll never learn to read if you allow them to play by ear.

Good luck!
---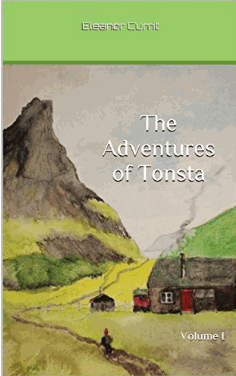 A perfect read aloud storybook
for little boys or girls. 
The Adventures of Tonsta highlight the travels of a very young boy with a good heart, who goes about helping folk in trouble.  
With a red cap on his head and a sack of tools slung over his shoulder, Tonsta seems to meet people in distress wherever he goes.
Lots of trolls in this book - including one who gives him a Christmas gift!
---
---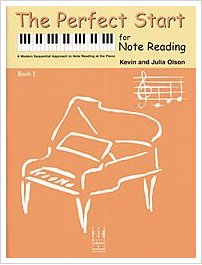 Joy:
I bought your Halloween Songs, wrote teacher accompaniment for some, and performed with 17 of my students in costume at an assisted living facility. It was a "win-win" situation. The kids and residents loved it and the parents were very pleased with the service aspect of their children's performance as well. Thank you for sharing these lovely pieces that introduce the minor key in a very simple and interesting way to early elementary students.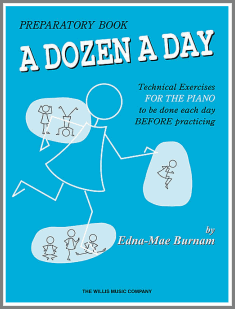 Lorelle:
My elementary students love the songs! One girl kept wanting me to play Cats at Night for her, and she was so excited to start learning it :)
Comments: Do you have a story or a question about music teaching? Share it!
Please note that all comments are moderated, and will not appear until I have approved them. Also, IF YOU ARE ASKING FOR MUSIC THAT IS NOT IN THE PUBLIC DOMAIN, YOUR REQUEST WILL BE IGNORED. That's pretty much any music written in the last 75 years...
Sign up for "Take Note!" to see what's new every month.
Search Music-for-Music-Teachers: