Chord Inversions for Piano
Chord inversions for piano are a KEY to the door into the world of classical music! These two very different sheets will get your students further along in this journey.
A very intuitive approach
Please scroll down the page for the download links.
This exercise sheet with its broken chords turns out to be FUN after a couple of weeks of familiarity...
Get out your metronome
The TIC... TIC... TIC... of your metronome works beautifully with the above sheet.  Once students have achieved accuracy with the fingering, hands separate, find a setting that matches their current speed with the quarter notes.  That's a little boring... but here is what's fun:
Set the metronome to 40 - 50 tics per minute, and show them how to match THREE BEATS to each tic.  Tic-2-3 Tic-2-3, Tic-2-3 Tic-2-3, Tic-2-3 Tic-2-3, Tic-2-3 Tic-2-3!  
This is such a fun challenge that I have had students really push themselves to put this exercise hands together and "beat" the metronome.
Approach inversions in stages
Initially my students will have been introduced to chord inversions by way of the Basic Chords and Scales sheet, found on this page. 

A more aggressive exercise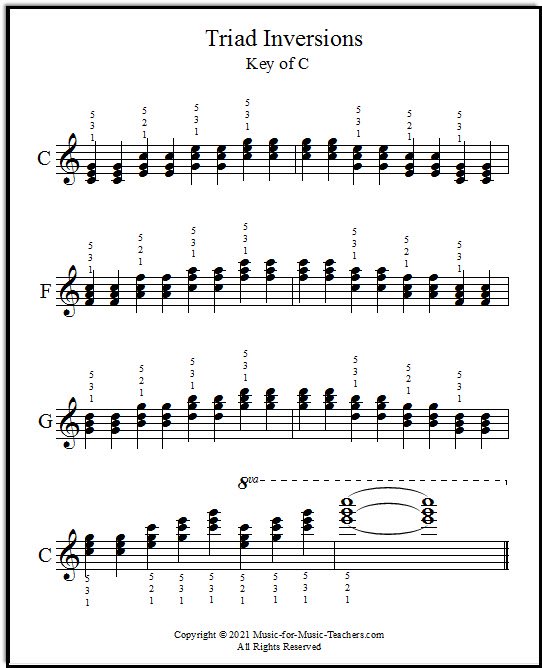 Please scroll down the page for the download link.
This sheet is harder - instead of one note at a time, one finger at a time, all 3 fingers must quickly adjust in this harder approach.
What makes this sheet so useable?
The fact that each chord is struck TWICE makes this exercise very approachable.  That gives students time to settle in and emphasize each chord before moving on.

First, the tonic chord (C) is moved up and back down, an octave.  Careful fingering is a necessity, to play these chords well.

Line 2 is the subdominant chord, the IV chord (F).  As with the C chord, each triad is played twice.
In line 3, the dominant chord, G, which is the V chord, is played in the very same manner.
Really - how often do you get to use the very top key?
In the last line, we have a REAL CHALLENGE - only the first two chords are the same, and then it's MOVE - MOVE - MOVE!  Each chord is struck just once, all the way up to the top note of the piano!  I'm predicting that this will end up being students' favorite part of the exercise.

Preparation for the classical repertoire
Both of these pages are very new exercises for my late elementary/intermediate students, but I'm rubbing my hands with glee, anticipating the improvement in their understanding of chords.
Some pieces are full of chord inversions, blocked and/or broken.  The Bach C Prelude comes to mind, and the opening measures of the Pachelbel Canon.  And Beethoven - LOTS of Beethoven!
I'm thinking that the two students I have working through the first movement of the Moonlight Sonata, for example, would have benefited from preparation with a whole set of sheets like this, one in each major and minor key.
And popular music, too...
One of my students who just started Moonlight Sonata is also playing an arrangement of "Clocks", which is full of repetitive and fun chord inversions.  Understanding what is going on seems to brings more pleasure to playing, and a quicker grasp of what's going on. 
I have another student working on an arrangement of "The Mandelorian", and I've seen him catch on immediately when I pointed out, "This is an F minor chord," etc.  (Look here to find major chords and scales.  You can find minor chords and scales on this page.)
The links to the chord inversions sheets:
Download Broken Chord Inversions Page
Download Chord Inversions for Piano in the key of C

Music for Music Teachers has other great free resources for teachers!  Take a look:


12 Major Scales and Chords for Piano 
12 Minor Scales and Chords for Piano
Basic Piano Chords & Scales - with lettered notes for beginners
Best Piano Books!  In my opinion & experience
Louie Louie  I, IV, V Chords - a fun way to cement the relationships of the 3 main chords in students' minds and fingers, too!
Note-Naming Worksheets - music with note names to help
Note-Reading Worksheets - charts with the notes placed on single staffs & the grand staff, with & without letters in the notes!
Piano Chord Chart for Major and Minor Chords 
Piano Chord Patterns - these are broken chord patterns
Piano Keyboard Diagrams - pdfs to print out
Piano Scales for New Beginners, with letters in the notes
Staff Paper pdfs - many kinds & clefs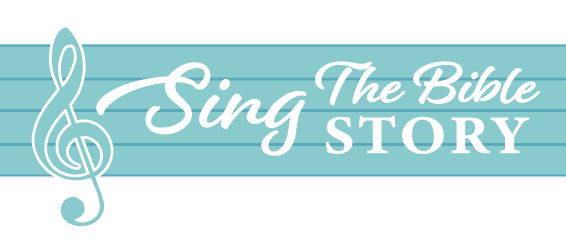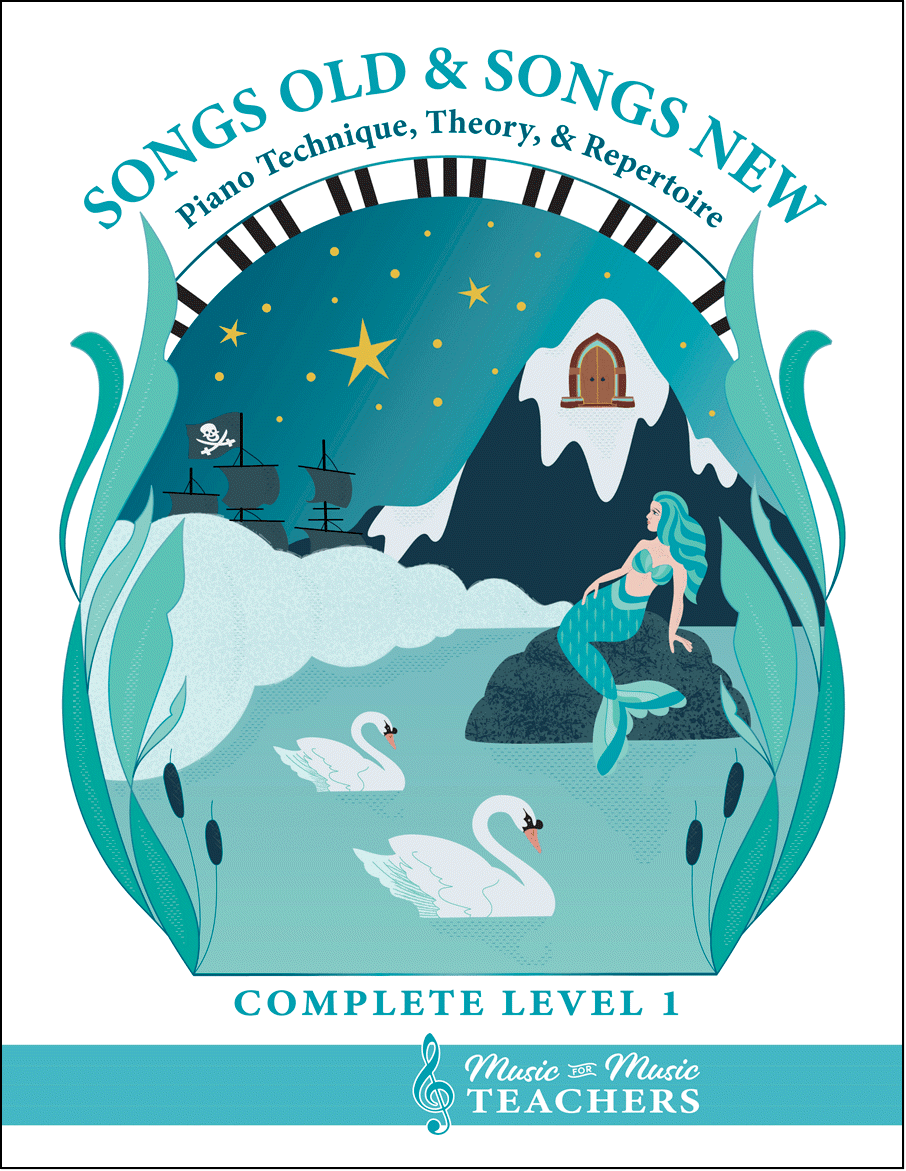 All the first-year material I give my beginner students. 
Piano keyboard sheets, scales, chords, note-reading exercises, and over 256 pages of music!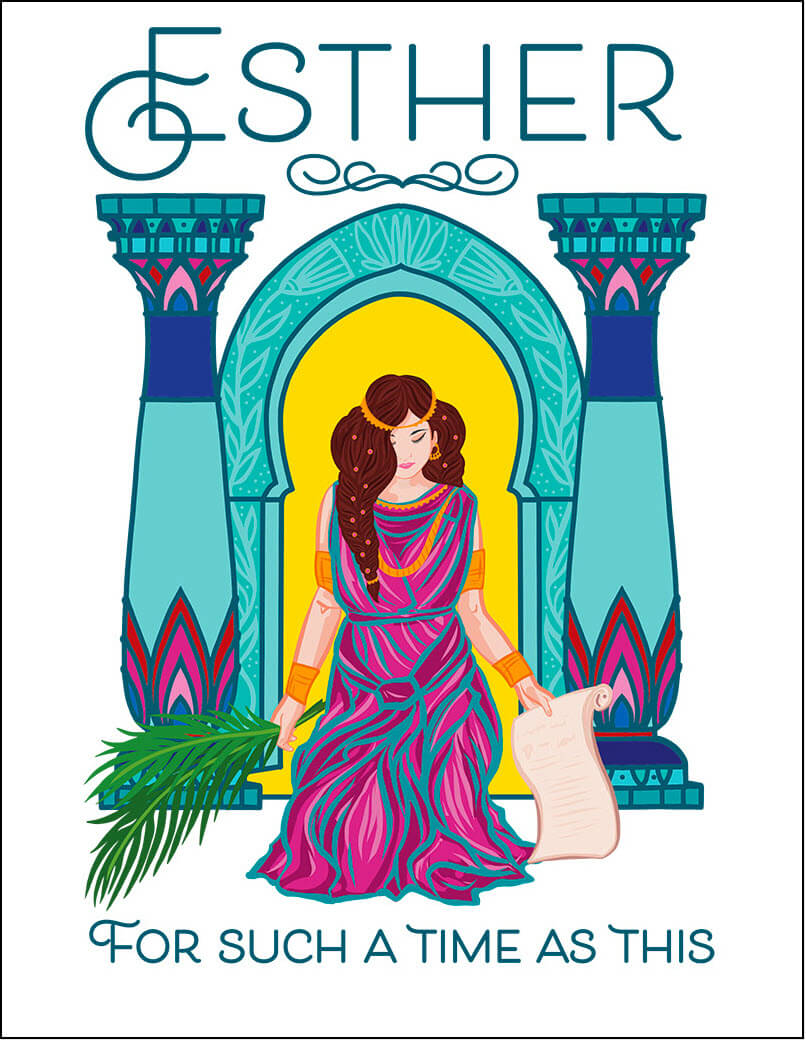 This beautiful song book for piano & voice "Esther, For Such a Time as This",  available as a digital download, tells the riveting story of the time when  Jews in ancient Persia faced a foe named Haman, and how a  brave young queen risked her life to save her people.
A good choice for a singing story-teller, an operatic group, a short theater production, or a class of children!
This book is also available from Amazon as a paperback.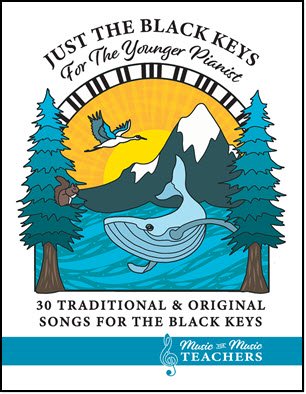 This book is available as a digital download  from this site.  Visit this page to see some free examples from the book.
It is also available from Amazon as a paperback!
This is the perfect easy start for little pianists.
And when they start reading white-key notes on the staff, this is a fun easy resource to say each week, "Choose a new black-key song at home this week and figure it out to show me next lesson!"  They will be spending more time at the piano.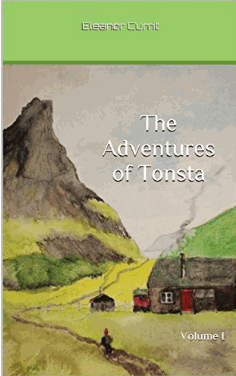 A perfect read aloud storybook
for little boys or girls. 
The Adventures of Tonsta highlight the travels of a very young boy with a good heart, who goes about helping folk in trouble.  
With a red cap on his head and a sack of tools slung over his shoulder, Tonsta seems to meet people in distress wherever he goes.
Lots of trolls in this book - including one who gives him a Christmas gift!
Sign up for "Take Note!" to see what's new every month.

About the Author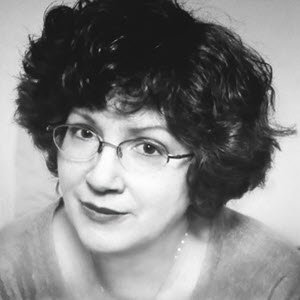 Hi, I'm Dana!  (Say that like "Anna".)  I'm the owner of Music-for-Music-Teachers.com, and a newer site, SingTheBibleStory.com.
Like some of you, I've been playing the piano since early childhood, and have added a few other instruments along the way, plus an interest in arranging and composing music.
You can find out more about me and the reason for this website at my About Me page.