5th Symphony Beethoven Music for Easy Piano
Even your littlest students can play the first notes of the 5th Symphony by Beethoven!  

And your older students can explore a bit more of this greatest of Beethoven classics, with 3 different arrangements.  
All three arrangements come with a "helper" version which makes use of lettered notes. 

Scroll down the page for the links to these free downloadable PDFs.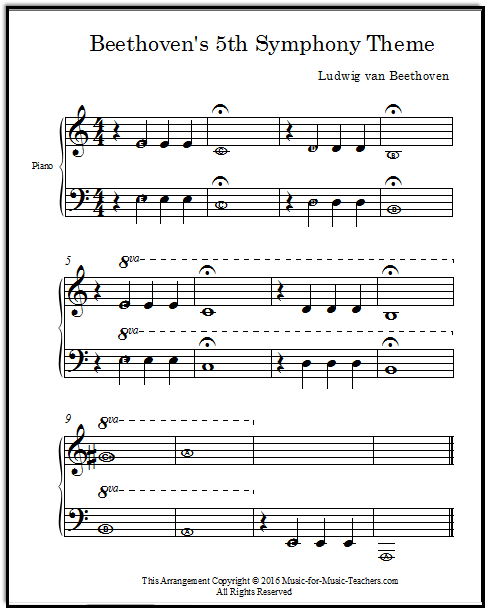 Like my arrangement of Bach's Toccata in Dm, this easiest version of the Beethoven classic is just the main theme, repeated in a couple octaves.

Above, that is the Vienna Philharmonic Orchestra with Christian Thielemann, conductor, and closeups of the musicians.

Like all arrangements of great classics, my arrangement involves a bit of personal interpretation.  

This is MY OWN impression of the highlights of Beethoven's Fifth Symphony theme.  You will certainly find other very different arrangements out there in Music Land!

Now this next version is quite a step up, because the right hand has to stretch, lift, or do finger replacement in a few measures.  
Is this a first year, or even second year arrangement?  Probably not.  But if a student wants to play this Beethoven classic, they will work on the tricky parts.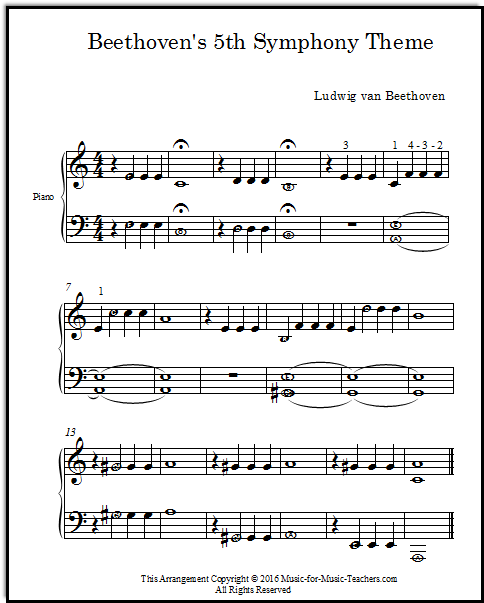 I placed some suggested fingering where the first hurdle occurs.  
You can show this to your students over and over again, and they may still find their own (different) solution.  
Therefore, I didn't bother placing fingering at the second hurdle!  If they use it the first time, they will likely try it the second time.  

Finger replacement can be fun!  Approach it as if it is a feat of gymnastics - you may convince your students to master it.

Here is the longest arrangement, below, with two pages.  
Several of my students have performed this setting at recitals - it is very exciting!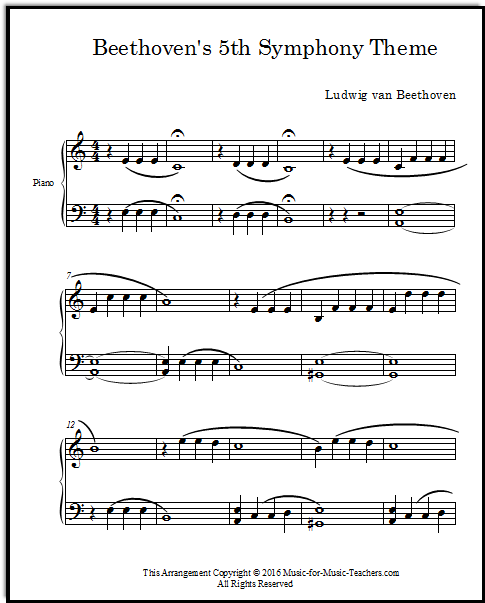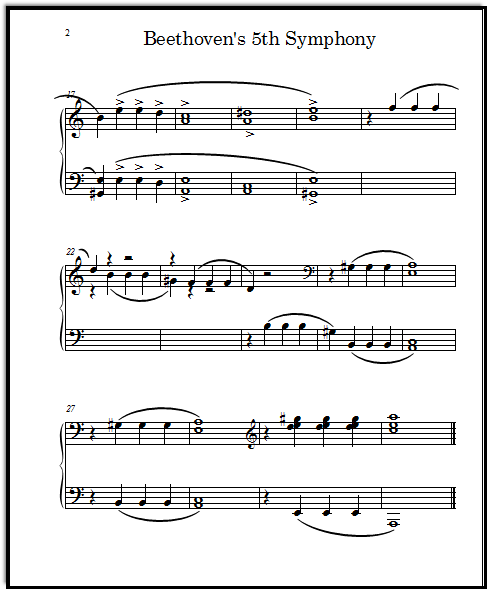 Here are the links for the very easiest arrangement, with all lettered notes, and with just a few lettered notes:
Download Beethoven's 5th with helper notes, as shown above

Download 5th symphony of Beethoven for young beginners, all alphanotes
The links for the more difficult one-page arrangement:
Download Beethoven's 5th theme, longer

Download 5th Symphony theme, with helper notes as shown

The links for the long two-page version, below:
Download Symphony No. 5 Beethoven, longest version

Download Beethoven music, longest arrangement, with a few helper notes

After hearing the actual symphony, you know that any arrangements fall short.  
Still, it is a bit of magic for young pianists to be able to hold some of that massive sound in their own grasp!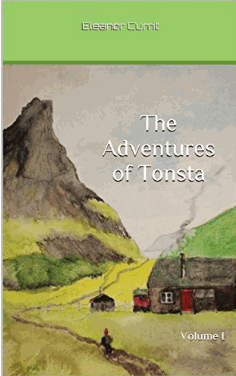 A perfect read aloud storybook
for little boys or girls. 
The Adventures of Tonsta highlight the travels of a very young boy with a good heart, who goes about helping folk in trouble.  
With a red cap on his head and a sack of tools slung over his shoulder, Tonsta seems to meet people in distress wherever he goes.
Lots of trolls in this book - including one who gives him a Christmas gift!
Sign up for "Take Note!" to see what's new every month.

About the Author


Hi, I'm Dana!  (Say that like "Anna".)  I'm the owner of Music-for-Music-Teachers.com.

Like some of you, I've been playing the piano since early childhood, and added a few other instruments along the way, plus an interest in arranging and composing music.

You can find out more about me and the reason for this website at my About Me page.