The First Noel
Free Christmas Sheet Music
The First Noel free Christmas sheet music for late elementary/early intermediate piano, in the keys of C and D. Now with 3 different simple arrangements of a favorite old Christmas song.
One of the arrangements uses plain block chords, but the other two versions of this free Christmas song use broken chords, both small triads and broken chord stretch (the 1, 5, and 8 of the scale).
Here is The First Noel by Daisuke Minamizawa, 2009
First, show your student the C scale fingering. Then help them figure out this melody, maybe just using the keys, and not the sheet music! With The First Noel, it is really fun for them to see how much of this melody is really nothing but a scale!
Download The First Noel with blocked triads
Now turn it into a duet, with you on the melody, and stop and wait in each measure as they find the I, IV, and V chords.
Then have them add the I, IV, and V chords.

See if they can GUESS what the chords are, just by the sound (this is apart from the music, just playing by ear). Then go on to part 2, and tell them about the iii chord (Em).
Then, even if they're not ready to play the hands together, make a duet out of it by having them "break" the chords while you play the melody.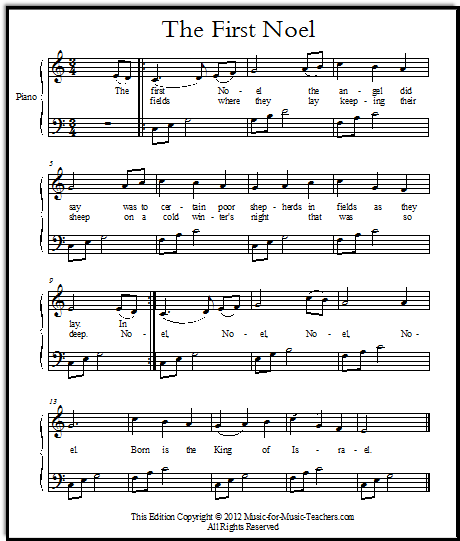 Download free Christmas sheet music with simple broken triads
When students can coordinate right hand melody with left hand broken chords, they are ready for the broken chord stretch version of these free Christmas songs. The piece sounds more complicated than it really is, because the two hands "take turns" moving, for the most part.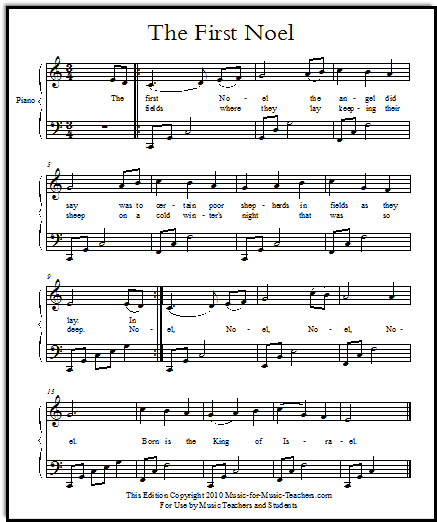 Print free online Christmas music in key of C

Print free piano sheet music for First Noel in key of D

The key of D is not as easy, but is even more beautiful (in my opinion!). Your students will enjoy moving into this key after learning it in C, because they will already have the fingering down, but it will sound fresh and feel interesting (and make them feel clever!) when they so easily add the two sharps to the melody.
---
---
Get word of the latest sheet music at Music for Music Teachers?  Sign up for "Take Note!"
Comments
Do you have a funny story about this music, or does it remind you of something you'd like to share with other readers? Do you have a question? I'd love to hear it!

Please note that all comments are moderated, and will not appear until I have approved them. Also, IF YOU ARE ASKING FOR MUSIC THAT IS NOT IN THE PUBLIC DOMAIN, YOUR REQUEST WILL BE IGNORED. That's pretty much any music written in the last 75 years...
What Other Visitors Have Said
Click below to see contributions from other visitors to this page...

My C Melody Saxophone
Hello, I've always loved the sound of the saxophone, so I decided to buy one. I have never learned how to read music, so this was going to be an adventure …
John
This music is very beautiful, one of the best of traditional Christmas carols ever. What makes it even greater is its spirituality. Thank you for this …