Free Classical Sheet Music
Egyptian Dance
This free classical sheet music, Egyptian Dance, is arranged for elementary level piano players. It has a beautiful eastern-sounding melody, and a very easy left hand.
It sounds much harder than it is! So much mystery is hinted at in this suggestive melody, that some students will almost catch their breath, eyes wide, as you play it for them.
The version of "Egyptian Dance" played by the fellow in the video below is very close to mine, though in a different key.  I like the way he has chosen a percussive sound for the left hand: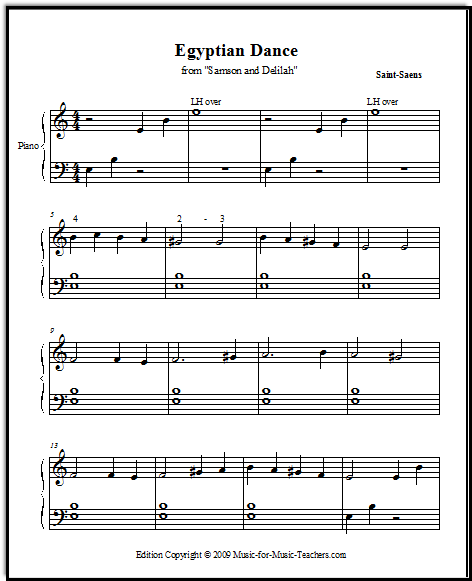 One of the things that make this free classical sheet music so mesmerizing is the lowered 2nd step of the scale that first occurs in measure 7.  After playing a bit of the melody for my piano student, I then play the pentatonic scale E-F-G#-A-B up and back down, lingering for a moment on the F before resolving onto the E again.  That is almost a "shiver" moment!
Don't believe me?  Try it - there is something about that neither-major-nor-minor collection of notes that evokes faraway, mysterious lands... camel caravans, and desert sands.  Being carried off into the imagination is one of the reasons young kids desire to start music lessons in the first place!
So... having begun with easy open 5ths on page 1, the LH (left hand) then breaks away into a 5-1-5-1 pattern on page 2, which gives an exciting feeling of movement and urgency to the repeated melody.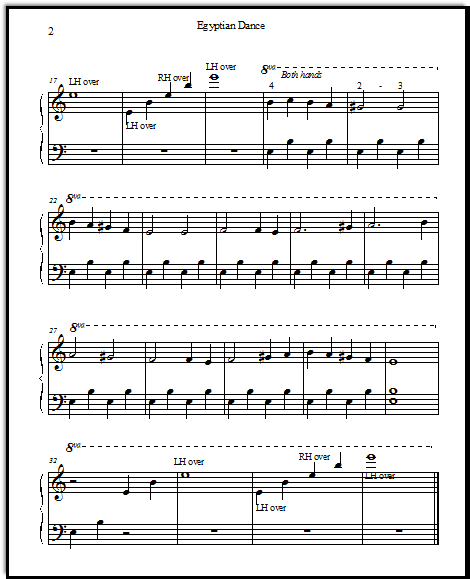 Download free classical sheet music Egyptian Dance 
Measures 9-12 seem problematical for some students... the timing throws them off. I've found it's no good pressing on to page 2 until the rhythm of page 1 is thoroughly mastered.  Use conducting gestures along with the power of your voice to HOLD or move the rhythm along; whatever it takes to make the rhythm feel natural to your student.
The first measure of line 2 always baffles students as well: What is finger FOUR doing there?  Lots of drawing of note names, and circling of finger numbers ensues.  Therefore, I've finally made a HELPER version of this song with a few lettered notes - download it here!
Though I haven't put any expression markings in this classical sheet music, there's lots of room for nuance and passion! The pedal can add a mysterious flavor, but is easy to overdo when the LH is moving every beat.

I hope you and your elementary level students enjoy Saint-Saens' Egyptian Dance! 
---
A perfect read aloud storybook
for little boys or girls. 
The Adventures of Tonsta highlight the travels of a very young boy with a good heart, who goes about helping folk in trouble.  
With a red cap on his head and a sack of tools slung over his shoulder, Tonsta seems to meet people in distress wherever he goes.
Lots of trolls in this book.
---
---
Comments: Do you have a story or a question about music teaching? Share it!
Please note that all comments are moderated, and will not appear until I have approved them. Also, IF YOU ARE ASKING FOR MUSIC THAT IS NOT IN THE PUBLIC DOMAIN, YOUR REQUEST WILL BE IGNORED. That's pretty much any music written in the last 75 years...
Sign up for "Take Note!" to see what's new every month.
Search Music-for-Music-Teachers: