Vocal Warm Up Routine
Animal Sounds for Beginning Singers
Vocal warm up routines that are fun make it easier to remember singing exercises from week to week, and at home in-between singing lessons. Vocalises using animal sounds employ a lot of the "primal" sounds beginning singers need to learn how to use. 
Of course, it makes beginning singers feel very silly to make sounds like a puppy... or a mosquito... or a gorilla. It breaks the ice, though, if you the teacher act like it's all fun, and do the warm up along with them. (I do a LOT of singing along with my students - especially the shy beginners.)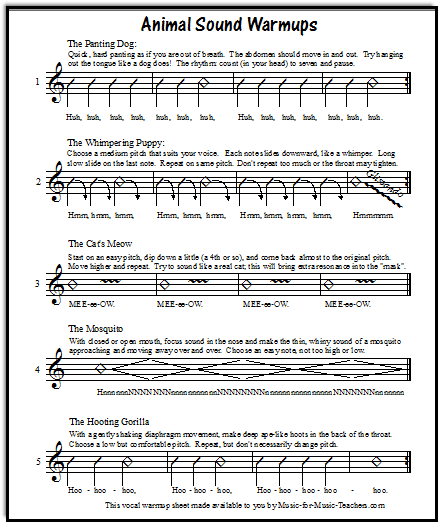 Download Free vocal sheet music Animal Sounds vocal warm up routine 

I always tell them, "This is going to make you feel very silly -- but part of becoming a singer is being willing to look silly!"  Eventually, they will get used to singing crazy sounds, especially with you, the teacher, or fellow students, joining in.  It will become second nature.
The real purpose of these singing exercises is to get children singing sounds and experiencing what may be new sensations in their facial "mask" (especially the nose and cheekbones) and throat. With the Panting Dog exercise, they should feel the rise and fall of the diaphragm dramatically.
I hope you find these singing warm-ups helpful in your studio!
---
---
Get word of the latest sheet music at Music for Music Teachers?  Sign up for "Take Note!"
Comments: Do you have a story or a question about music teaching? Share it!
Please note that all comments are moderated, and will not appear until I have approved them. Also, IF YOU ARE ASKING FOR MUSIC THAT IS NOT IN THE PUBLIC DOMAIN, YOUR REQUEST WILL BE IGNORED. That's pretty much any music written in the last 75 years...
What Other Visitors Have Said
Click below to see contributions from other visitors to this page...