Easy Piano Sheet Music Free
The Snake Charmer
Easy piano sheet music FREE, The Snake Charmer with left hand chords! This melody is mysterious-sounding and FUN.
New words for this old song
The Snake Charmer has a familiar melody, but new (and polite) words. Because this minor-key melody has a history as one of those school playground songs with less than refined lyrics, it took me some time to decide to give it to students.  But since the tune is so great, The Snake Charmer deserved to be rescued, so that is what I have attempted here!  I believe I have succeeded, because students work hard at this song: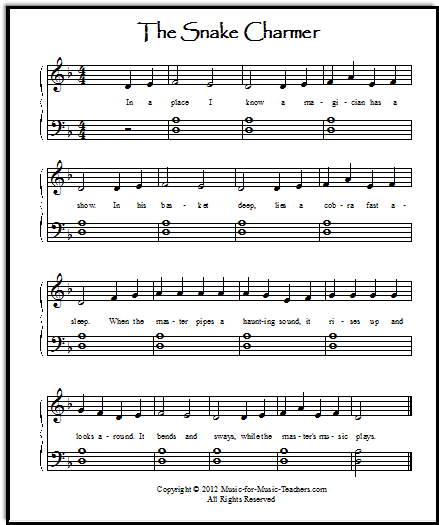 Download easy piano sheet music free Snake Charmer

The melody of Snake Charmer takes skill
If your students are just starting to coordinate left hand chords with right hand melody, this easy piano sheet music will almost certainly be a hit.  But this song is way beyond the ease of putting hands together that occurs in Mary Had a Little Lamb.
Reading and executing thirds or "skips"

What places The Snake Charmer in a different category?  The little skips (3rds) and melodic turnarounds.  I like to say to my students, "This is one of those twisty-turny melodies that tries to fool you! Be on the alert!" 
Practice method: "Castle Practicing"
This easy piano sheet music is fun to practice low ("down in the dungeon"), in the middle of the piano ("the castle throne room") and way up high on the piano also ("the tower").
I call this "Castle Practicing," and if I quickly sketch a castle on my student's lesson sheet, it means I want them to practice it this way, for a repetition of 3 times. (You could also add "drawbridge" and "Queen's Chambers" for more repetitions.) This is handy for a student who isn't actually reading words yet!
Don't let a good song go to waste - now transpose it!

The Snake Charmer is also a good song for transposing, as the melody all fits into a 5-finger pattern. Transposing a minor melody seems harder for young musicians than transposing a major song. 

A real snake charmer

Wow! Look at this fellow handle a real live snake! This is not the tune "Snake Charmer," but this the story that the song tells:

---
A perfect read aloud storybook
for little boys or girls. 
The Adventures of Tonsta highlight the travels of a very young boy with a good heart, who goes about helping folk in trouble.  
With a red cap on his head and a sack of tools slung over his shoulder, Tonsta seems to meet people in distress wherever he goes.
Lots of trolls in this book.
---
---
Comments: Do you have a story or a question about music teaching? Share it!
Please note that all comments are moderated, and will not appear until I have approved them. Also, IF YOU ARE ASKING FOR MUSIC THAT IS NOT IN THE PUBLIC DOMAIN, YOUR REQUEST WILL BE IGNORED. That's pretty much any music written in the last 75 years...
Sign up for "Take Note!" to see what's new every month.
Search Music-for-Music-Teachers: