Piano Music for Beginners
Dueling C's
Piano music for beginners, free!
"Dueling C's" has the thumbs competing for Middle C in a short, fun, and very easy song. The right and left thumbs engage in a conversation that quickly becomes an argument, then resolves when both thumbs end on Middle C. 
Students sometimes think there are different Middle C's for each hand
I have found that most young kids need A LOT of reminding that "Middle C" is the same place on the piano for both hands. Sometimes they'll do just fine until they finish their Primer Method book, then once their hands are no longer customarily playing in that Middle C "position," they want to play Left Hand Middle C down an octave, so their hands maintain a space between!
Don't be afraid of LOTS of review
For little guys, it can take lots of reminders, flashcard activities, games, and songs like "Dueling C's" to make Middle C solid.
A conversation between the thumbs turns into an argument: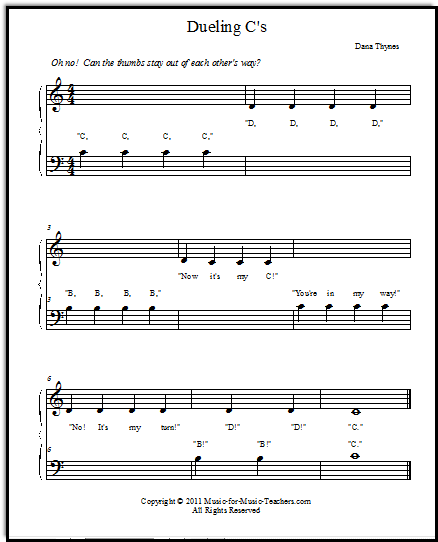 Download piano music for beginners "Dueling C's" 

Finding the starting notes is the hardest part of playing a song for many beginners
Frequently when students begin a song around Middle C, they'll hunt visually then settle the hands an octave apart!  Even if we have searched the music for "clues" and determined that one or both hands use Middle C, they may set their hands onto different Cs.
So I may have a running dialogue with them as they are hunting, that goes like this:
"Okay -- C is our starting note... looking for Middle C... there are LOTS of C's on the piano... Hmmm... which one is MIDDLE C?" and that always helps them focus on finding the correct C.  Usually I point to the piano brand name invariably located just above the Middle C area of the fallboard above the piano keys.
I hope your students have fun with this free piano sheet music for kids! 
---
---
Get word of the latest sheet music at Music for Music Teachers?  Sign up for "Take Note!"
Comments: Do you have a story or a question about music teaching? Share it!
Please note that all comments are moderated, and will not appear until I have approved them. Also, IF YOU ARE ASKING FOR MUSIC THAT IS NOT IN THE PUBLIC DOMAIN, YOUR REQUEST WILL BE IGNORED. That's pretty much any music written in the last 75 years...