Skye Boat Song 
Free Vocal Sheet Music
Free vocal sheet music "Skye Boat Song" from Scotland, a song about Bonnie Prince Charlie. With free guitar acoustic tablature as well as standard notation. This song makes a great lead sheet for piano, too!

A bit of Scottish history...
This is a beautiful song about the Jacobite Rebellion, and the fateful battle at Culloden in 1745. Here Scotsmen made a last heroic stand for Scottish freedom from English rule by fighting for Charles Stewart - Bonnie Prince Charlie.
The Scots longed for a ruler who was true-born, of the royal line. There was terrible slaughter at Culloden, the Scots beaten by the English with their muskets and cannon, but Prince Charlie escaped to the Isle of Skye with the help of Flora MacDonald, a Jacobite heroine.
She dressed him up as her maid, and he almost gave himself away, acting like a man! (To learn more about the time of the Jacobites, look for the beautiful and powerful -- if violent and vulgar -- movie Rob Roy with Liam Neeson, and also a much more child-friendly movie with beautiful music and characters, Lorna Doone.  Both movies are action-packed. And both have memorable soundtracks.)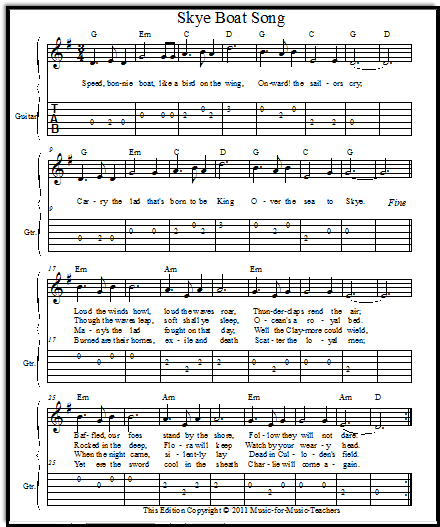 Download Skye Boat Song with free guitar acoustic tablature 

You can hear a snippet of a choral version of this song at Folk Songs for Two by Jay Althouse (nice because they can be male/male, female/female, or male/female). This book has a high number of very likeable songs -- good for a group of singers.  And this particular song has been very popular with my voice students.

Here is a list of the songs (this song among them):
All Through the Night, Amazing Grace, Camptown Races, Cindy, He's Gone Away, Poor Wayfaring Stranger, Scarborough Fair, Shenandoah, Siyahamba, and the VERY POPULAR Homeward Bound.
Here is a performance of that duet arrangement by Jay Althouse: 
Notice that the words are not the traditional lyrics I have here, but an alternate set of lyrics penned by Robert Louis Stevenson, author of Treasure Island and Kidnapped.
Now I just have to mention a very beautiful song called Bring Me a Boat by Kate Rusby which is startling similar to Skye Boat Song, but with the first interval turned upside-down: 
This song is copyrighted, but her CD, Underneath the Stars, can be found on Amazon.com. 

 Another version on Irish Tin Whistle: 
Comments
Do you have a story or even a question about this vocal piece? Share it!

Please note that all comments are moderated, and will not appear until I have approved them. Also, IF YOU ARE ASKING FOR MUSIC THAT IS NOT IN THE PUBLIC DOMAIN, YOUR REQUEST WILL BE IGNORED. That's pretty much any music written in the last 75 years...
What Other Visitors Have Said
Click below to see contributions from other visitors to this page...