America the Beautiful
America the Beautiful is a patriotic song that stirs the emotions.  It is also hard to sing well!  Download it FREE in six keys, as a lead sheet, or with piano accompaniment/four-part harmony.
It's a good audition song

Because the intervals of the chorus of this popular patriotic song are very tricky to sing without a piano accompaniment (for younger and less experienced singers, at any rate), it makes a good High School Choir audition song.
                                  America the Beautiful in the Key of A 

                                 America in the Key of Bb 

                                 Download in the key of B 

                                 Download in the key of C 

                                 Download in the key of D 

                                 Download in the key of G 
Try singing it a capella

Oh boy.  NOW students can't hide!  Here in Alaska, the audition for being part of the state and local Honor Choirs calls for a couple of major scales, a descending arpeggio (broken chord), and one verse of THIS song, sung with no accompaniment.
What makes this song so difficult to sing without an accompaniment? I think it is the melody's use of almost all the intervals, and the temporary modulation (change of key) at the end of line two.  Most particularly, starting at the end of line two and into line three, your students who are plagued with intonation weaknesses may have trouble getting back into the tonic.  Those large intervals (4ths, 5ths, and 6ths) in rapid succession are tricky!
Here is what the four-part harmony (or piano version) looks like: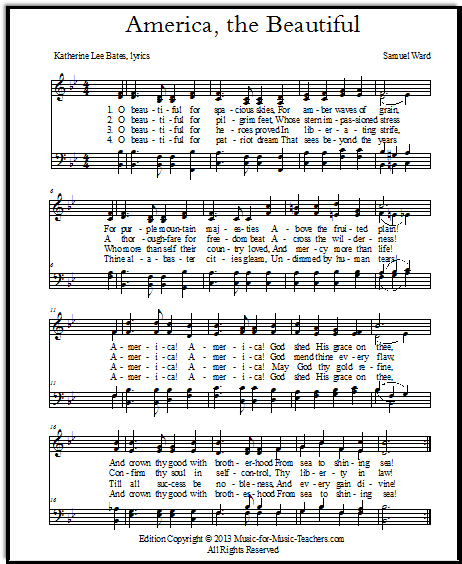 Download "Oh Beautiful for Spacious Skies" for piano in key of A
Download America for piano in key of Bb
Download in key of G (lowest key)
Ray Charles' version of America the Beautiful always ends radio talk show host Mark Levin's Friday evening shows:
I do recommend having your voice students work with this piece, even if vocal auditions are a long way off!
Comments
Do you have a funny story about this music, or does it remind you of something you'd like to share with other readers? Do you have a question? I'd love to hear it!

Please note that all comments are moderated, and will not appear until I have approved them. Also, IF YOU ARE ASKING FOR MUSIC THAT IS NOT IN THE PUBLIC DOMAIN, YOUR REQUEST WILL BE IGNORED. That's pretty much any music written in the last 75 years...