Pachelbel's Canon in D
for Beginners
The Pachelbel Canon in D for beginners, free printable sheet music -- only the versions on this page are arranged in the key of C!  Also check out the new long & fancy version for early notereaders.
This is the beautiful music, I tell young beginners, that you often hear in movies and in real life at weddings, when the bridesmaids are walking down the aisle. Floating-on-clouds music!

For beginners, this piece really needs to be in the key of C. Here are the two simplest versions I offer. (Go to the page with the longer, harder versions.) 

And frankly, they are not all that simple. Make sure your student has familiarity with chords, and with the high treble clef notes before they start this piece ---things will go much more smoothly. 

Scroll down the page for the free downloadable links for all four arrangements:
You may not like my fingering!  So here is the same piece, with no fingering written in: 

I suggest playing it as a duet at lessons for a couple of weeks (each of you on just one hand, then switching), and sending them home with only the chords for their weekly assignment. Why?

Here's what a kid still scared of high treble clef notes may do once they get home:

They may look at the bold letter "C" above the first treble clef note, vaguely remember that you did say the first RH (right hand) note is a "C"...

...and so the RH note in the second measure (there where the letter G appears) MUST be a G...

...even though it doesn't sound right... and the note in the third measure must be A, etc. 

Yes, IT HAPPENS. Even with students who know better. And they play it that way all week, firmly cementing in that habit.

If they don't fall into that trap, they may slip into the other pitfall of assuming the piece is in "C position," not bother to read the notes, and just play "5, 4, 3, 2, 1" etc. starting on "g, f, e, d, c" all week long. 

Yuck! They'll wonder how the piece lost its magic.
What makes the Canon doubly hard for beginners is that the LH keeps moving around -- not like their lesson books!
Kids usually EXPECT to place both hands in "C position" -- that is, with both hands' bottom fingers on C.
You can blame their method book for this shortcoming, or you can blame yourself! But it's a problem you have to work at again and again with young notereaders.

Try assigning just the first 8 measures in week one, chords only. Make sure those chords are solid before starting the RH.

This second arrangement is still easy, but very pretty with the broken chords.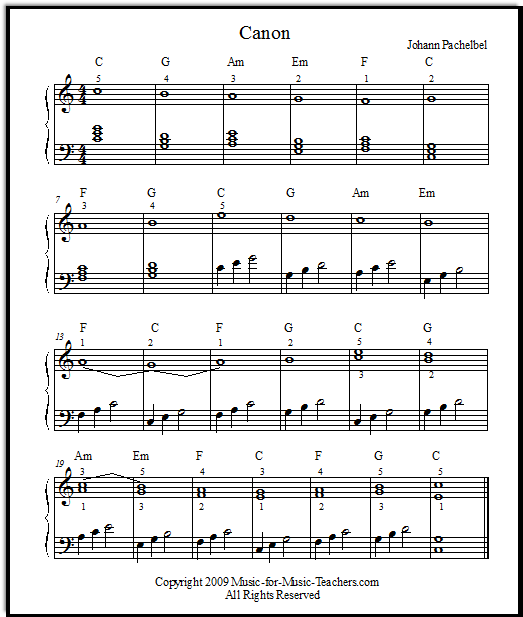 And here is the same version, but without any fingering: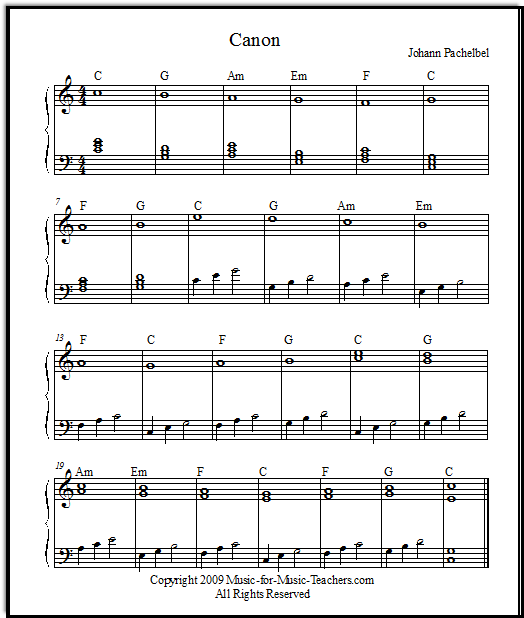 The plain chords in left hand arrangement:
Download free printable sheet music for Canon in D. This version has my favorite fingering. 
Download free sheet music with NO fingering 

The broken chords arrangements:
Download free printable sheet music version with broken chords 

Download broken chord version with no fingering 

Even if you approach this piece slowly, it doesn't have to be boring. Even if your beginning student plays just the chords, the Pachelbel Canon is still beautiful. 

Sign up for "Take Note!" to see what's new every month.