Pachelbel's Canon in D
for Beginners
The Pachelbel Canon in D for beginners, free printable sheet music -- only the versions on this page are arranged in the key of C!  
Also check out the long & fancy version for early note-readers.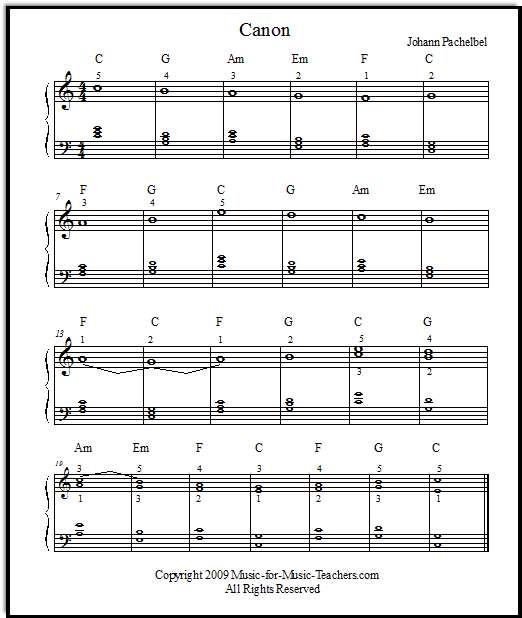 Please scroll down the page for the download links.
Beautiful and familiar
This is the beautiful music, I tell young beginners, that you often hear in movies and in real life at weddings, when the bridesmaids are walking down the aisle. Floating-on-clouds music!

For beginners, this piece really needs to be in the key of C. Here are the two simplest versions I offer. (Go to the page with the longer, harder versions.) 

First, kids must understand chords
And frankly, they are not all that simple.
Make sure your student has familiarity with chords, and with the high treble clef notes before they start this piece ---things will go much more smoothly!

You may not like my fingering!  So here is the same piece, with no fingering written in: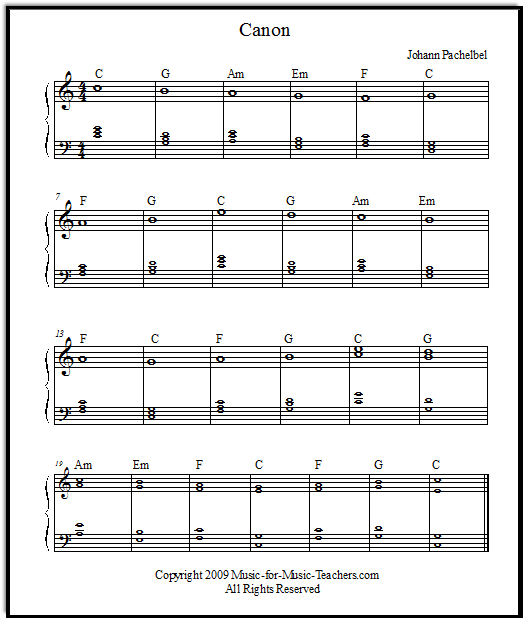 Please scroll down the page for the download links.
I suggest playing it as a duet at lessons for a couple of weeks (each of you on just one hand, then switching), and sending them home with only the chords for their weekly assignment.
Why?

The chord symbols may be a problem.
Here's what a kid still scared of high treble clef notes may do once they get home:

They may look at the bold letter "C" above the first treble clef note, vaguely remember that you did say the first RH (right hand) note is a "C"...

...and so the RH note in the second measure (there where the letter G appears) MUST be a G...

...even though it doesn't sound right... and the note in the third measure must be A, etc. 

Be sure they understand the meaning of the chord symbols over the staff
Yes, IT HAPPENS. Even with students who know better. And they play it that way all week, firmly cementing in that new bad habit.  Or they just won't play it!

If they don't fall into that trap, they may slip into the other pitfall of assuming the piece is in "C position," not bother to read the notes, and just play "5, 4, 3, 2, 1" etc. starting on "g, f, e, d, c" all week long. 

Yuck! They'll wonder how the piece lost its magic.
What makes the Canon doubly hard for beginners is that the LH keeps moving around -- not like their lesson books!
It's good to shake out of the routine
Kids using certain method books frequently EXPECT to place both hands in "C position" -- that is, with both hands' bottom fingers on C.
You can blame their method book for this shortcoming, or you can blame yourself! But it's a problem you have to work at again and again with young note-readers.

Start with Left Hand alone
Try assigning just the first 8 measures in week one, chords only. Make sure those chords are solid before starting the RH. Then switch hands.  You will most likely see them WANTING to put it hands together, if they have a good grasp on those left hand chords.
Adding broken chords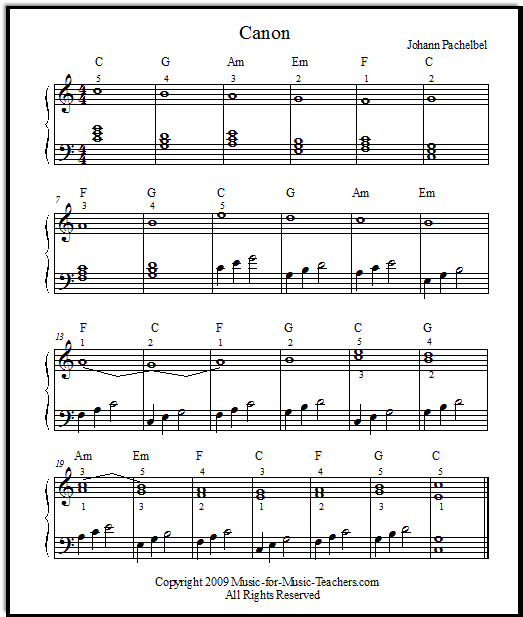 Please scroll down the page for the download links.
Easy-peasy!  The kids already know the chords... now just "break" them - play the triads one note at a time.  SO PRETTY.  Even high-energy kids will enjoy this piece.
The same arrangement minus fingering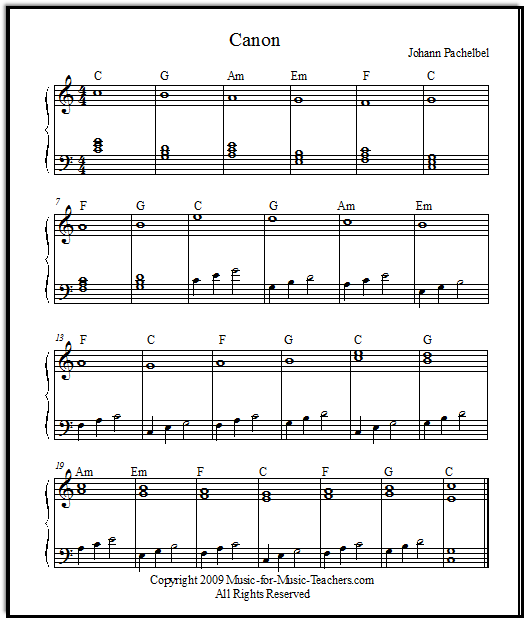 Please scroll down the page for the download links.
Even if you approach this piece slowly, it doesn't have to be boring.
And even if your beginning student plays just the chords, the Pachelbel Canon is still beautiful. 
The links to the arrangements with solid left hand chords:
Download free printable sheet music for Canon in D. This version has my favorite fingering. 
Download free sheet music with NO fingering 
The broken chords arrangements:
Download free printable sheet music version with broken chords 
Download broken chord version with no fingering 
Were you hoping for a more difficult arrangement of the Pachelbel Canon?
Was this level of the Canon not quite what you were looking for?   I actually have FOUR DIFFERENT WEB PAGES dedicated to the Pachelbel Canon.  
Check out the graphics and links below:
Here are the 4 different "Canon" pages on this website:
1.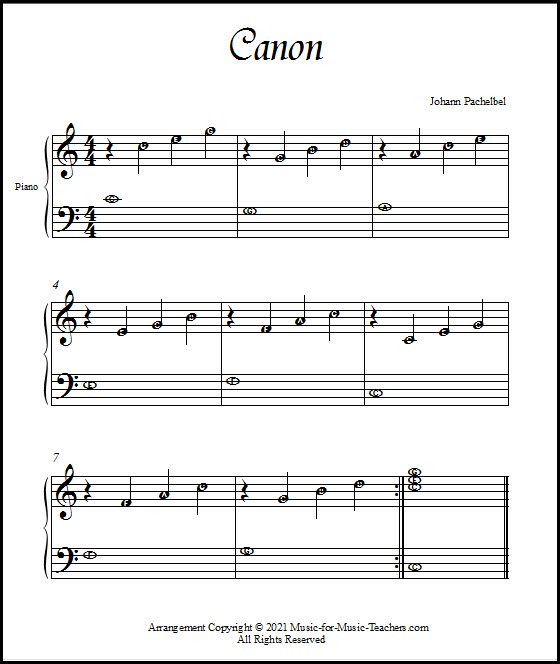 This page, Canon Sheet Music, features the very easiest arrangements of all, including a student-teacher duet.
Many versions, some with lettered notes.
2.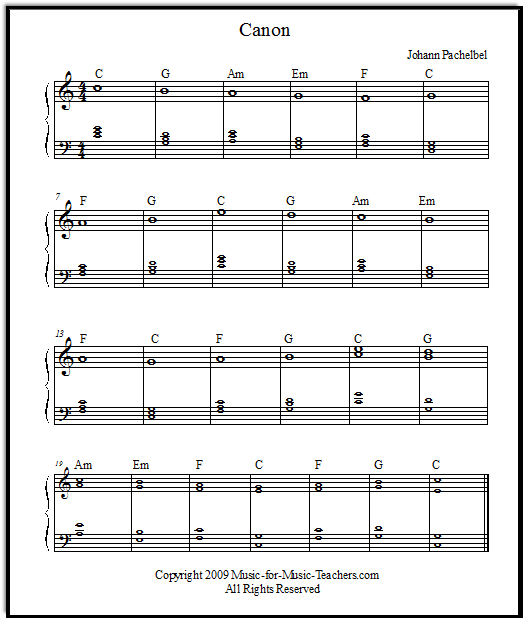 On the web page called simply  "Canon,"  the basic melody of the Canon is paired with left hand triads, solid (as shown) and also broken.  
The chord symbols are helpful for some students.  But  confusing for others!  It is important for pianists to learn to interpret chord symbols.
3.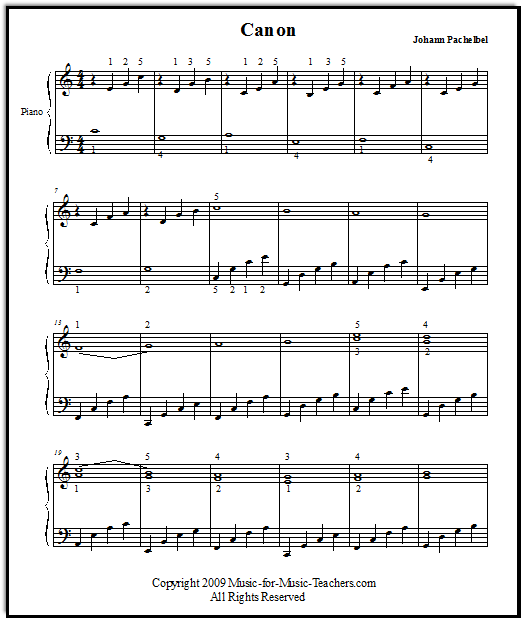 Here on this page called "Pachelbel Canon," you will find the Canon as you are accustomed to hearing it played at weddings!
Several arrangements including the original key of D.
4.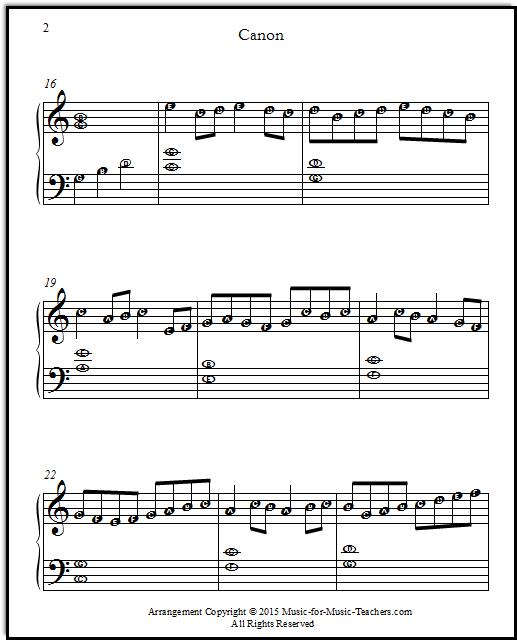 Here is the last Canon web page, called "Canon in D sheet music."
Page 2 of this arrangement is shown...
On this page of the Canon in D sheet music, you'll find ALPHANOTES (letters inside the music note-heads) in some or all of the note-heads of the music.
This arrangement was written to help an early reader conquer this piece.  
It worked.
Check out a fancy version of the Pachelbel Canon that even elementary students can play!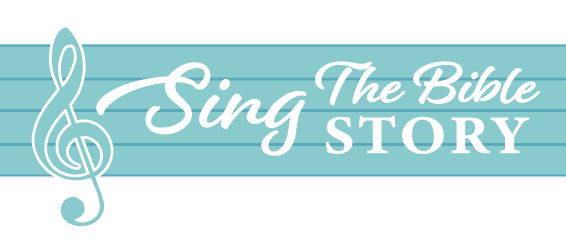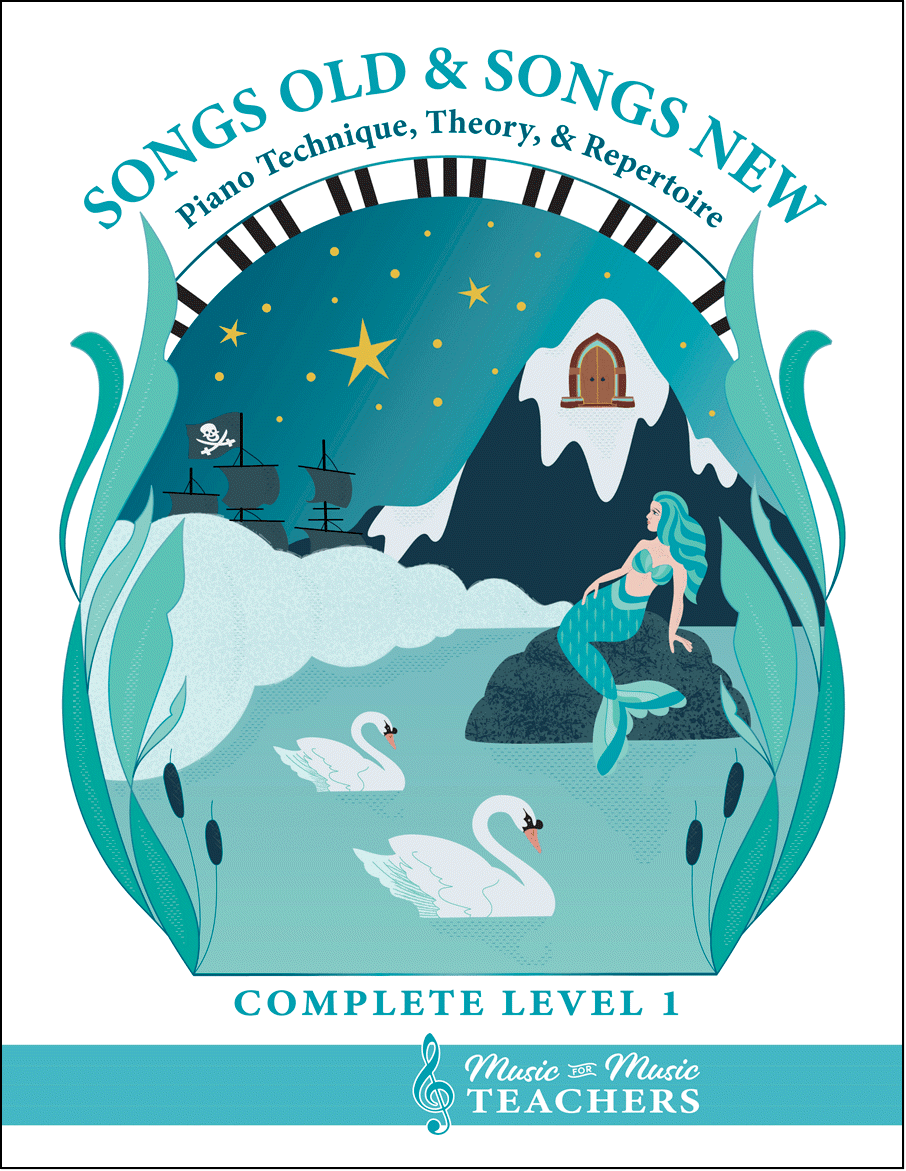 All the first-year material I give my beginner students. 
Piano keyboard sheets, scales, chords, note-reading exercises, and over 256 pages of music!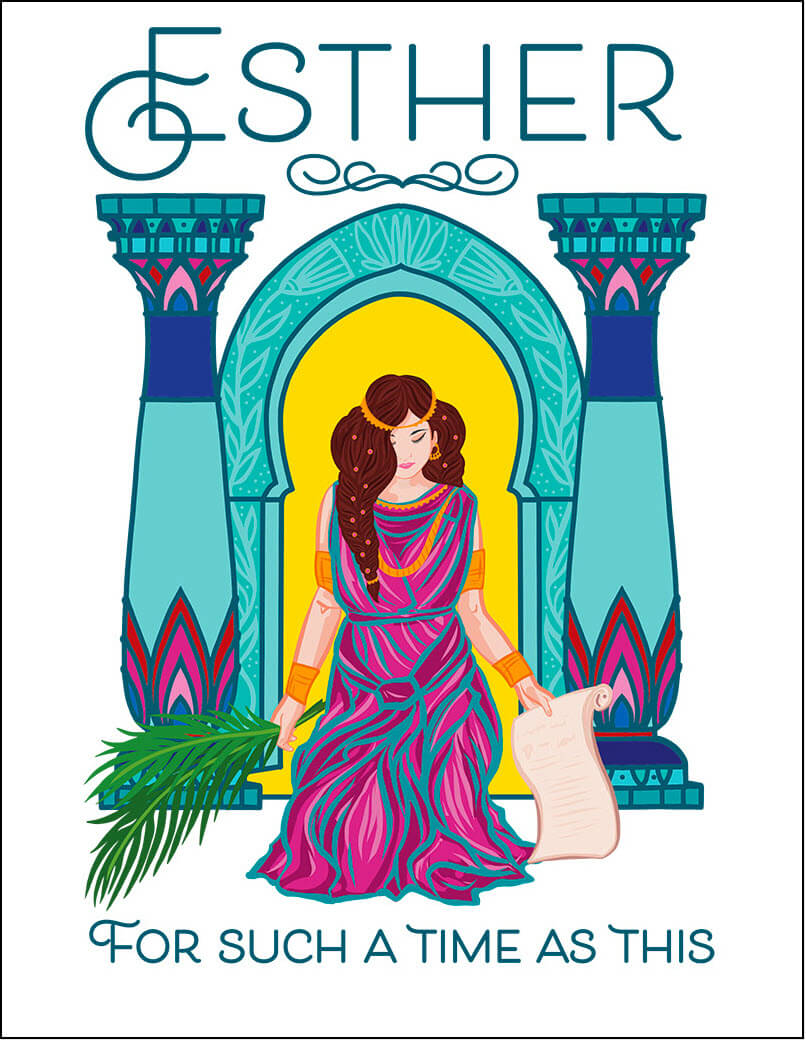 This beautiful song book for piano & voice "Esther, For Such a Time as This",  available as a digital download, tells the riveting story of the time when  Jews in ancient Persia faced a foe named Haman, and how a  brave young queen risked her life to save her people.
A good choice for a singing story-teller, an operatic group, a short theater production, or a class of children!
This book is also available from Amazon as a paperback.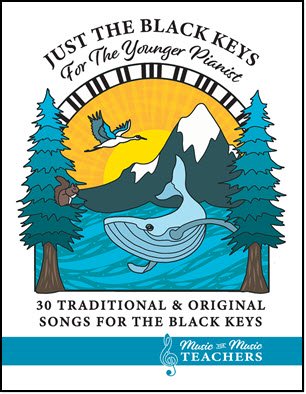 This book is available as a digital download  from this site.  Visit this page to see some free examples from the book.
It is also available from Amazon as a paperback!
This is the perfect easy start for little pianists.
And when they start reading white-key notes on the staff, this is a fun easy resource to say each week, "Choose a new black-key song at home this week and figure it out to show me next lesson!"  They will be spending more time at the piano.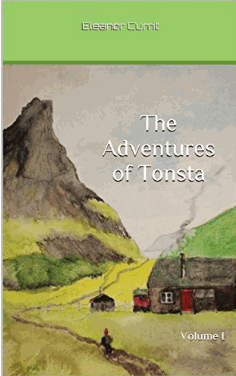 A perfect read aloud storybook
for little boys or girls. 
The Adventures of Tonsta highlight the travels of a very young boy with a good heart, who goes about helping folk in trouble.  
With a red cap on his head and a sack of tools slung over his shoulder, Tonsta seems to meet people in distress wherever he goes.
Lots of trolls in this book - including one who gives him a Christmas gift!
Sign up for "Take Note!" to see what's new every month.

About the Author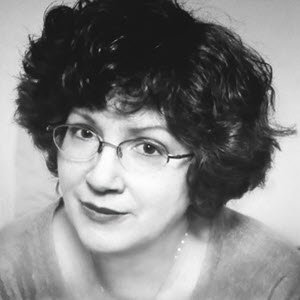 Hi, I'm Dana!  (Say that like "Anna".)  I'm the owner of Music-for-Music-Teachers.com, and a newer site, SingTheBibleStory.com.
Like some of you, I've been playing the piano since early childhood, and have added a few other instruments along the way, plus an interest in arranging and composing music.
You can find out more about me and the reason for this website at my About Me page.