Free Guitar Chord Chart Blanks
Free guitar chord chart blanks can come in real handy. When you want to show your students that music isn't MAGIC, but there is some sense to how it all comes together, there is nothing quite like writing it out on paper yourself -- or THEM writing it out. Tablature and staff paper are the same way.
When you want to show your guitar student a different way to do a chord, write up some guitar scales, or how to turn a minor chord into a seventh, or a set of power chords, or a special set of chord progressions, or... well, there's just a lot of reasons to have blank guitar chord templates around.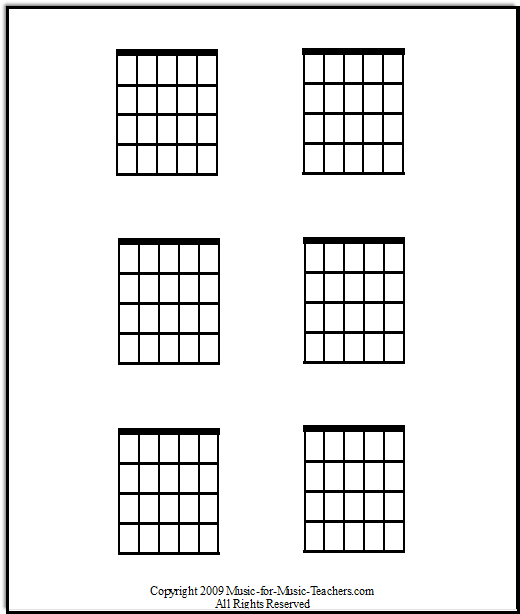 Download free printable guitar chord chart to fill in yourself

The page above would be a good size for showing a 12-Bar-Blues set of chords (I have used it for that)!
If you are after printable charts with the chords already marked in the fretboards, have a look at these giant guitar fretboard chord charts, for beginners.
Some very handy sheets that all my guitar students keep in their notebooks are six-chords-per-sheet charts which show the main "families" of chords (Key of C chords, Key of D chords, etc.).

Then, for those learning to read regular notation, here is a a note-by-note guide that matches staff notes to guitar tablature notes. 


The page below has enough room on it for a whole octave of 2-string chords ("power" chords). Writing the fretted notes in with pencil really helps bring home to students just how chords are built. It goes without saying (here I am, saying it) that kids need to have an understanding of the musical alphabet, and how the notes on the neck of the guitar correspond to it (especially the "missing" notes between E and F, and between B and C).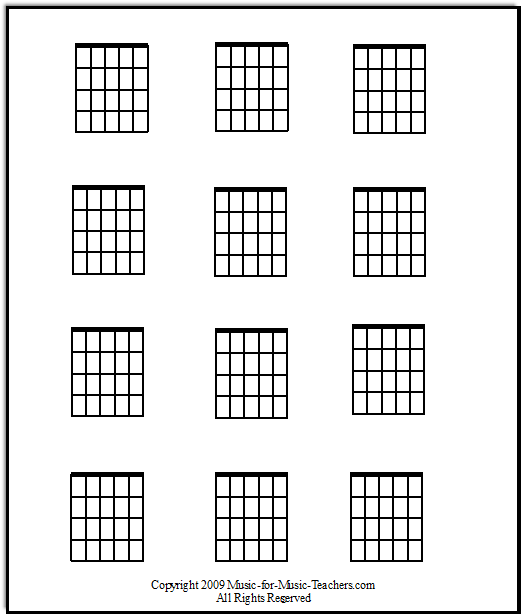 Download smaller guitar chord chart

Another possible use for these sheets is in testing your students on their chords. Can they write in the missing notes on the correct strings? Or can they circle the primary bass note of the chord?
Let me know if you figure out any other uses for blank chord template pages!
---
---
Get word of the latest sheet music at Music for Music Teachers?  Sign up for "Take Note!"