Free Christmas Songs
Wexford Carol in Four Keys
Free Christmas songs for voice and piano Wexford Carol, offered here in four keys. I first learned to love this unusual Irish carol listening to it on a Windham Hill recording, Celtic Christmas III. The Oxford Book of Carols claims that the tune was taken from a traditional singer in County Wexford, but that the words seem to have come from England. 
Here is the incomparable Alison Krauss singing the Wexford Carol (in the key of Eb) with cellist Yo Yo Ma preparing Songs of Joy & Peace in the recording studio. This is a fabulous recording.

Now, the way I have arranged this song is quite different than you will see in the Oxford Book of Carols.  I decided to set the song with 4 quarter notes per measure rather than 3. It is much easier to read and the rhythm SOUNDS just the same. Since it is an Irish carol, both the rhythm and harmony seem fluid as Celtic music sometimes does.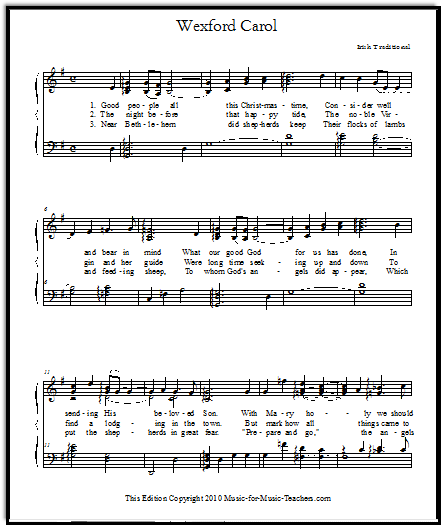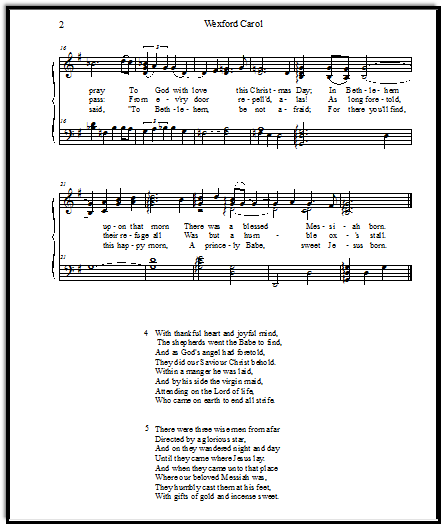 Download free Christmas music Wexford Carol in Key of G 

Download Christmas music Wexford Carol in Key of F 

Download Wexford Carol in Key of E 

Download free Christmas songs Wexford Carol in Key of Eb 

The piano accompaniment doesn't look that hard, but it is riddled with unexpected stretches, chord inversions, and rhythmic alterations.  Not for beginners, in other words.  But a lovely arrangement, if I say so myself! 
For young vocalists, these free Christmas songs offer challenges as well. Some of the odd intervals (part of the odd charm of this song), LONG phrases,and the range make this song tricky to execute smoothly for beginning singers.  The range is not so unusual - an octave and a half - but frequently young singers are only comfortable at one end of their range and not the other!  
A couple of Christmases ago one of my young singers insisted she HAD to perform this song, and we kept choosing different keys, trying to accommodate the lack of volume in the bottom part of her range, while still trying not to get so high that the words came out with a strangled sound on the top!  (You know what I mean... vocalises with vowels are EASY to do even up high, then you start adding in song lyrics, and it's a different story altogether!)  
So the solution is... to wait until a voice is trained and strong enough?  Well, sometimes I have a hard time saying no!
I know you will love this beautiful Christmas carol! 
Sign up for "Take Note!" to see what's new every month.