Free Christmas Sheet Music
Greensleeves Solo
Free Christmas sheet music Greensleeves, perhaps one of the best-recognized and most beloved of Christmas songs, is here presented in a simple but full-sounding SOLO arrangement your students will enjoy. Download this printable piano music now.
Of course, "Greensleeves" wasn't always the Christmas song, "What Child is This." Perhaps the English-speaking world is the only place you will find this a familiar song during the holidays.

This brilliant free arrangement for beginners, below, comes from Tabitha in the Netherlands. I love the way she has contrived to get all the harmonies in there without needing to change hand positions.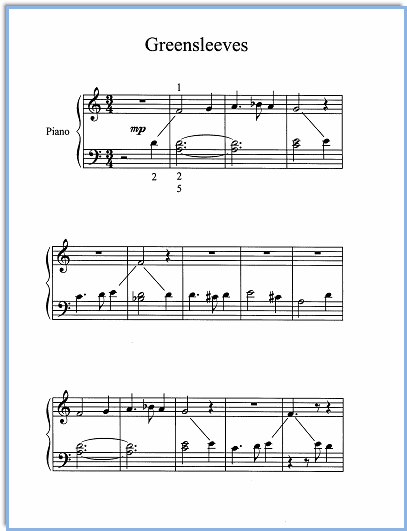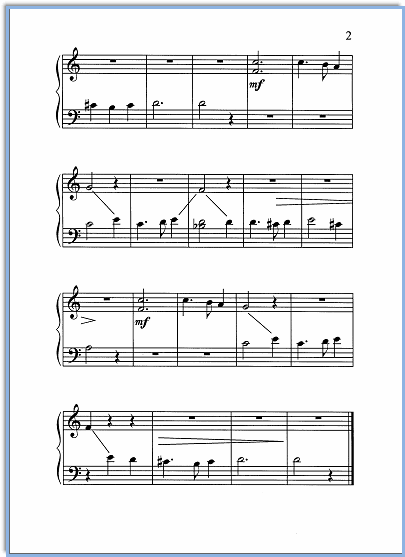 Download free Christmas sheet music Greensleeves

This version of the Greensleeves melody is easier to play than it is to read, because of the sharps and flats.  Sharps are tricky enough for beginners, and flats too, but when you mix them together in the same song or even in the same measure, piano students sometimes do crazy things (such as make the white notes black and the black notes white!)

Fortunately, in this free Christmas sheet music arrangement we meet only one black note at a time.  Still, this piece may benefit from a teacher-student duet: trade off the hands with each other!  And ask if your pupil can figure out what the chord harmonies are... Can they spot "Little" B flat?  The broken chord A, descending?  Hardest of all, perhaps, the D minor inversion which comes in measure 2?

I also have a duet version of Greensleeves available -- kids can play the rich-sounding secondo as soon as they can play broken chords.

Encourage your students to use the pedal for a rich sound, lifting every two measures (for the majority of the music).
Enjoy Tabitha's beautiful version of Greensleeves!
---
A perfect read aloud storybook
for little boys or girls. 
The Adventures of Tonsta highlight the travels of a very young boy with a good heart, who goes about helping folk in trouble.  
With a red cap on his head and a sack of tools slung over his shoulder, Tonsta seems to meet people in distress wherever he goes.
Lots of trolls in this book.
---
---
Sign up for "Take Note!" to see what's new every month.
Search Music-for-Music-Teachers: