The Beatitudes: Matthew 5:3-12
A Song for Church
This song, the Beatitudes, Matthew 5:3-12 in the KJV Bible, is not a paraphrase or altered version of the words spoken by Jesus.  It is carefully crafted to include ALL the Beatitudes. There is sheet music here for voice, piano, guitar.
A song borrowed from another website
This music was written (by me) for my other website, but I would like it to have a wider audience, because there aren't any other versions of the Beatitudes out there like this, that use the actual language of scripture.  Though the melody is somewhat irregular, as psalter songs tend to be, it is strong and very sing-able, and actually rather beautiful!
The piano arrangement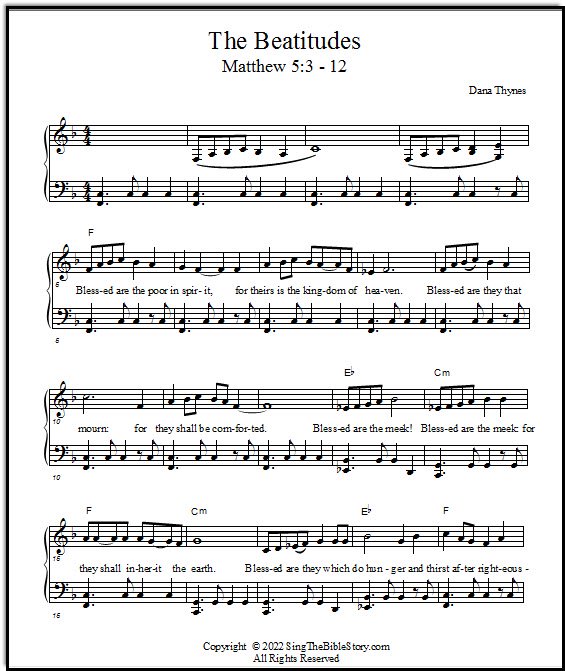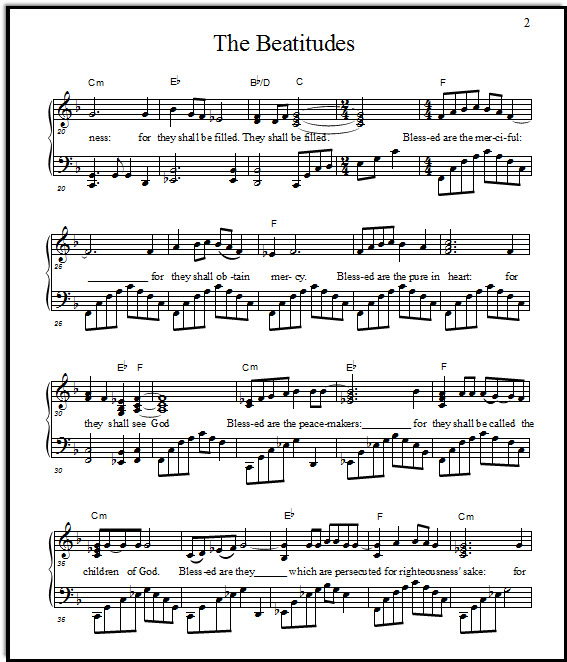 Please scroll down the page for the download links.
Guitar tabs for the Beatitudes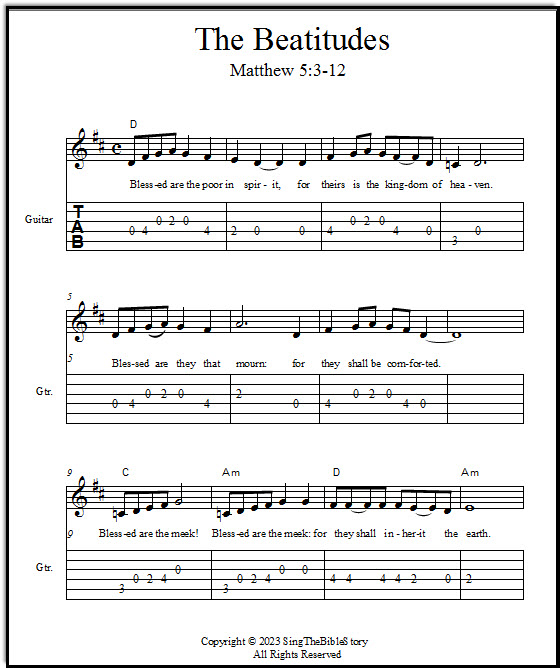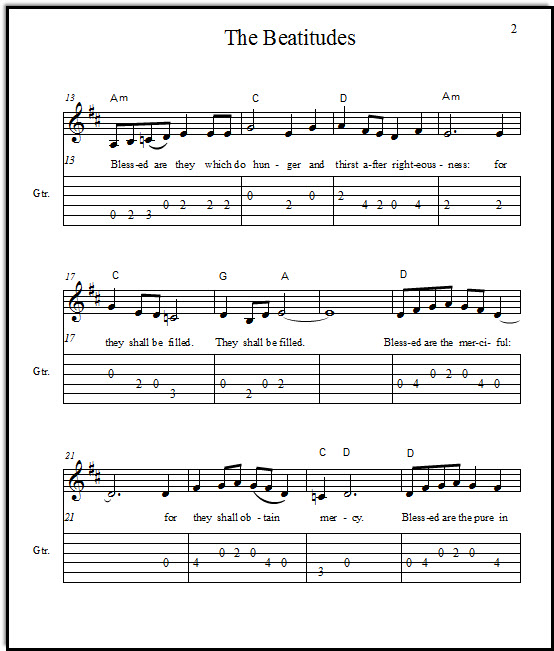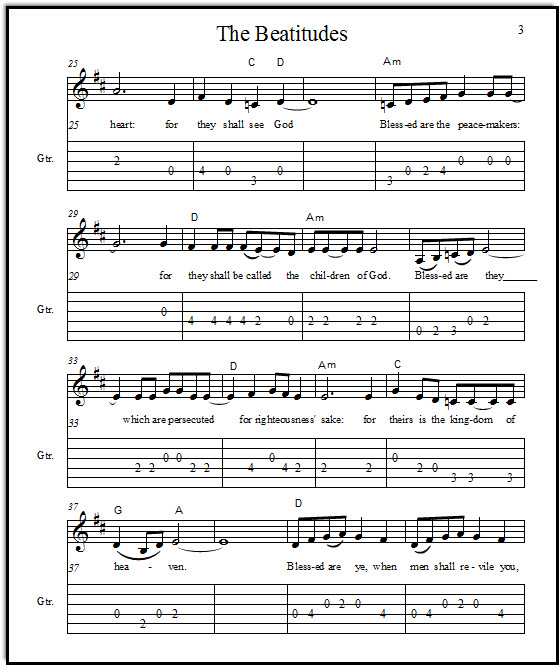 Please scroll down the page for the download links.
You might think it is odd not to have the guitar tabs in the same key as the piano arrangement.  But while the key of F is easy on the piano, and a good spot for the voice even on a Sunday morning, it can be a tricky key for some guitar players, especially beginners.
However, with a capo, guitar players can perform a little magic, using their key of D chords but SOUNDING like they are in the key of F.  On the piano keyboard, you can easily see that F is 3 (three) half-steps up from D, so you can clamp a capo 3 frets up, and automatically be in the key of F, using the chords that go with the D arrangement.
In the key of F, you would be having to struggle, maybe, with Cm, Eb, and Bb chords!  And F itself is not a very fun chord for beginning players.
The Beatitudes lead sheet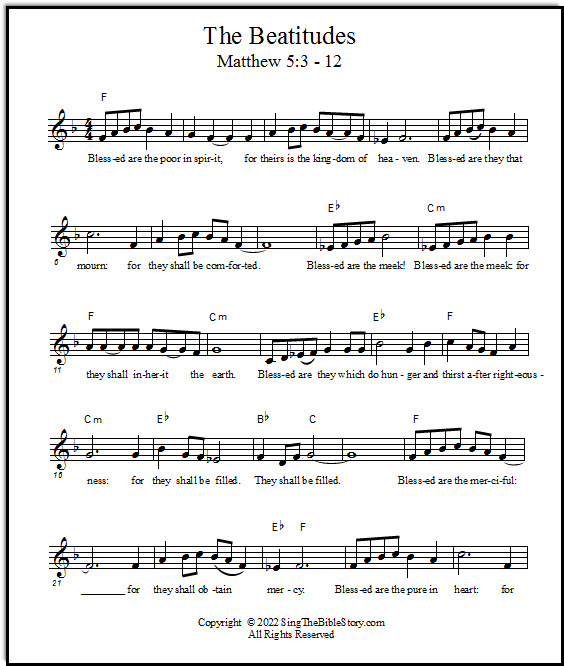 To learn more about the Beatitudes of Matthew 5:3-12, you might want to check out the page on my other site.
The link to the Beatitudes piano arrangement:
Download The Beatitudes, Matthew 5:3-12 music for piano 
The link to the guitar tabs:
Download guitar tabs for Bible verses for encouragement, the Beatitudes
The link to the lead sheet:
Download lead sheet with Bible verses for strength lyrics
Colleen:
Hi Dana,
THANK YOU!!!! The music I have found here is right in my wheelhouse: romantic, melodic, beautiful and arranged for intermediate level. Black is the Color of my True Love's Hair, Emma.... I often have a hard time finding just the right music that fits the style I'm looking for at the right level. Again, THANK YOU!!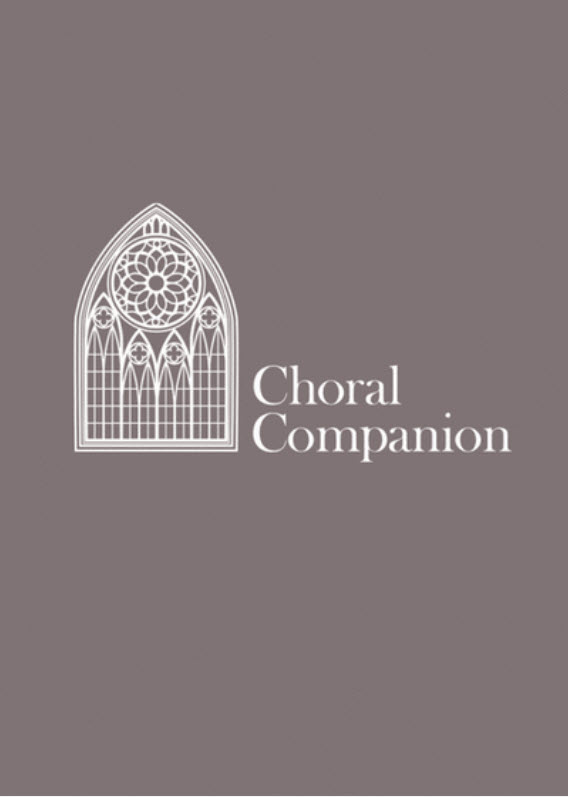 MusicGardenStudios:
This is an absolutely wonderful site!
As a voice and piano teacher looking for enrichment material for beginners, I have found your collections to be comprehensive and purposeful. It is clear that you are a wonderful musician and educator. Thank you!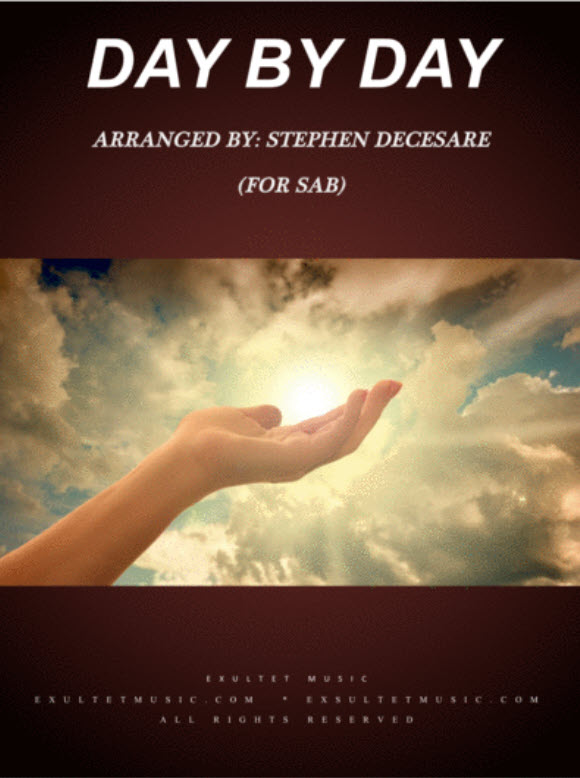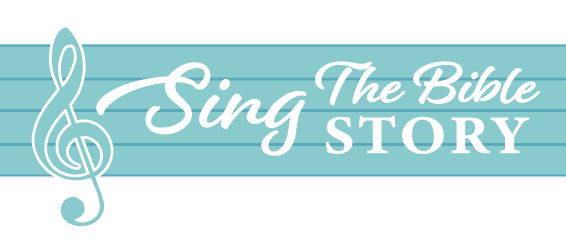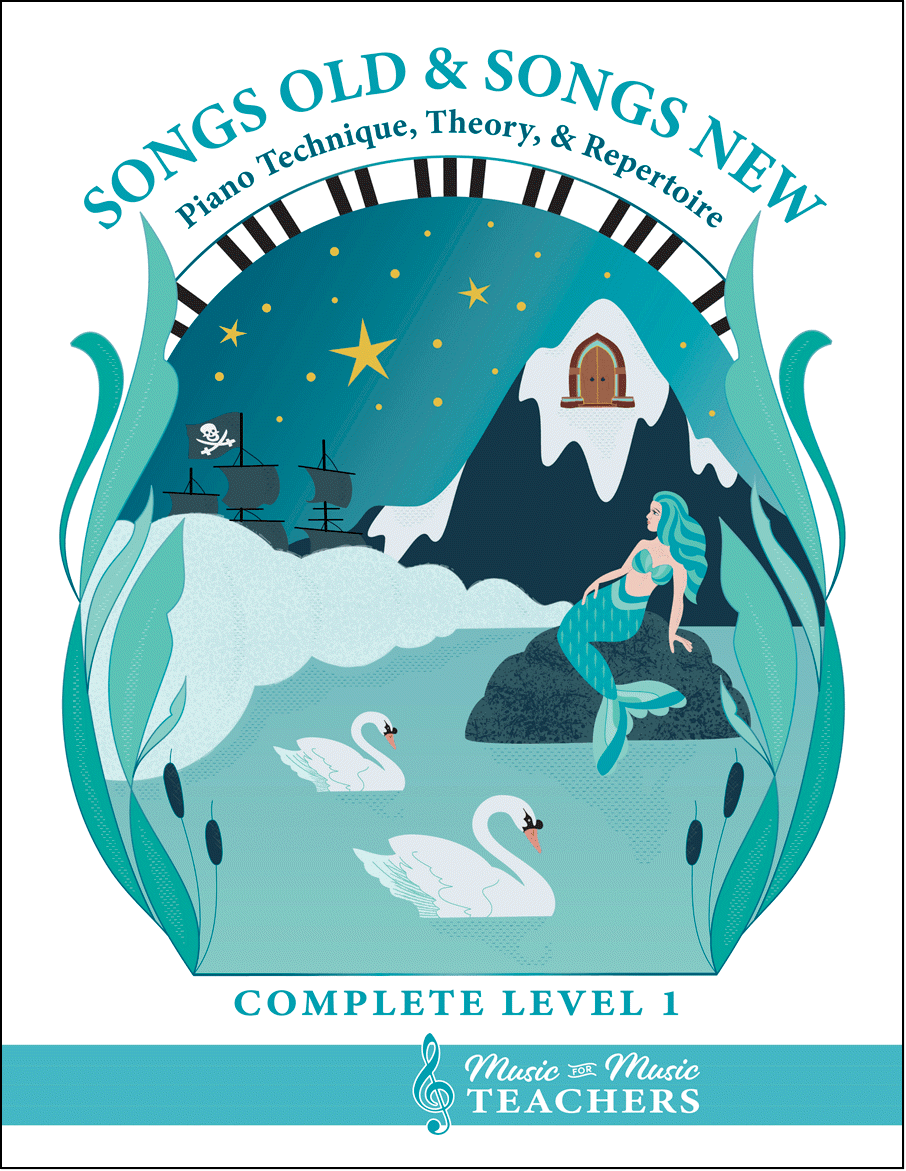 All the first-year material I give my beginner students. 
Piano keyboard sheets, scales, chords, note-reading exercises, and over 256 pages of music!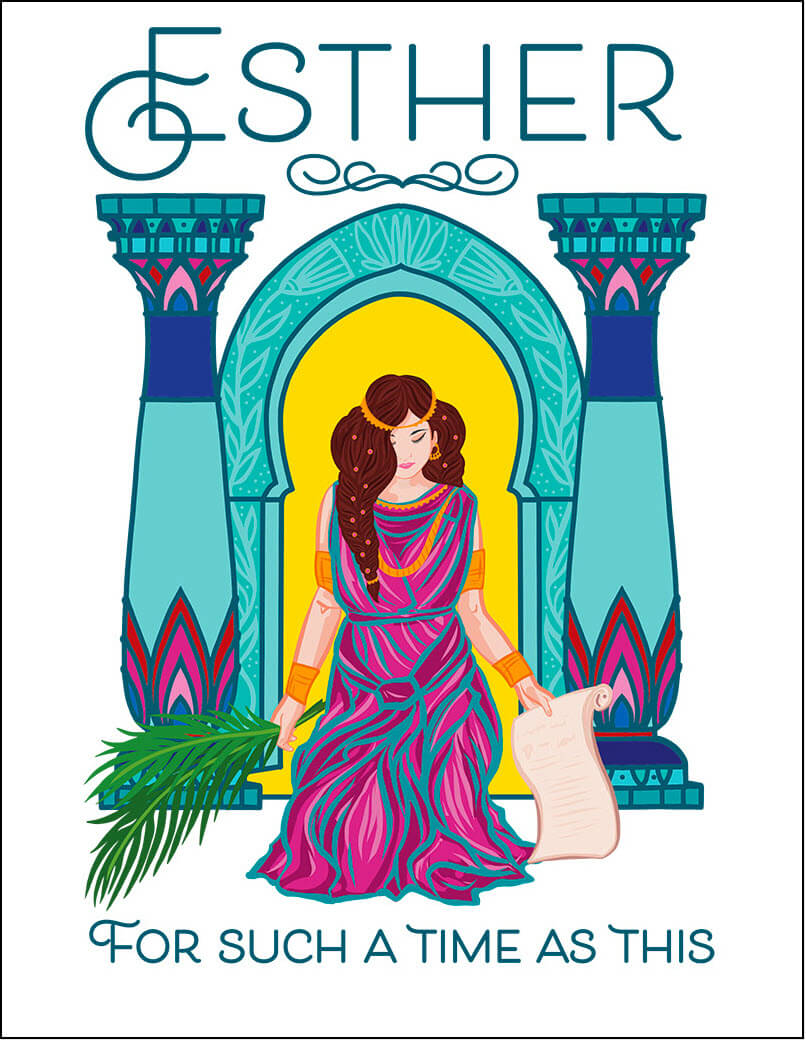 This beautiful song book for piano & voice "Esther, For Such a Time as This",  available as a digital download, tells the riveting story of the time when  Jews in ancient Persia faced a foe named Haman, and how a  brave young queen risked her life to save her people.
A good choice for a singing story-teller, an operatic group, a short theater production, or a class of children!
This book is also available from Amazon as a paperback.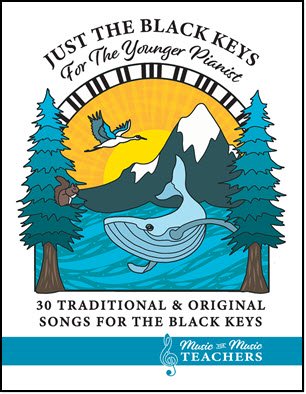 This book is available as a digital download  from this site.  Visit this page to see some free examples from the book.
It is also available from Amazon as a paperback!
This is the perfect easy start for little pianists.
And when they start reading white-key notes on the staff, this is a fun easy resource to say each week, "Choose a new black-key song at home this week and figure it out to show me next lesson!"  They will be spending more time at the piano.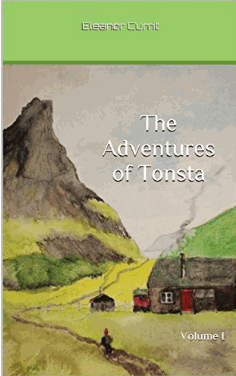 A perfect read aloud storybook
for little boys or girls. 
The Adventures of Tonsta highlight the travels of a very young boy with a good heart, who goes about helping folk in trouble.  
With a red cap on his head and a sack of tools slung over his shoulder, Tonsta seems to meet people in distress wherever he goes.
Lots of trolls in this book - including one who gives him a Christmas gift!
Your second block of text...
Sign up for "Take Note!" to see what's new every month.

About the Author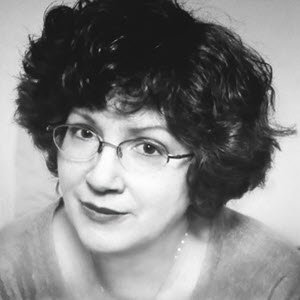 Hi, I'm Dana!  (Say that like "Anna".)  I'm the owner of Music-for-Music-Teachers.com, and a newer site, SingTheBibleStory.com.
Like some of you, I've been playing the piano since early childhood, and have added a few other instruments along the way, plus an interest in arranging and composing music.
You can find out more about me and the reason for this website at my About Me page.