The Pachelbel Canon in D,
in the Keys of D and C
The Pachelbel Canon in D is the probably the most popular classical music ever. Print out this free sheet music for piano -- your students (and their parents) will love it!  And if this music is beyond their playing level, I have a Middle C version of this classical music, and several easy piano versions as well.
Does your student know an inversion from a root chord?
To play these arrangements easily, it is best if the student is already acquainted with chord inversions.
Root position chords such as c-e-g become easy to spot after some experience, but when a C chord is "in disguise" (such as the combination e-g-c) or "scrambled," kids can find it quite baffling.
In the beginning of the Canon, almost every RH (right hand) chord is an inversion with a different shape from the chord before it. Help your student find PATTERNS in each hand.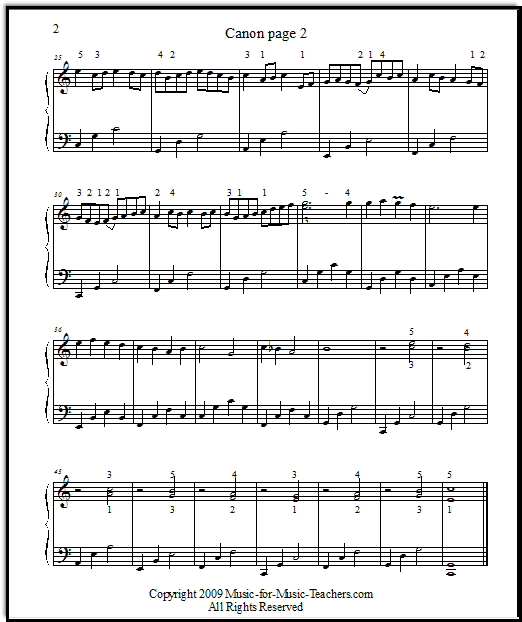 Download free sheet music for Pachelbel Canon in the key of C

Here it is in its original key of D, but otherwise just the same as the C version.

What do I mean, look for patterns?
Here's the best example: the LH goes down 4 steps from C, then up 1, down 4, up 1, down 4, turn around 4, then up 1, and start over! There's always SOME kind of pattern if you look, some kind of trick to help your memory.
Careful fingering helps this arrangement work
The fingering in the tricky but beautiful middle section is really pretty good fingering. It even works in the key of D version with the black notes. Almost certainly, your student will want to ignore this fingering, thus ensuring that they take 10 times longer to learn this section than they would otherwise.
Therefore, I suggest spending time playing short sections -- 2 or 3 measures of it -- over and over at lesson time; little, non-threatening amounts. Don't load it on! Assign them LESS than you believe they can do -- then it will seem do-able to them. 

Here is a similar arrangement, for a smaller hand.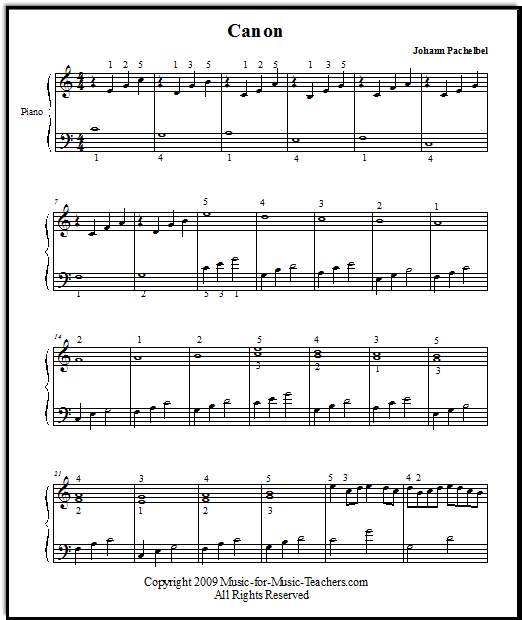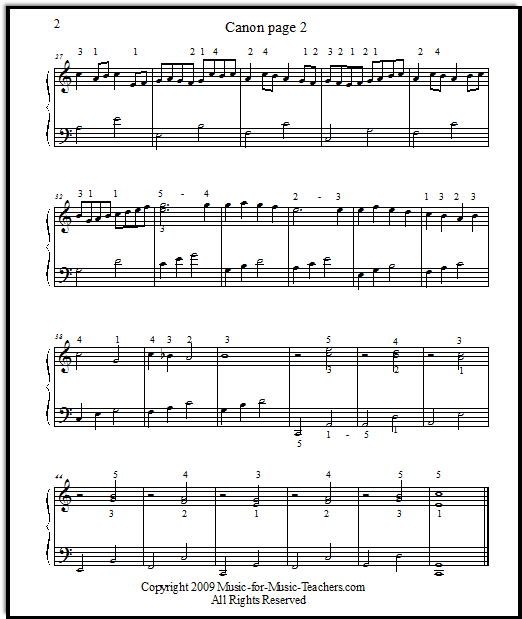 Download Canon arrangement for small hands
Understanding of chords means bigger-sounding music
There are many arrangements of this piece out there on the web. I like these versions of mine because they allow a player whose reading and coordination are still pretty elementary to play a big-sounding piece of music. That is the value of knowing chords! They can be used like repeatable patterns.
Independence of hand movement 
In much classical music, what makes even simple pieces hard for beginners is exactly the seeming ABSENCE of pattern. Every finger seems to need a brain of its own, because the hands and fingers move independently. That's where your students are headed. In the meantime, playing a beautiful-sounding piece like this motivates them to keep pushing!
The Pachelbel Canon is number one
A classical radio station in Seattle used to have a Top 100 Countdown of the most popular classical pieces just before New Year's Day each year. Invariably, listeners voted the Pachelbel Canon number one!


Comments: Do you have a story or a question about music teaching? Share it!
Please note that all comments are moderated, and will not appear until I have approved them. Also, IF YOU ARE ASKING FOR MUSIC THAT IS NOT IN THE PUBLIC DOMAIN, YOUR REQUEST WILL BE IGNORED. That's pretty much any music written in the last 75 years...
What Other Visitors Have Said
Click below to see contributions from other visitors to this page...

Canon in C! Not rated yet
Thanks for this post. I am a Celtic harp teacher, and I always start my students out with Pachelbel's Canon ... in C! We at least work on what you have …