Sakura, Easy Piano Music
Sakura, a beautiful traditional Japanese song, is famous all around the world. Now with a late elementary piano version of this lovely song, as well as an easy arrangement for beginners.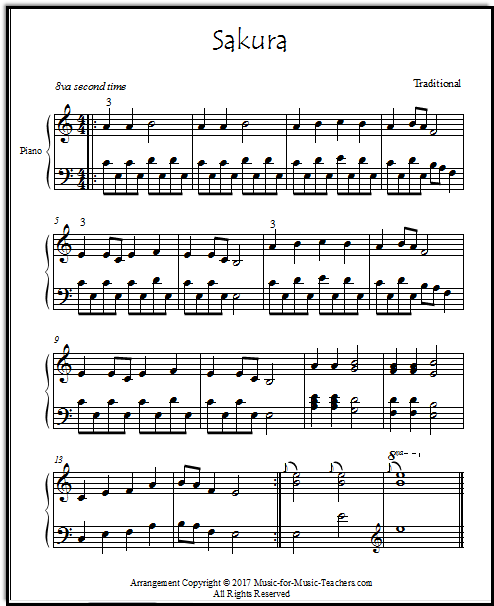 Download new broken chord arrangement of Sakura
As a little girl, I loved the minor sound of this tune. I sang it to the words, "Cherry trees... cherry trees..." piano teacher Tabitha S. Kierszka of the Netherlands, who arranged this version, says, "Cherry blossoms -- kersenbloesem."
Download piano sheet music for beginners Sakura
Though the left hand ledger line note "E" is not within the note-reading repertoire of many beginner piano students, yet this arrangement is very easy for beginners because it all lies within a five-finger position, in what I call a "mirror" hand position -- thumbs side-by-side.
Here is some more information Tabitha gives about this traditional folk music:
"Sakura, sakura is based on a pentatonic scale consisting of A, B, C, E, F (skip D's and G's). In this pentatonic scale the intervals are very uneven because there are both minor seconds and major thirds. If LH plays ABCE with fingers 5 4 3 1 and RH plays FABC 1 3 4 5 (same position as the piece itself, in both hands you simply skip finger 2) a student can improvise something Japanese sounding while someone else (teacher) plays a simple accompaniment of A's and E's. (Keep it sober and tranquil). This sounds lovely and will make the student aware of what causes the piece to sound as it does."
She adds the following quote from Wikipedia:
"Sakura, sakura" also known as "Sakura", is a traditional Japanese folk song depicting spring, the season of cherry blossom. Contrary to popular belief, the song did not originate from ancient times, not from the Heian period [9th to 12th century] or prior. It was first composed during the Edo period [17th to 19th century] for children learning to play the koto. Originally, the lyrics "Blooming cherry blossoms" were attached to the melody. The song has been popular since the Meiji period, and the lyrics in their present form were attached then. It is often sung in international settings as a song representative of Japan."
I hope your students enjoy this Japanese folk song!
---
---
Get word of the latest sheet music at Music for Music Teachers?  Sign up for "Take Note!"
Comments
Do you have a funny story about this music, or does it remind you of something you'd like to share with other readers? Do you have a question? I'd love to hear it!

Please note that all comments are moderated, and will not appear until I have approved them. Also, IF YOU ARE ASKING FOR MUSIC THAT IS NOT IN THE PUBLIC DOMAIN, YOUR REQUEST WILL BE IGNORED. That's pretty much any music written in the last 75 years...