Printable Sheet Music
When Christ was Born
Printable sheet music When Christ is Born is haunting and gentle. This free piano sheet music is a beautiful piece for early intermediate pianists, with a flowing left hand using broken chords.

Two ways to do the left hand accompaniment
The first version of When Christ was Born has a rocking feeling, due to the left hand back-and-forth chords. The contrast when the broken chords begin on page two is very nice, and makes the piece sound harder than it really is, and very full.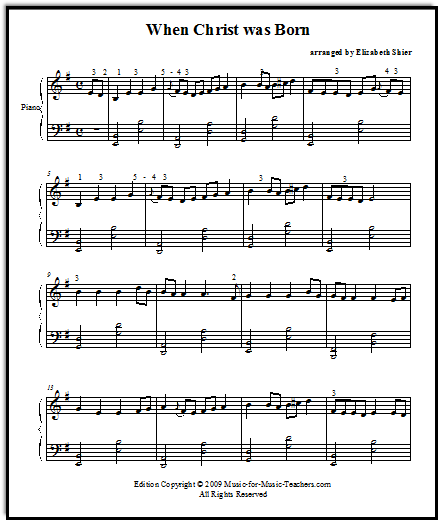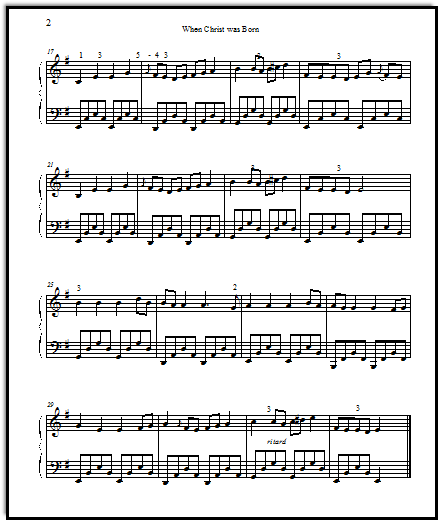 Download free piano sheet music When Christ was Born 

The hardest features

There are two primary difficulties learning this piece, whether you choose the simpler version above or the harder version of the two free Christmas songs.
Finger substitution
First, the melody calls for lots of finger replacement. LOTS. Fortunately, it so happens that finger number 3 is the usual finger called upon, so that there seems almost to be a pattern. When I teach this piece, I usually have a red pen ready, for me or the student to circle all the finger replacements.
Grace notes
Secondly, piano students who have never used simple grace notes such as the ones found in this piece find them enchanting -- but learning to use them, planning the attack, is a whole new skill. I suggest learning the first phrase of the melody without the left hand, until the grace note feels natural.
Here is the longer version, starting with just the melody.  Use lots of pedal, to give it atmosphere: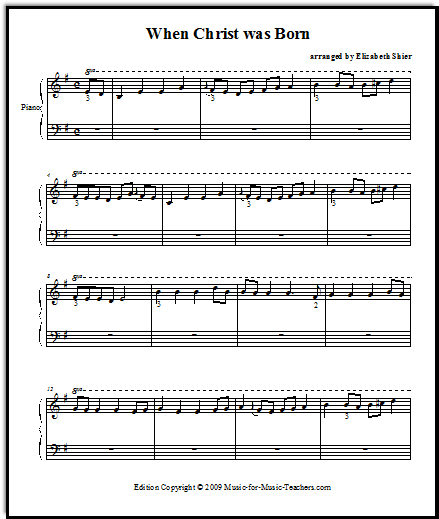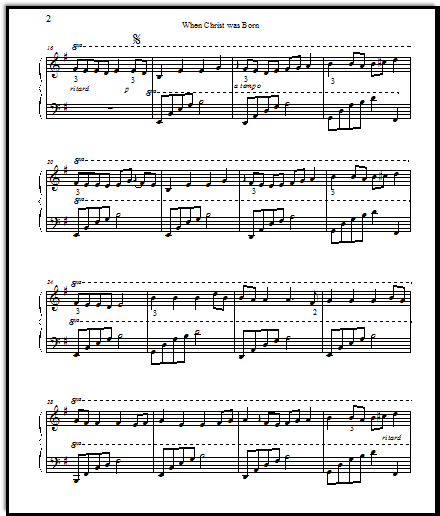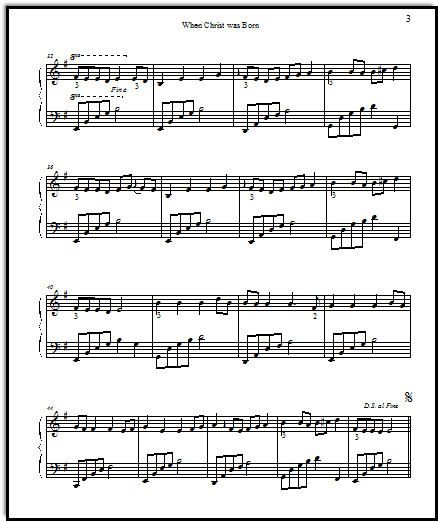 Download free piano music When Christ was Born long version

If your student struggles with left/right hand coordination...
For tips on how to put the right hand together with the left-hand with eighth notes for students who are just learning these skills, see my page Holly and Ivy.

I hope you enjoy using these free Christmas songs!
---
---
Get word of the latest sheet music at Music for Music Teachers?  Sign up for "Take Note!"