MusicLink Foundation
MusicLink Foundation helps teachers help needy students to:
Acquire discount music,

locate practice instruments,

attend summer music camp scholarships, and

receive reimbursement for out-of-pocket expenses on their student's behalf.
Read what Sue, coordinator with MusicLink Foundation, has to say:
Hi Dana,
I am a private piano teacher and needed a lead sheet to Happy Birthday. I googled it and up popped your site. What a find!
I'm sure many teachers from around the nation visit this site daily. Could I ask if you would consider something?
I am a coordinator with an organization called the MusicLink Foundation. We are a national non-profit that supports teachers who reduce their normal teaching fee by at least half to offer lessons to a student who would not otherwise be able to afford them because of financial need. We help with discounted music, practice instruments, reimbursement for out-of-pocket expenses (not tuition) and Summer Music Camp Scholarships. Would you consider adding a link from your site to ours to spread the word about our program? You can check it out at:
Sue
You can download MusicLink's brochure here: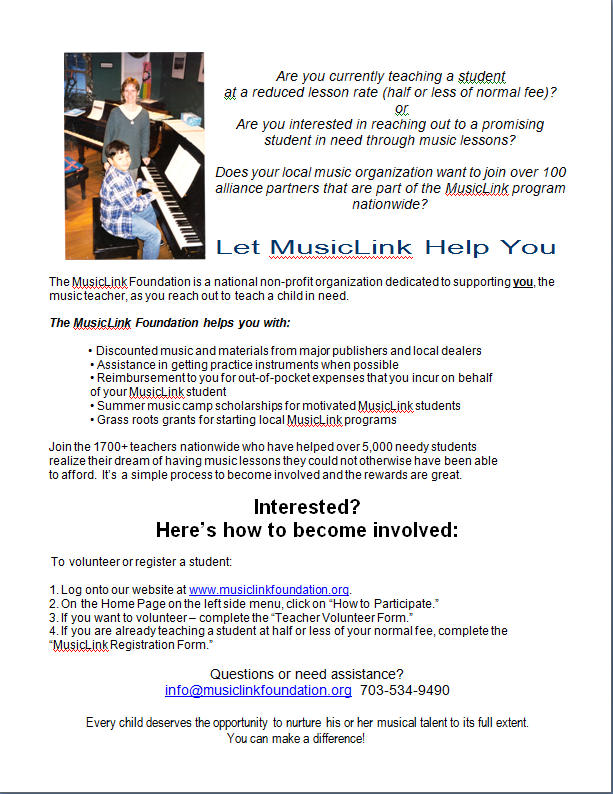 Download MusicLink Flyer 

MusicLink Foundation has been around for a long time, but I had never heard of them! 

Sign up for "Take Note!" to see what's new every month.